Netflix Canceled 'American Vandal' After Two Seasons, But There Could Be A Silver Lining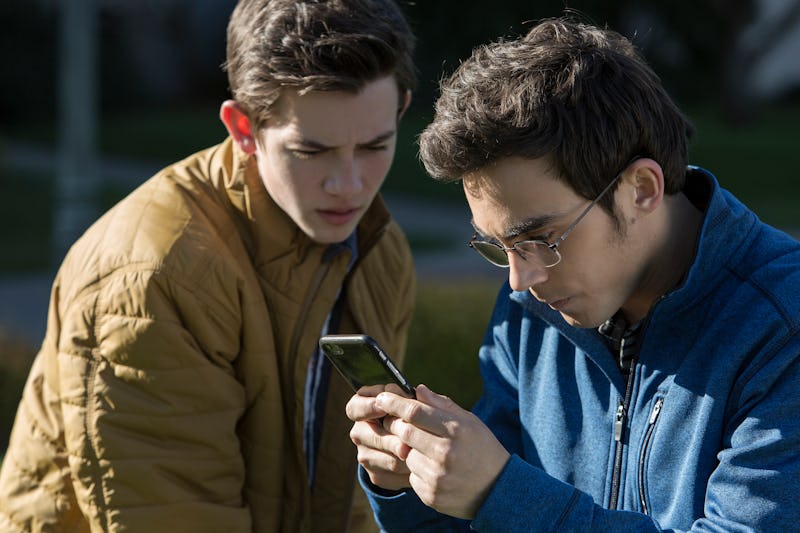 Scott Patrick Green / Netflix
This is one mystery that's going to be tough to solve: why did Netflix cancel American Vandal? The mockumentary series, which infamously posed the question, "Who drew the dicks?" in Season 1, and returned for an even more ridiculous Season 2 just this September, was cancelled by the streaming service on Friday, Oct. 26.
"American Vandal will not return for a third season," Netflix said in a statement, as noted by The Hollywood Reporter. "We're very grateful to the creators, writers, cast, and crew for bringing their innovative comedy to Netflix, and to the fans and critics who embraced its unique and unconventional humor." However, this might not be the end of American Vandal, not completely.
The show is rumored to be looking for a new home, according to THR sources, which means that a Season 3 of American Vandal could still be a possibility. It just won't be a possibility at Netflix. Co-creators Dan Perrault and Tony Yacenda have yet to comment, and with television turnover being what it is, it's entirely possible that they can take their show to another network or streaming service. (If Brooklyn Nine-Nine can do it, they can too!) After all, the show won a Peabody Award for Season 1 and has earned rave reviews, sitting pretty with a 97 percent rating on Rotten Tomatoes.
Meanwhile, as fans await any news at a potential revival or last minute save, many have taken to Twitter to share their reactions to the news of American Vandal's cancellation. And they are far from pleased.
Netflix has not, and likely will not, ever disclose the reasoning behind this cancellation. The site does not release viewership numbers regularly, and recently cancelled Marvel's Luke Cage and Iron Fist without explanation. However, a report by Variety suggested that Netflix could be getting rid of shows that are produced by an outside studio. American Vandal was executive produced by Funny Or Die, 3 Arts Entertainment, and CBS Television Studios.
Whatever the reason for the show's cancellation, it will be sad to see young, budding documentarians Peter Maldonado (Tyler Alvarez) and Sam Ecklund (Griffin Gluck) go. The two BFFs were the main protagonist of the series, the common thread between Seasons 1 & 2, and fans were eager to see what crimes the duo could solve in a potential Season 3. (Though it's hard to imagine American Vandal topping the Turd Burglar of Season 2.)
Barely one hour after the news was announced, Gluck took to Instagram to bid farewell to the show. The actor shared a series of behind the scenes photos and videos, with the caption "thank you," followed by some clever American Vandal-themed emojis.
But don't let Gluck's goodbye message to the fans get you down. There is still hope for American Vandal. If the reports that producers are taking the show to other networks are true, then as long as fans continue to speak out on social media, there's still hope for American Vandal Season 3 to become a reality.