Netflix Cancelled 'Luke Cage' — But Fans Are Hopeful For A Brand New Superhero Series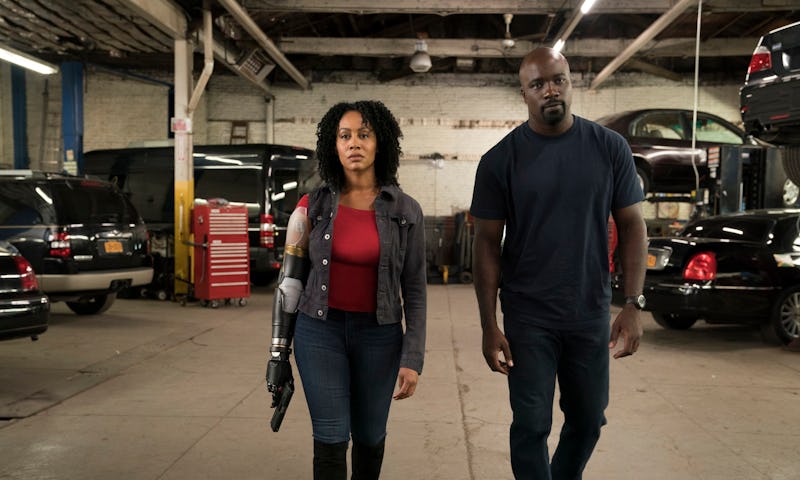 David Lee/Netflix
There's officially one less hero guarding the streets of New York City. Netflix cancelled the Marvel series Luke Cage late on Friday, Oct. 19, just one week after another Marvel superhero show, Iron Fist, was also axed by the streaming service. Both Luke Cage and Iron Fist were part of a five-series deal that Marvel struck with Netflix, which includes Daredevil (whose third season premiered on Friday), Jessica Jones and the superhero team-up show, The Defenders.
"Unfortunately, Marvel's Luke Cage will not return for a third season," Netflix and Marvel said in a joint statement to The Hollywood Reporter. "Everyone at Marvel Television and Netflix is grateful to the dedicated showrunner, writers, cast and crew who brought Harlem's Hero to life for the past two seasons, and to all the fans who have supported the series."
According to THR, the show — which centered on a former convict, played by Mike Colter with superhuman strength and unbreakable skin who fought crime in Harlem — an unnamed source claims that the show was reportedly cancelled over creative differences between the crew and the network, and their inability to agree on terms for a third season. Deadline also reported that conflict arose out of Netflix's decision to cut the third season from 13 episodes down to just 10. (Bustle has reached out to Netflix for comment regarding the reports, but did not immediately hear back.)
Though Luke Cage was not as well known of a property as some of the other Marvel heroes, Colter's character quickly became a fan favorite after appearing in the first season of Jessica Jones as Krysten Ritter's tough-talking, crime fighting love interest. The series Luke Cage also introduced fans to Simone Missick's Misty Knight, a police officer who becomes involved with Cage during her investigation of the villain Cottonmouth (Mahershala Ali) and who was instrumental in the Defenders' fight against the criminal organization, The Hand.
Though the second season of Luke Cage earned mixed reviews from critics, the show remained beloved by fans, many of whom were hoping to see more of the Harlem heroes that they had come to know and love.
Naturally, many Marvel fans noticed that the two shows that had been cancelled were the two that featured the most characters of color. Though the first season of Iron Fist was criticized for its history of cultural appropriation — after all, the story does center on a rich white man, Danny Rand, who is trained by monks and becomes their greatest warrior — it did introduce Asian characters into the Marvel TV universe, and gave them prominent roles as heroes in their own right. Luke Cage, meanwhile, featured black heroes and villains, and offered an antidote to the mostly-white superhero stories that are most often told on television and on the big screen.
And so, taking away that small bit of diversity in the Marvel universe hit especially hard for some fans, who questioned why the shows that featured actors of color were cancelled, rather than the shows with white leading casts.
But for some, the cancellation of Luke Cage is especially disappointing as it seemed as if Season 2 was laying the groundwork for a Daughters of the Dragon series, which would see Misty and Iron Fist's Colleen Wing (Jessica Henwick), step out as crime fighters in their own right. According to Missick, the plan was for Luke Cage to establish Misty and Colleen's friendship, with Season 2 of Iron Fist to set the characters up for their own spinoff series.
"In Iron Fist Season 2 we see Misty and we definitely get to explore that relationship even more," Missick told Bustle back in June. "Hopefully it will lead to a separate series. Hopefully it will lead to the fans getting Daughters of the Dragon, but we won't know until it happens. I always say, if you tweet it, it will come." Of course, with the cancellation of both Iron Fist and Luke Cage, the possibility of a Daughters of the Dragon series seems much farther away now.
However, that hasn't stopped some fans from petitioning for a female-centric spinoff to take the place of the axed Defenders:
Fans also seemed to think that the cancellation of both Iron Fist and Luke Cage within one week of each other was Netflix's way of setting up another possible superhero team-up, Heroes For Hire. The comics series of the same name originally sprang out of the Luke Cage comics and had the unbreakable man team up with Iron Fist's Danny Rand to start a private investigation and superhero protection agency out of New York City.
And really, what better way to bring those two characters together than by giving them their own spinoff series?
While fans may have to wait a while longer to find out if Daughters of the Dragon or Heroes For Hire were part of Netflix's game plan, they can, at least, take comfort in the fact that Luke and Danny are still part of The Defenders — or, at the very least, they could make an appearance on Jessica Jones or Daredevil in order to help their fellow heroes protect New York City once more.