Amy Klobuchar Just Announced That She's Officially Running For President In 2020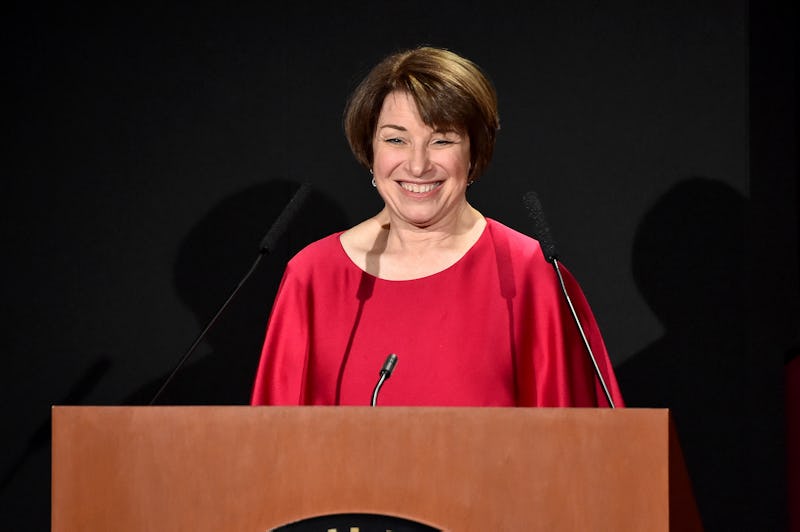 Theo Wargo/Getty Images Entertainment/Getty Images
Another Democratic woman has officially launched her 2020 campaign. Speaking under snowfall in Minneapolis on Sunday, Sen. Amy Klobuchar's 2020 presidential campaign announcement made her the latest to join an already crowded field of Democratic contenders.
"So today, on an island in the middle of the mighty Mississippi, in our nation's heartland, at a time when we must heal the heart of our democracy and renew our commitment to the common good, I stand before you as the granddaughter of an iron ore miner, as the daughter of a teacher and a newspaperman, as a the first woman elected to the United States Senate from the state of Minnesota, to announce my candidacy for president of the United States," Klobuchar said, according to video from her rally shared by The Washington Post.
Klobuchar's campaign announcement was a widely anticipated event on Sunday, according to multiple reports that came out earlier in the weekend. In January, she told MSNBC that her family was on board with her then-potential plans for a 2020 campaign.
"I think what America wants is someone that is going to make their own decisions," she said at the time. "That's not going influenced by every tweet out from the White House or what happens every single day in the news. I think they need a president that's there for them in the long haul."
Klobuchar joins other Democratic presidential hopefuls like Sens. Elizabeth Warren, Kirsten Gillibrand, Cory Booker, Kamala Harris, Rep. Tulsi Gabbard, as well as former Secretary of Housing and Urban Development Julián Castro and South Bend Mayor Pete Buttigieg. However, nearly two years out from a general election, it is far too soon to understand which candidate might pull ahead of the others.
On Sunday, Klobuchar positioned herself as someone with "grit," who also, she said, does not "come from money." And in framing her vision for her own potential presidency, she suggested that elected officials should take a more hands-on approach to tackling some of the most challenging social, political, and environmental challenges of the time.
"Let me be blunt: For too long, leaders in Washington have sat on the sidelines while others try to figure out what to do about our changing economy and its impact on our lives, what to do about the disruptive nature of new technologies, income inequality, the political and geographic divides, the changing climate, the tumult in our world," Klobuchar said during her announcement speech. "For a moment, let's stop seeing those obstacles as obstacles on our path. Did we view the snow as an obstacle? No, we did not. Let's see those obstacles as our path."
Klobuchar was elected to the Senate in 2006 and has since won two reelections. She was the first woman senator elected by the state of Minnesota. Before joining Congress, Klobuchar was the elected Hennepin County Attorney.
"As your President, I will look you in the eye. I will tell you what I think. I will focus on getting things done," she said on Sunday. "That's what I've done my whole life. And no matter what, I'll lead from the heart."