Sadly, Amy Schumer & Ben Hanisch Have Broken Up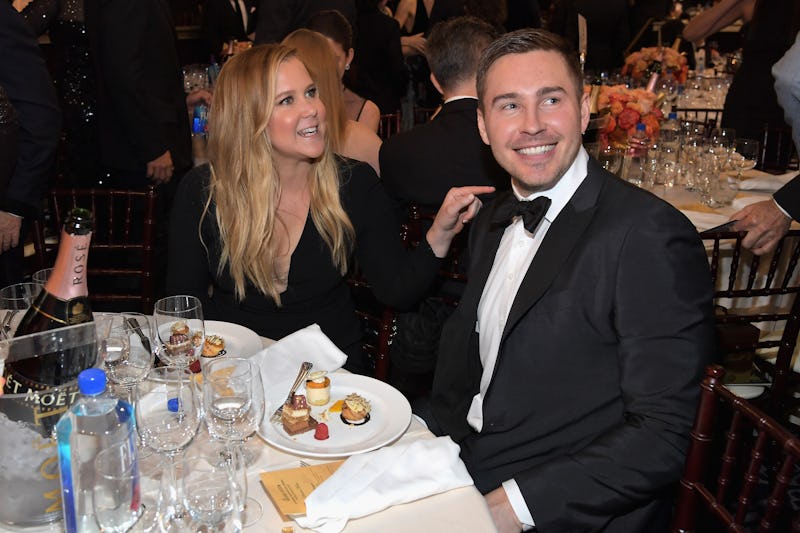 Charley Gallay/Getty Images Entertainment/Getty Images
You heard hilarious anecdotes about him in The Leather Special, so you're totally overinvested. Don't lie. However, I must bear the bad news that Amy Schumer and Ben Hanisch have broken up. Cupid could care less about your stupid emotional attachment to your favorite celebrities' boyfriends. As Schumer's rep told People: "Amy and Ben have ended their relationship after thoughtful consideration and remain friends."
According to her book, The Girl With The Lower Back Tattoo, the comedian and the carpenter from Chicago met via an app which the Chicago Tribune speculates is Raya, a private social network "aimed at creative people." The Trainwreck star didn't take choosing her profile pictures too seriously though, opting for a main profile photo of her making "a gross face, looking as though I were dying, because I was hiking, so I was."
The pair first went public with their relationship on New Year's Day in 2016, with the furniture designer captioning their first couple selfie with, "Sometimes in life you get extremely lucky, and the smartest, funniest, most beautiful woman comes along when you least expect it."
While the couple have featured less and less often on each other's social media accounts in recent months, and Schumer has been promoting her latest movie, Snatched, unaccompanied by her beau, she told Howard Stern on May 3 that they were still dating.
When asked if they were discussing marriage, she stated:
"We are talking about today. I love the idea of committing to someone and making that choice, and I want to have a family, but right now, we are not in talks."
This also follows hot on the heels of her May 2017 interview in InStyle, in which they asked what she liked about her other half. After the typically tongue-in-cheek response you might expect from the star ("his penis") she got serious about what she valued so much about him:
"I feel like I can shine with him and also be nothing and we're good. We've been together for almost a year and a half, but lately I'll whisper in his ear, 'I'm falling for you.' And he's just like, 'We've been together for a while.'"
So has this come out of nowhere? Possibly — but since neither Schumer or Hanisch have posted photos of each other on Instagram since March, perhaps this has been building for a little while. All the same, I'm sad to read about the split and I hope both halves of the former couple are looking after themselves, whether via ingesting healing amounts of Ben & Jerry's or hanging out with friends.