Amy Schumer Revealed She's Having A "Tough" Pregnancy, So Fans Are Helping Her Out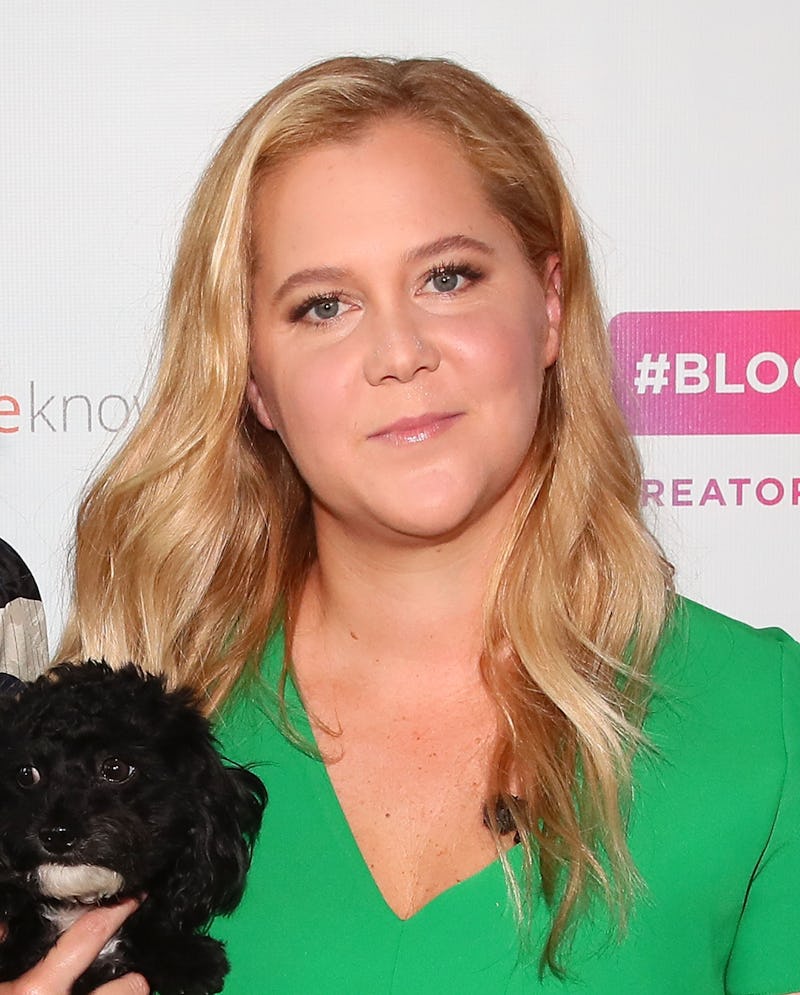 Astrid Stawiarz/Getty Images Entertainment/Getty Images
You can always count on Amy Schumer to keep it real. And that's exactly what she did recently regarding her health. According to People, Schumer revealed that she's having a tough pregnancy in an Instagram post on Nov. 29. To cheer herself up in light of this news, she sought out the help of her many followers.
The Trainwreck actor has been open about the struggles she's faced with her pregnancy, such as canceling some of her comedy shows, due to some intense side effects she's experiencing, per Entertainment Tonight. So she wrote to her followers to further explain how she's feeling and asked them to help her out by doing one small thing.
The actor wrote, alongside a photo of her oh-so-adorable pup, Tati:
"The last few days have been tough. I'm grateful as hell and know it's temporary but tough just the same. Please if you don't mind. Post pics of your kids and tag me #amyschumer My friends sending me pics and vids of their kids is making me feel so much better. Much love... accepting dog photos too."
Her fans definitely delivered on the photo front. On Nov. 30, Schumer once again took to Instagram to show off the many photos that were sent her way. She posted a series of collages that featured some lovable kiddos and cute dogs.
"A million thank you s for posting all your little honies," the actor wrote, "warming my heart when I'm feeling the worst." Not only did it cheer Schumer up, but her latest post is bound to brighten up just about anyone's day.
As a brief recap, on Nov. 15, Schumer announced she would have to cancel her comedy show in Texas, because she was hospitalized for some unfortunate symptoms. She wrote a message to her followers and directly addressed her Texas-based fans about the situation. The I Feel Pretty star said:
"Texas I am so deeply sorry. I have been really looking forward to these shows. I have to reschedule. I am in the hospital. I'm fine. Baby's fine but everyone who says the 2nd trimester is better is not telling the full story. I've been even more ill this trimester."
She continued to detail her symptoms and even thanked the staff at the hospital for help her through the difficult time:
"I have hyperemesis and it blows. Very lucky to be pregnant but this is some bullsh*t! Sending so much love to the doctors and nurses taking great care of me and Tati! They are cool as hell! And Texas I am really really sorry and I'll be out there as soon as I'm better."
Ever since she announced that she was pregnant with her first child with her husband, Chris Fischer, on Oct. 23, Schumer has used her trademark humor to detail even the most personal details of her pregnancy journey.
Seeing as though she recently opened up about the tough period she's currently going through, it's nice to see that many fans decided to cheer her up with truly adorable snaps.