Amy Sherman- Palladino Just Broke A Major Record For Women At The Emmy Awards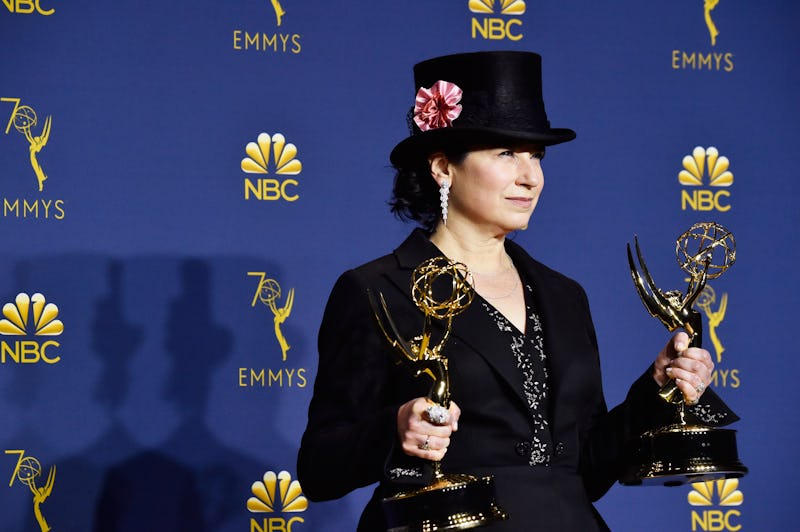 Frazer Harrison/Getty Images Entertainment/Getty Images
Monday night was a big one for The Marvelous Mrs. Maisel's showrunner for more reasons than one. Amy Sherman-Palladino became the first women to win Emmys for both comedy writing and directing, according to Variety.
Sherman-Palladino won her awards on Monday night for directing the pilot episode of Mrs. Maisel, beating out a huge category filled with talented directors like Donald Glover and Hiro Murai for Atlanta, Bill Hader for Barry, Mark Cendrowski for The Big Bang Theory, Jesse Peretz for GLOW, and Mike Judge for Silicon Valley. The writing category saw her come out on top of Glover and Stefani Robinson for Atlanta, as well as Alec Berg, Bill Hader, and Liz Sarnoff, all for Barry.
It was also just a huge night in general for Mrs. Maisel, even aside from Sherman-Palladino's wins. The show's stars, Rachel Brosnahan and Alex Borstein, took home awards for their roles on the show, and the Amazon series took home the coveted award for outstanding comedy series, where it beat out the likes of Atlanta, Barry, Black-ish, Curb Your Enthusiasm, GLOW, Silicon Valley, and Unbreakable Kimmy Schmidt.
It's well-deserved praise for the show, which focuses on Brosnahan's character of Midge as she tries to transition from a life of being a stay-at-home mother in the 1950s to a life of being a stand-up comic.
Earlier this year, Sherman-Palladino sang the praises of her entire crew, and credited everyone who worked on the show with Maisel's hefty Emmy nominations — the total nods were a whopping 14. "This is a very big show. If any one piece of this show falters, the whole thing crumbles in on itself," she said. "And we have so many unbelievably talented people here… and everyone is working at their highest possible level, so I'm really happy about that."
She was clear though, that celebrity and notoriety are never going to be how she gauges her success in the TV industry. "I never felt like you should judge your work or your job by how many parties you get to go to," she continued in the same interview.
That's not to say Sherman-Palladino doesn't revel in the recognition at all. When Maisel started to solidify itself as an awards show heavy hitter earlier this season, the showrunner told Gold Derby that it was a good feeling to know that her work was appreciated. "It's always lovely when you work that hard in a vacuum and everybody acknowledges what you've done," she said. "We have such an amazing group of people that I love when [awards] acknowledge their work."
Sherman-Palladino is no stranger to creating TV that audiences swarm to watch — she was the brains behind Gilmore Girls, after all, whose religious fans still discuss feverishly to this day — and Mrs. Maisel's early success could be a signal that even more shiny statues are in her future. The show set itself up in its first season finale to produce even more drama for Midge, her career, and the people she loves. The Emmys just proved that fans, as well as critics, can't wait to see what happens next.