OMG, Andy Cohen Spoke Out On Those Denise Richards 'RHOBH' Casting Rumors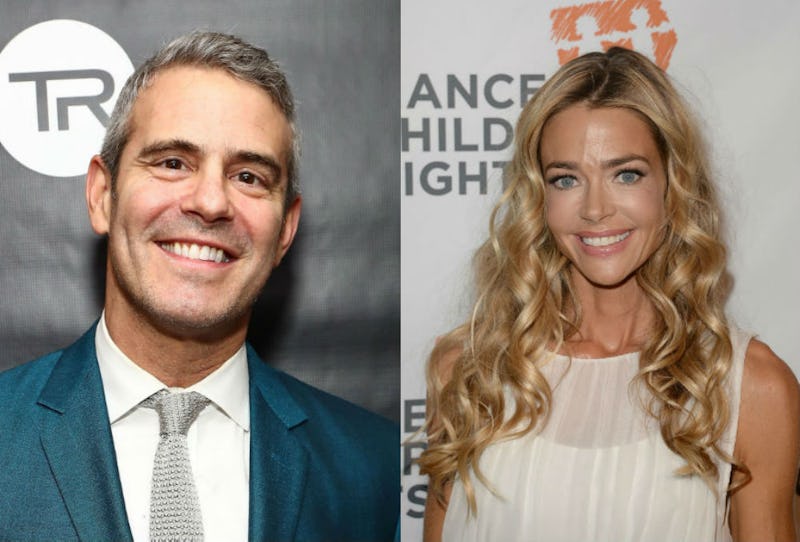 Astrid Stawiarz/Getty Images Entertainment/Getty Images; Jason Merritt/Getty Images Entertainment/Getty Images
There just might be a new face when Real Housewives of Beverly Hills returns for Season 9. Andy Cohen wants Denise Richards to join RHOBH, he dished to Entertainment Tonight on Thursday. Rumors have been circulating for awhile now regarding the possibility of Richards joining the Housewives franchise, and Cohen is totally down for the new addition.
"I love Denise Richards," he declared to ET. "Wouldn't it be so cool to see Denise Richards as a Housewife?" After ET said they think she'd make a "sensational Housewife in Beverly Hills," Cohen said, "I do, too."
The Watch What Happens Live With Andy Cohen host also revealed he's "always talking to" Richards, which seems to be a good sign, especially for those who want to see the 47-year-old become a Housewife. "It would be great," Cohen also said of Richards coming to Bravo. "It would be really good!"
However, Cohen said fans will have to wait quite a bit longer for confirmation regarding Richards' Housewife status. "The thing about it is, we don't announce casting until the show's really about to come out," he explained to ET. "So you're not going to hear anything from me for a while."
On July 20, People reported Richards was "very close" to joining RHOBH. At the time, a source said, "It's not final yet, it's very close. Everyone is really excited about the possibility of having her on board!" Another source "close to the show" told the publication, "Denise has been wanting to join the show for a long time." (Bravo told Bustle they cannot confirm this report. Bustle also reached out to a rep for Richards, but did not receive an immediate response.)
An insider also told People about Richards,
She's a huge Housewives fan and watches all of the shows. And she has close relationships with many of the women in real life, including Kyle Richards and Lisa Rinna. The timing was never right for her in the past, but the producers needed to shake the dynamic of the show up after a season without much conflict. She's going to be a great fit. She's not afraid of the drama. And she lives a glamorous, Hollywood life — which the show looks for.
If that isn't enough, Rebecca Romijn and Jerry O'Connell seem to be suggesting Richards is joining the series. In an interview shared by E! News on July 26, the outlet asked O'Connell about the Housewives rumors involving Richards. He responded by showing a photo of himself, Romijn, Richards, and her boyfriend, Aaron Cameron, and said, "That would be myself, that would be my wife, that would be Denise Richards and her super hot boyfriend Aaron the eve before Denise is starting her new endeavor that we're very excited for her to be starting."
He later added, "Look, this is just a plot for me to try and get my wife to become one of the Housewives of Beverly Hills. I beg her every season. I'm trying."
As you can see above, Romijn shared a photo with Richards, O'Connell, and Cameron (the same one O'Connell showed to E! News) on Instagram on July 26. Romijn teased, "Such an exciting day having lunch with @deniserichards and her hot bf Aaron on the day before her new endeavor (wink wink) Congrats girl! Break legs and have fun!"
Who knows if Richards is going to be a Housewife, but it sure seems like a lot of people want her to, including Cohen.