Fans Are SO Thrilled Denise Richards May Join The 'Real Housewives Of Beverly Hills' Cast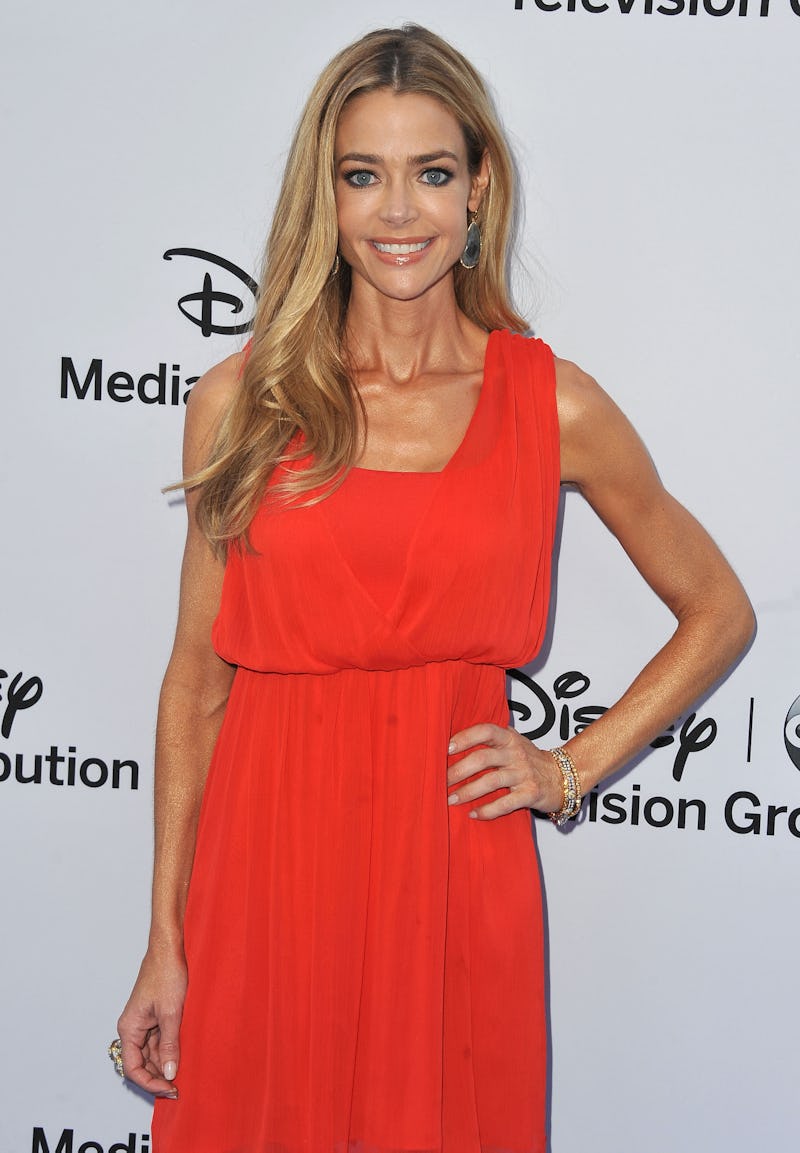 Angela Weiss/Getty Images Entertainment/Getty Images
This Real Housewives of Beverly Hills casting rumor sure is a wild thing. On Friday, July 20, People reported that a source claimed Denise Richards may be on RHOBH Season 9. The unnamed source claimed to the the magazine that the actor and diehard Real Housewives fans is in talks to join the Beverly Hills chapter of the franchise, and though nothing is finalized, "it's very close." Several other media outlets (Us Weekly and E! Online) also reported the possible addition of Richards to RHOBH. (Bravo told Bustle they cannot confirm this report. Bustle has reached out to a rep for Richards, but did not immediately hear back.)
The source claimed to People,
"She's a huge Housewives fan and watches all of the shows. And she has close relationships with many of the women in real life, including Kyle Richards and Lisa Rinna. The timing was never right for her in the past, but the producers needed to shake the dynamic of the show up after a season without much conflict. She's going to be a great fit. She's not afraid of the drama. And she lives a glamorous, Hollywood life — which the show looks for."
If you have even thought about sticking your toe in the Real Housewives casting gossip pool, then you are definitely familiar with this particular rumor. There have been whispers surrounding RHOBH possibly giving Richards a diamond for, like, a bajillion years. Alas, the casting whispers never turned into a casting reality. But uh, according to People's source, it might finally happen. And if it does finally happen?
It'd be a huge deal.
Like, truly major.
Our patience would have paid off in a serious way.
And again, it would be a long time coming.
A long, long time coming.
No seriously. Folks have been waiting a heck of a long time for this.
Richards has talked about whether or not she'd be on the Bravo series in the past. Though she did tell Us Weekly in 2011 she would like to be on RHOBH, it seems as though Richards eventually changed her mind. When Extra mentioned the never-ending rumor to her in 2015, she replied,
"I think it was just a rumor, I wasn't even asked… I kinda like watching those shows, and Lisa Rinna is a good friend of mine. I like watching her work on it, but yeah, no, I don't know where that came from. I don't think I could show my life on there… that would be a whole other show!"
Here's hoping she changed her mind again.
Richards sure knows the reality TV world ropes: She made a cameo on RHOBH Season 5, was on Dancing with the Stars Season 8, and had her very own reality series. From 2008 to 2009, she was the star of the upsettingly underrated E! show Denise Richards: It's Complicated. Oh, and according to her IMDb page, she was on one episode of Audrina Patridge's reality show, Audrina.
Do you know what almost always works? When a Real Housewives show brings on someone who has legitimate, long-standing ties to the existing cast. It just makes for a smooth transition, you know? The rapport is already established, the first few hangouts feel less forced, and there's history there. It makes the Real Housewives feel all the more, well, real.
As People's source noted, Richards happens to be chummy with members of the RHOBH roster. If she were added to the cast, it would feel like a natural and genuine move.
And hey, even if she wasn't chummy with the Beverly Hills Housewives, she'd be great on the show. She's Denise flippin' Richards.
Given her preexisting connections to members of the cast, as well as her knack for reality TV, her life, and ya know, her icon status, Richards would be an awesome addition. This casting move really would be a Christmas gift to patient RHOBH fans — a Dr. Christmas Jones gift, that is.