Andy Spade Just Released A Statement On His Wife Kate Spade's Death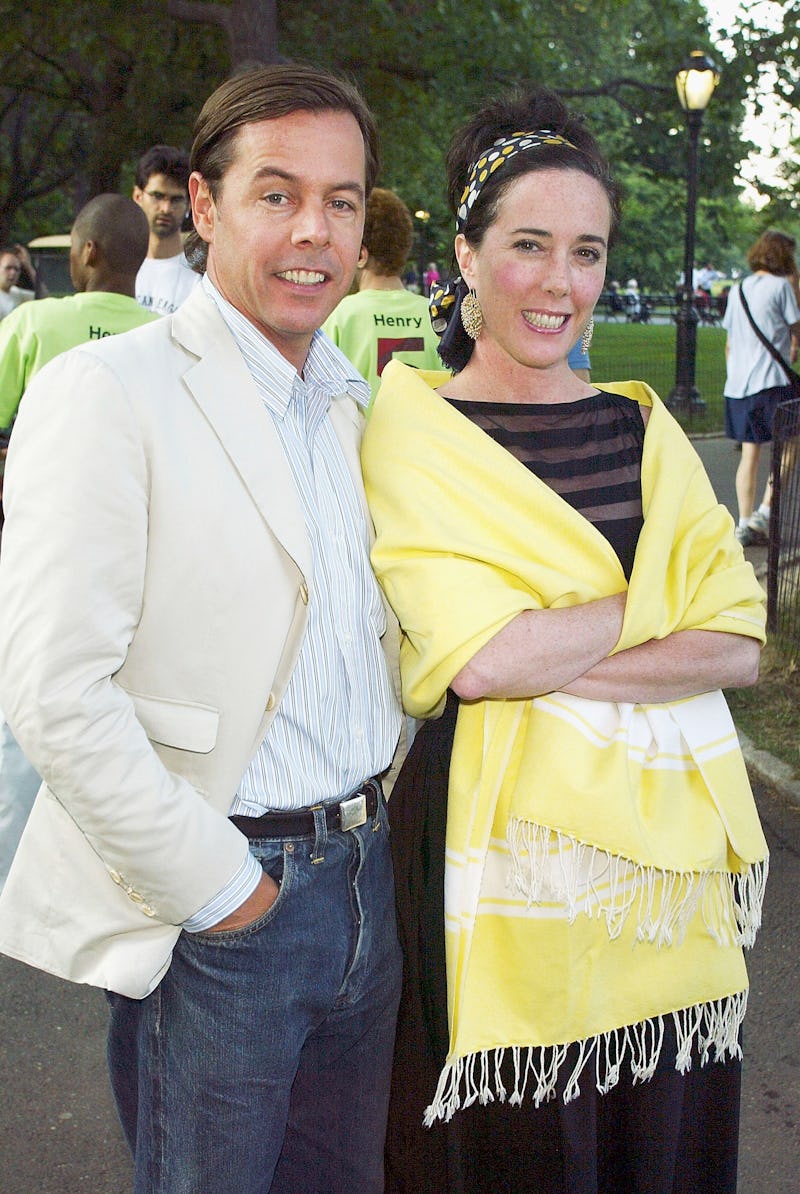 Scott Gries/Getty Images Entertainment/Getty Images
On Tuesday, June 5, esteemed designer Kate Spade died at the age of 55. Her husband of 14 years, Andy Spade released a statement about Kate Spade's death to the New York Times, in which he expressed love and admiration for his partner in both business and life. In the June 6 statement, he also shared his concern for the well-being of their young 13-year-old daughter, Frances Beatrix (whom he calls Bea), and requested respect for her privacy.
His full statement to the New York Times read:
"Kate was the most beautiful woman in the world. She was the kindest person I've ever known and my best friend for 35 years. My daughter and I are devastated by her loss, and can't even begin to fathom life without her. We are deeply heartbroken and miss her already.
Kate suffered from depression and anxiety for many years. She was actively seeking help and working closely with her doctors to treat her disease, one that takes far too many lives. We were in touch with her the night before and she sounded happy. There was no indication and no warning that she would do this. It was a complete shock. And it clearly wasn't her. There were personal demons she was battling.
For the past 10 months we had been living separately, but within a few blocks of each other. Bea was living with both of us and we saw each other or spoke every day. We ate many meals together as a family and continued to vacation together as a family. Our daughter was our priority. We were not legally separated, and never even discussed divorce. We were best friends trying to work through our problems in the best way we knew how. We were together for 35 years. We loved each other very much and simply needed a break.
This is the truth. Anything else that is out there right now is false. She was actively seeking help for depression and anxiety over the last 5 years, seeing a doctor on a regular basis and taking medication for both depression and anxiety. There was no substance or alcohol abuse. There were no business problems. We loved creating our businesses together. We were co-parenting our beautiful daughter. I have yet to see any note left behind and am appalled that a private message to my daughter has been so heartlessly shared with the media.
My main concern is Bea and protecting her privacy as she deals with the unimaginable grief of losing her mother. Kate loved Bea so very much."
Kate and Andy Spade were partners for 35 years after meeting while they were college students attending Arizona State University, as indicated by Esquire. They jointly started their iconic fashion and lifestyle brand Kate Spade New York a year before they married in 1994 – a business that grew into an empire worth $2.4 billion when it was sold to Coach in May 2017, according to CBS New York. Forbes indicates that Kate and Andy, brother of actor and comedian David Spade, sold a 56% stake in the company to Neiman Marcus for $33.6 million in 1999 and later sold the remaining shares in 2006 to Neiman for approximately $59 million.
In 2007, the Spade family gave up all involvement in the business and Kate focused on raising her daughter, according to TMZ. She then started Frances Valentine with her husband, Andy, and longtime business partners Elyce Arons and Paola Venturi in 2016, according to Fast Company.
If you or someone you know are experiencing suicidal thoughts, call 911, or call the National Suicide Prevention Hotline at 1-800-273-8255.
You can find more resources about suicide prevention at the National Suicide Prevention Lifeline or the American Foundation for Suicide Prevention.