This Photo Of Angela Kinsey Visiting 'The Office' Set Is Even More Emotional Than It Sounds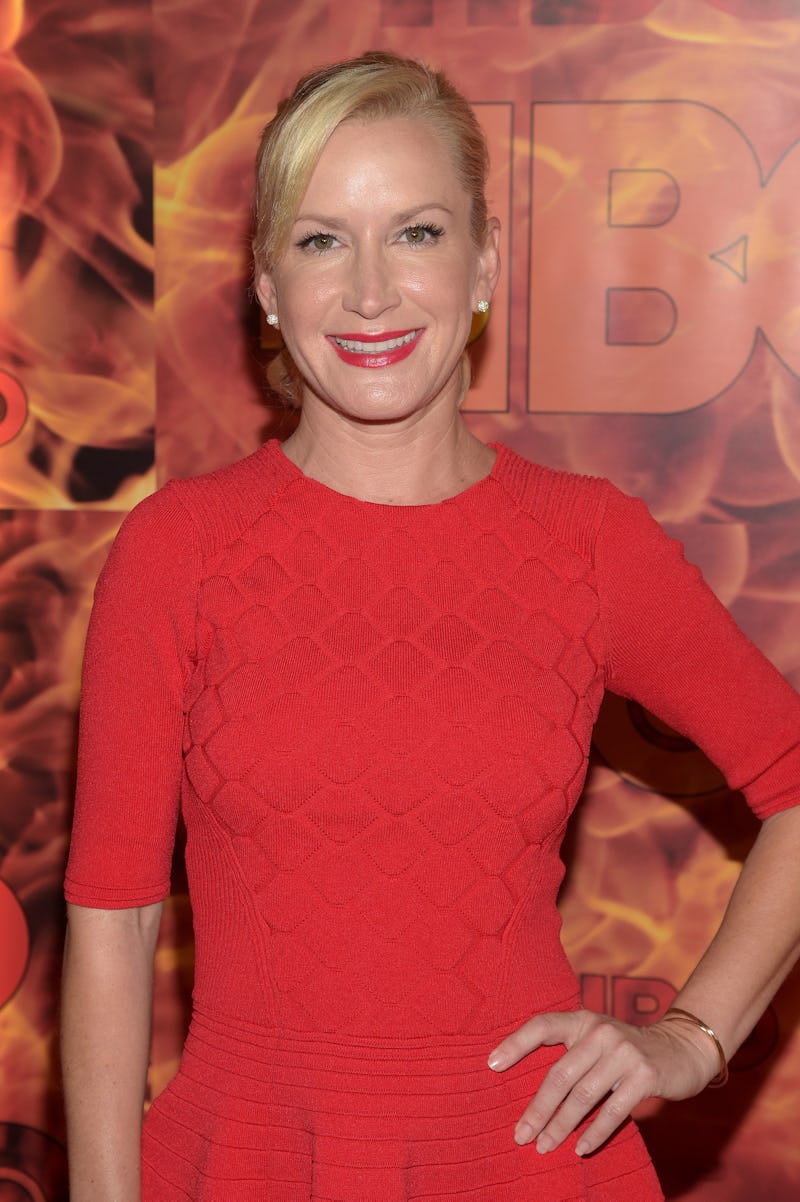 Jason Kempin/Getty Images Entertainment/Getty Images
Dunder Mifflinites, you better grab some tissues. Angela Kinsey returned to The Office set and it was a super emotional experience for the actor. Before you start getting excited, no, she wasn't there for an Office reunion, but, rather, she was filming ABC's To Tell The Truth. All that said, pulling up to the stage where she filmed nine seasons of the beloved NBC comedy caused Kinsey to become completely overwhelmed she couldn't hold back tears.
"I came home today," Kinsey shared on Instagram on Monday next to a photo of herself in front of the Dunder Mifflin building. "This is a horrible selfie attempt but I had to show you where I am... when I pulled into the lot I started to cry (see me be a hot mess in my instastory). And no it is not for a reunion show... it's a totally different gig but dang it brought back the feels! #dundermifflin."
Kinsey also captured the visit on her Instagram Story, where she openly cried in front of her followers. "I didn't expect to get this emotional," she said in the car before seeing Chandler Valley Center Studios in Los Angeles. The outside of the main building also served as Scranton Business Park's facade that was shown throughout the entire series and the one Pam painted so well, despite what Oscar's former partner, Gil, thought.
"It's just nine years of my life was here," Kinsey continued on her Insta Story through tears. Upon seeing the outside of the stage where most of the scenes were filmed, Kinsey said, "Stage 3, that's where we filmed The Office. I am totally emotional, and now I need to suck it up."
This was the first time Kinsey had returned to set since wrapping the comedy in 2013. She said on Instagram, "I just haven't been here since the very last day. It's just like hitting me like a ton of bricks. So much of our lives were here." Kinsey then added, as she continued to cry, "I look like a mess."
She also couldn't help but reminisce. While pointing to where the warehouse doors led outside, Kinsey said, "I just have scenes playing in my head. Like, right down there is where Rainn [Wilson] and I sat on a bench as Dwight and Angela and I cried and told him jazz was stupid. Oh, my God, so many memories."
The scene she referred to is from Season 9, Episode 8, "The Target." After hiring Dwight's friend, Trevor, to kill Oscar for having an affair with Angela's husband, The Senator, Dwight comforted Angela on the bench outside.
Angela called herself stupid for not realizing The Senator was cheating on her with Oscar. Dwight told Angela, "You're not stupid. Jazz is stupid." She agreed, "Jazz is stupid. Play the right notes!" FYI, Trevor was unsuccessful and Oscar was not killed.
Returning to the set for Kinsey was also emotional for a personal reason. "Anyway, my baby grew up on this lot," she explained in her story. "Isabel, she was like, ya know, born Season 5. All right, getting it together, people, getting it together."
It's been five years since The Office ended, but it will forever mean a lot to both the actors and fans. When a series like this stays with people, you know it was truly something special.