John Krasinski Wants An 'Office' Reunion Because He's Worried About Jim & Now, So Are You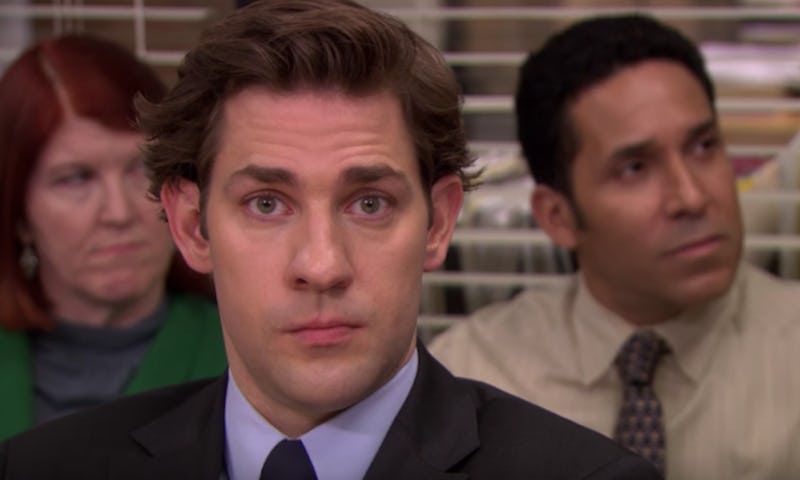 NBC Universal
There are plenty of reasons to want a reboot of one of the best comedies to ever hit television, but one actor might have the best one: John Krasinski wants an Office reunion because he's worried about Jim, according to a new interview with Variety. That's Jim Halpert, the role he played on the beloved NBC series for all nine seasons, during which Jim gave the actor who played him plenty of reason to be concerned.
For all the faces he pulled straight into the camera, and all the floppy-haired fun that he catalyzed with his workplace pranks, Jim notoriously had some difficulty finding his way in life. He stumbled into his job at the Dunder Mifflin Paper Company, it was supposed to be a brief stopover in his life, and he ended up staying years. In fact, his eventual wife — Pam Beesly, played by the incomparable Jenna Fischer — was one of the only things he was ever sure about. And even then, he wasn't quite sure how to hold onto her.
So it's understandable that Krasinski would want to check back in with his fictional counterpart, to see how things have gone since the show went off the air in 2013. When last we saw them, Jim, Pam, and their children were Austin-bound for Jim to finally pursue his dream of working in sports marketing. But did that work out?
Nobody knows, but Krasinski would really like to find out. As the actor told Variety:
"I need the incredible writers of our show to tell me what [Jim's] doing because I'm kind of worried about him. He had a whole lot of hopes and dreams, he had a lot of zany ideas, and then he went to Austin to live his life and I feel like the dreams are still in his head so let's see what he's doing now."
It doesn't sound like the most ringing endorsement of his character's drive and sense of purpose, so now we need to see the reunion more than ever. Barring maybe the show's writers, no one knows Jim Halpert better than Krasinski, so if he's worried, the rest of us should be freaking out.
Especially because this isn't the first time that the 38-year-old has demonstrated an interest in diving back into the fray. When doing promotion for his film A Quiet Place in February, Krasinski told Ellen DeGeneres that he'd "love to get that gang back together," referring to his former Office cast mates. It's a sentiment that his on-screen love interest has echoed as well, with Fischer telling The Hollywood Reporter in January:
"I think the idea of an Office revival is a great idea. I would be honored to come back in any way that I am able to. I loved playing that character and as long as Greg Daniels is the person in charge and the visionary behind it, then I would absolutely be up for it."
What she didn't mention was whether she was worried about Jim and Pam's relationship, or her onscreen husband's ability to follow his dreams and make things happen. So it sounds like she needs this reboot as badly as the rest of us, to check in about whether this iconic couple is still making it work five years later.