This 'Big Brother' Contestant Says She's Going To Hex Her Fellow Houseguests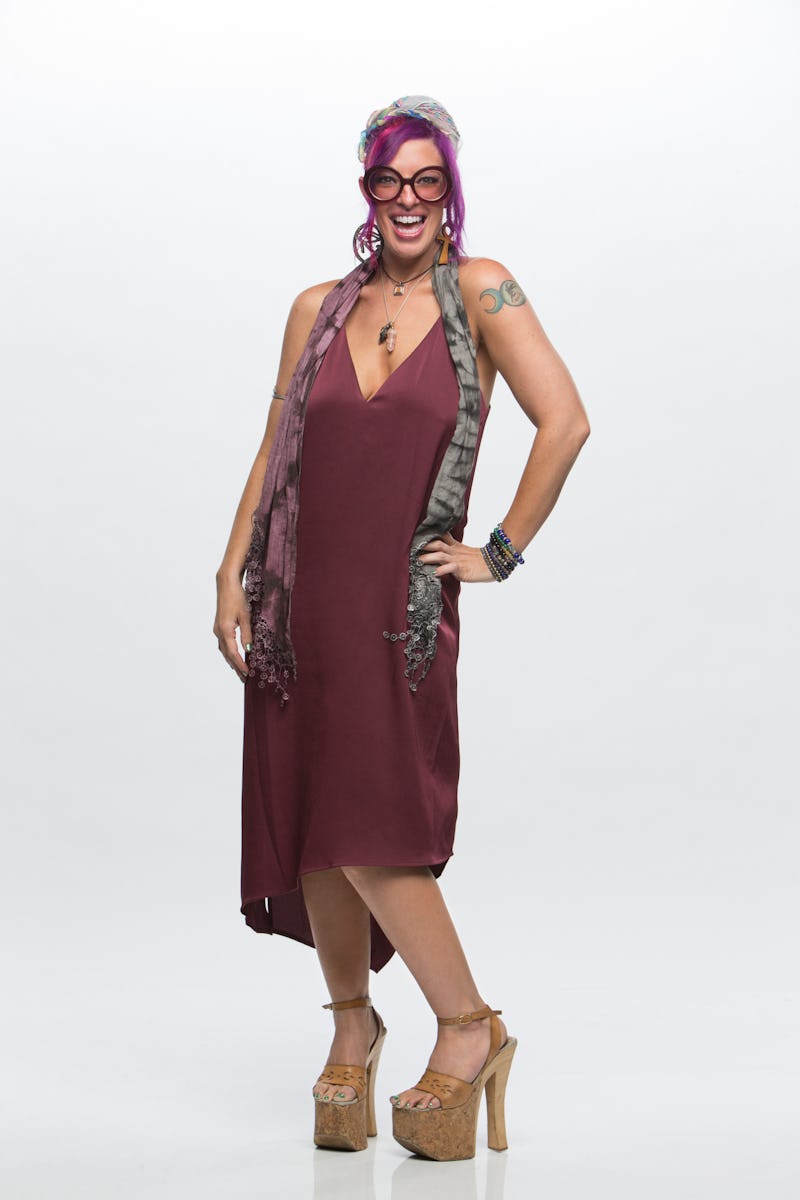 Sonja Flemming/CBS
It's time to meet a brand new batch of houseguests for Big Brother's 20th season. One contestant that's sure to be a thrill to watch? Angie aka "Rockstar." The Big Brother houseguest has a pretty unique nickname, but that's just the tip of the iceberg.
To start, Angie describes herself in her CBS bio as "eclectic, entertaining, and magical." She's a stay-at-home mom with three kids, has a blog called Witchy Mama, and her job according to her Facebook page is "Life of the Party." Oh, yeah, Angie is gonna bring a lot of fun to the house.
In a pre-show interview with CBS, Angie explained her "Rockstar" nickname. She said that in high school her mom joked that she and her friends partied like rockstars, and thus the nickname was born. Angie has really cemented her rockstar persona since then, though. Before becoming a stay-at-home mom, she told CBS she was managing nightclubs. And music is an important part of her life: She said in her CBS bio that she was most afraid of not being able to listen to music in the house.
"I live for music, to the point where I won't work at a place that does not play music," she said. Well, I guess she'll need to win some Head of Household competitions to get the coveted mp3 player to listen to music during her week-long reign.
Angie does think she'd fare well in the endurance competitions because she says she can handle pain. "I gave natural birth three times," she told CBS as proof. And, like her blog name says, a "witchy mama" she is. She told The Hollywood Reporter that she thinks she has Paganism on her side during the game. "I'm going to hex everybody!" she said. She continued:
"Paganism means that I use the different archetypes of gods and goddesses to reach divinity, which is so huge. I am wearing Ganesh who is the remover of obstacles so hopefully he'll be with me. I don't think it is something I'll reveal in the house because they'll [say], 'Oh my God the witch! We got to get her out of here! She's going to hex us all!' I have different crystals that will help me out in the game."
As for the type of game she wants to play, Angie told CBS that she knows when to make friends, and when to get in a fight so that she isn't perceived as too likable. "Every so often, I guess you just gotta cuss somebody out in the kitchen," she said about her strategy.
It's an interesting strategy, but Josh from Big Brother 19 was the king of kitchen fights and he ended up winning his season. Stranger things have happened on Big Brother. That's why Julie Chen says to expect the unexpected.
In any case, for as long as Angie lasts, she's likely going to be entertaining to watch. Her Twitter bio explains exactly who fans are gonna get (unless she picks a different persona for the house to keep her "witchy mama" side on the down low). On Twitter, she calls herself a Ravenclaw who is a "FABULOUS Weirdo," believes in "Peace thru Partying," and is a "Faerie Glitter Witch." I would like that last one on my tombstone, personally.
Angie says she'd rather win the game than be loved by America, but fans will just have to tune in to see if either one (or both) of those things come true. But win or lose, she's sure to bring the party to Big Brother's landmark 20th season, beginning June 27 on CBS.