'Wild Beauty' Combines Fairytales And Curses For A Powerful Story About Family And Love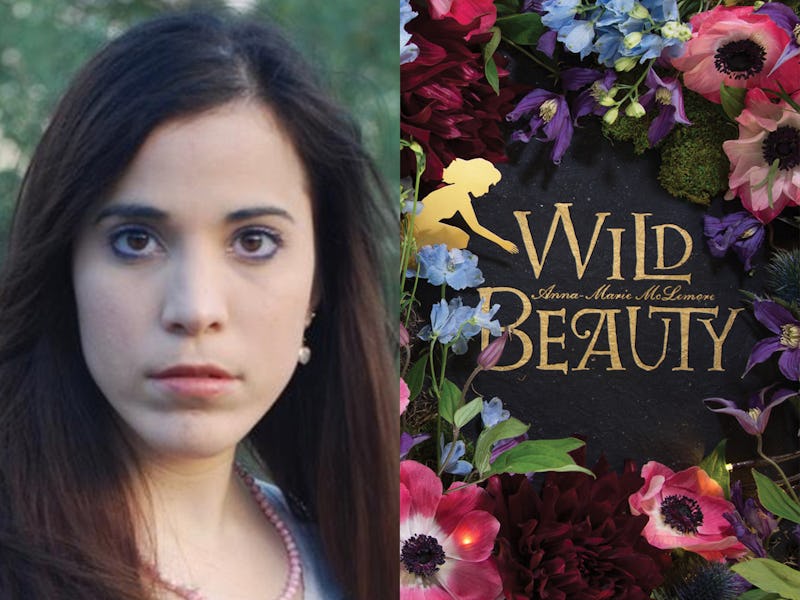 Courtesy of Macmillan
Author Anna-Marie McLemore has already cemented her status as a writer of stellar, diverse magical realism, with her first two YA books, The Weight of Feathers and When the Moon Was Ours, which was longlisted for a National Book Award. Now she's back with Wild Beauty, a story filled with vibrant characters that resonate, and plots that will pull you in with equal parts magic and mystery.
The story follows the Nomeolvidea women who, for nearly a century, have tended the grounds of La Pradera, the lush estate gardens that enchant guests from around the world. These women have also hidden a tragic legacy: if they fall in love too deeply, their lovers vanish. But then, after generations of vanishings, a strange boy appears in the gardens; and he knows nothing more about who he is or where he came from — nothing except his first name, Fel. As Estrella tries to help him piece together his past, La Pradera leads them both to secrets as dangerous as they are magical.
"Wild Beauty is all about Latina girls in enchanted gardens, [and] even though I may not have been thinking of a particular fairy tale, the feel of fairy tales, the idea of magic being both beautiful and treacherous, was always close," McLemore tells Bustle. "I also grew up hearing folklore about particular kinds of flowers, so I think those were all swirling around in the back of my mind while dreaming up La Pradera."
Another thing McLemore grew up with was a community in which grandmothers play a central role in families — a matriarchal structure that may be familiar to many Latinx people who have spent their lives surrounded by strong women. This structure lends Wild Beauty a powerful feminist undercurrent that runs throughout the entire novel.
Wild Beauty by Anna-Marie McLemore, $12, Amazon
"I think part of the Nomeolvides family came from what I knew, the matriarchies I've been around, and also from a desire to write a world ruled by women," says McLemore. "When a man walks into the gardens of La Pradera, he's an outsider. He's walking into the domain of women."
That domain extends far beyond the confines of La Pradera, too. Because Wild Beauty takes the well-tread terrain of stories about intense romantic love and the many consequences it can bring, and turns it on its head. McLemore approaches the topic in a way that is both refreshingly unique and entirely authentic, exploring the place where love, both thrilling and frightening, meet... and she attempts to give the women in the story back their control.
"Love, particularly the kind of deep, all-consuming love... there's something beautiful and thrilling but also terrifying about it. And thinking about this question, I can't help approaching it as a queer woman," she says. "I love my family and the Latinx community I grew up in, and they're incredibly important to me. But where I came from often made it harder for me to be who I was and to love who I loved. And for a while I didn't think I could do that, live openly as a queer Latina girl. The thought that I almost gave up my chance not only at love but at being fully myself, that still scares me sometimes. So the idea of love being something as frightening as it is wonderful, that's still with me."
And while many YA books on young love and romance tend to become singular narratives that leave out the importance of family or friends, for McLemore that was never going to be the case.
"Falling in love was never something I could keep isolated from my life as part of my family," she says. "Sometimes for worse, as mentioned above, but often for better, because I knew that anyone who couldn't handle my family probably couldn't handle me. I wanted to write a story like that, a family like that, and how love works against that kind of familial landscape."
It's a refreshing combination of coming-of-age romance and with family legacy and feminine strength, by a writer who has made a commitment to bringing authentically complex Latinx and queer voices into the mainstream.
"I hope Wild Beauty helps expand the world in which readers see queer Latina main characters," McLemore says. "No community can be encompassed in one story, so it's so important to have a wide range of narratives that feature queer characters and characters of color. We belong in contemporary stories, speculative fiction, historical novels, and fairy tales."