Anne Frank's Diary Actually Contained Dirty Jokes & Yep, She Was A Regular Teenager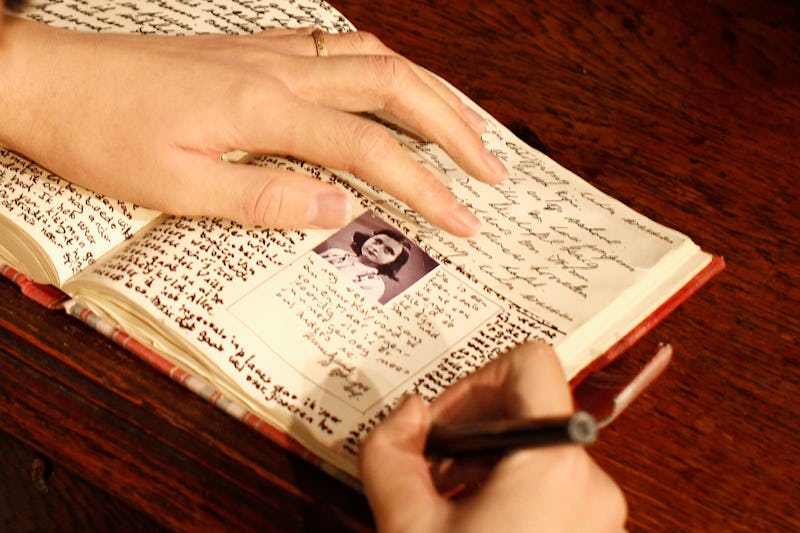 Andreas Rentz/Getty Images Entertainment/Getty Images
A diary is the perfect place to record all your most secret thoughts, biggest dreams, darkest fears, and even for some, dirtiest jokes. At least, that is what researchers recently discovered in Anne Frank's diary after image-processing software revealed the contents of two previously covered pages. Based on the newly uncovered entries, it would appear Frank was just like so many other girls her age: smart, funny, curious, and always questioning the world around her.
"I'll use this spoiled page to write down 'dirty jokes,'" reads the newly uncovered pages of Anne Frank's famous diary dated Sept. 28, 1942, when the young writer was 13 and less than two months after her family went into hiding. Below it are several crossed-out phrases and 33 lines about sex education, prostitution, and birth control. They also include four different jokes that show Frank to be a very typical young girl interested in all the same things growing children are — sex, attraction, the changing body, growing up — despite her extraordinary circumstances.
While the translation isn't exactly ideal for jokes, it does reveal that Frank was more than just a traumatized young Jewish girl in hiding. In fact, she was a typical young teen who used her diary — one I'm sure she never imagined millions of people one day reading — to explore, question, and joke about the world around her, a world that includes sex.
"All men, if they are normal, go with women, women like that accost them on the street and then they go together," Frank's joke about prostitution started. "In Paris they have big houses for that. Papa has been there."
In a different passage about sex, Frank describes what it is like when a young woman gets her period, calling it "a sign that she is ripe to have relations with a man," but clarifying that "one doesn't do that of course before one is married." Though she writes it more eloquently than my 13-year-old self did, I am sure I have a nearly identical passage in my own childhood diary, because honestly, what teen girl hasn't spent time thinking about her body, puberty, and sex?
Possibly afraid prying eyes would uncover her raunchy sense of humor, Frank originally used brown paper to hide the pages containing her jokes. To uncover them, researchers used image-processing software to decipher script were able to detect after taking backlit photos of the pages with a flash. The discovery was a collaborative effort by the Anne Frank Museum, the Institute for War, Holocaust and Genocide Studies, and the Huygens Institute for the History of the Netherlands.
Anne Frank: The Diary of a Young Girl by Anne Frank, $7, Amazon
"Anyone who reads the passages that have now been discovered will be unable to suppress a smile," said Frank van Vree, director of the Netherlands Institute for War Holocaust and Genocide Studies. "The 'dirty' jokes are classics among growing children. They make it clear that Anne, with all her gifts, was above all also an ordinary girl."
While the pages provide new content for Frank scholars to explore, they aren't the only passages with sexual themes in the diary. In fact, there have been several attempts to ban The Diary of a Young Girl in the United States for content some parents and educators consider to be "pornographic." In one passage in particular, Frank wrote about exploring and discovering her own genitalia. "When you're standing up, all you see from the front is hair," she writes. "Between your legs there are two soft, cushiony things, also covered with hair, which press together when you're standing, so you can't see what's inside. They separate when you sit down and they're very red and quite fleshy on the inside. In the upper part, between the outer labia, there's a fold of skin that, on second thought, looks like a kind of blister. That's the clitoris."
Like the contested passage above, the new pages of Frank's diary show her to be an average teen curious about her body, its changes, and what that means for her life. They also reiterate the fact that her entries are personal, written in a diary she never intended to show anyone else.
Witty and, for many young women, incredibly relatable, these jokes and ruminations on sex and puberty help create a more well-rounded version of the writer readers know from The Diary of a Young Girl. Originally released in 1947, Frank's diary has been published in over 60 languages and become required reading for students learning about the Holocaust in classrooms all across America. In that popular version of her published diary, which includes writing from the notebooks she kept during the two years her family and another Jewish family were in hiding from the Nazis in Amsterdam, Frank shares her most personal thoughts and feelings about everything, from the frigid relationship she had with her mother to the overwhelming sense of loneliness she felt as a young girl without a true friend.
Now, thanks to the collaborative effort of researchers, readers can see one more side of Frank, too: her typical teen jokes.