Anne Frank's Diary Has Been Transformed Into A Graphic Book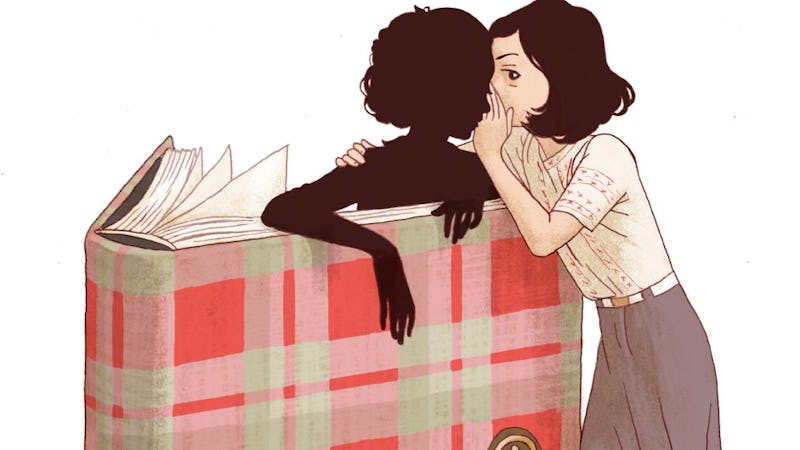 Courtesy of Anne Frank Fonds Basel
Anne Frank's The Diary of a Young Girl is, for many young people, an introduction to the atrocities of the Holocaust. A new reinvention of the book hopes to draw in more new readers: The Diary of a Young Girl has been adapted into a graphic memoir, called Anne Frank's Diary: The Graphic Adaptation. Written by Ari Folman and illustrated by David Polonsky, the graphic book expands on the original story in extraordinary ways.
In The Diary of a Young Girl, Anna Frank chronicles the time her family spent hiding from Nazis after they invaded Amsterdam. The Franks lived for two years in a secret annex concealed behind a bookcase in the building where her father worked, along with another Jewish family (and eventually an additional man). But The Diary of a Young Girl is about more than just the Holocaust — it's a striking articulation of what it is like to be a young woman. Anne writes about her fears and desires, her feelings towards boys, the pressure she feels from her family, and her internal wonderings about the world.
So, how do you update a book that is both a poignant coming-of-age reflection and a horrifying account of one of the most gruesome periods of human history? The graphic adaptation juxtaposes the text The Diary of a Young Girl with beautiful artwork by David Polonsky to show readers some of the things that Anne Frank doesn't explicitly mention but certainly existed in Amsterdam during the Nazi invasion. Through the artwork, readers are shown how daily discrimination against Jewish people played out, what the secret annex (and its occupants) looked like, and images from the warfront and concentration camps.
Anne Frank's Diary adapted by Ari Folman, illustrated by David Polonsky, $24.95, Amazon or Indiebound
The graphic adaptation gorgeously captures the confessional spirit of the original diary with artistic expressions of Anne's inner world. The book illustrates and expands on Anne's dreams and imaginings, and one can almost believe that these are pictures Anne herself might have drawn as she was turning things over in her mind. For instance, there's a graphic depicting the inhabitants of the annex as different animals. Another imagines her hypothetical wedding day with the boy she has a crush on. There's a caricature of Mrs. Van Daan (one of the annex inhabitants, whom Anne loathes) sitting primly on her chamber pot as a nuclear missile falls on her head. One graphic shows Anne walking through an imaginary garden, filled with nude statues as she writes, "I must admit, every time I see a female nude, I go into ecstasy. If only I had a girlfriend!" And another image depicts her family floating on a cloud while the entire world burns beneath them.
While reading the graphic adaptation, you'll find yourself lingering on each individual panel. The artwork is at the same time extremely accessible and extraordinarily detailed. Every panel could stand alone and tell its own story. Anne Frank's Diary: The Graphic Adaptation has so much power, even as an adaptation, because the authors have not just repeated Anne's writing—they've treated the original text like a seed, from which a rich and vibrant visualization has bloomed.
Graphic books have the stark ability to tell stories in entirely new ways and make them accessible to different audiences. This book certainly allows readers to connect with Anne's diary in a new way. Whether you're familiar with Anne's story, or you're coming to it for the first time, Anne Frank's Diary: The Graphic Adaptation is a remarkable way to immerse yourself in an essential piece of history.