The 'Good Girls' Assault Storyline Bucked This Disturbing TV Trend & It's Cathartic As Hell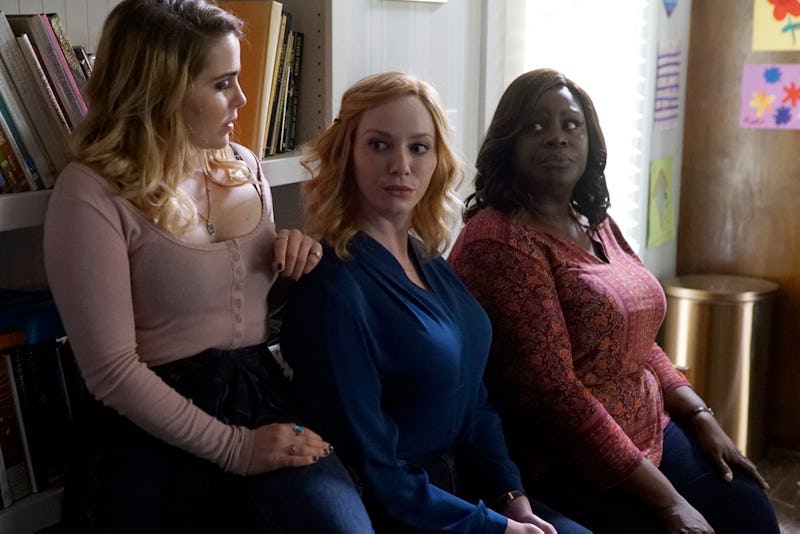 Josh Stringer/NBC
Spoilers for Good Girls Episode 2. When it comes to crime shows, NBC's Good Girls is already way ahead of the standard curve by putting three, suburban moms — Beth (Christina Hendricks), Annie (Mae Whitman) and Ruby (Retta) — at the center of the narrative. It's a female led story with a quest for cash that's more about family and independence than greed. But as of Mar. 5's episode, Good Girls is also making waves for taking an untypical approach to a sexual assault storylines. Annie's revenge scene in the episode "Mo Money, Mo Problems" sets her experience apart from those that withhold power from survivors.
After seemingly getting away with the robbing a grocery store in the pilot, Beth, Ruby and Annie are busted by Annie's creepy grocery store manager Boomer, who threatens to snitch to the cops if Annie doesn't give into his sexual demands. Fortunately, Boomer is stopped almost in the act by Annie's sister Beth, who proceeds to knock him out with a bottle of bourbon. Beth and Annie then hogtie Boomer and stow him up in the treehouse in Beth's backyard until they can devise a plan of what to do with him.
The duo doesn't have the heart to kill him, but they don't know what else to do with him. At first, they attempt to hold him for ransom from his grandmother, but that plan falls through when they meet the lady in person and soften. Before long, Boomer escapes. But, unfortunately for him, his victory is short lived.
The ladies track him down before he can get far. Annie blackmails him into keeping his mouth shut by snapping a photo of his penis as he lays partially-tied up in the dirt. She pretends to text it to her daughter — which would render him a sex offender, if Annie turned it over to the cops. Boomer looks pissed, but clearly, he's lost this battle and Annie struts away feeling empowered. Her other problems persist, but at least she got one up on this guy. It's a small moment in the scope of the overall episode, but incredibly powerful nonetheless.
For some unsettling reason, sexual assault and rape storylines have become a common occurrence on television, especially in Peak TV. And rarely are the assaults or the aftermath of them handled in a way that's not sensationalized. For example, HBO's Game of Thrones came under fire in 2015 for its exaggerated depictions of sexual assault and rape with sites like The Mary Sue refusing to promote the series any longer. Sexual assault has been depicted an exorbitant number of times throughout Thrones' seven seasons, including a particularly graphic rape scene involving Sansa Stark in Season 5, which was shown through the eyes of a male character (Theon), rather than Sansa's.
Fortunately, the rise of shows like MTV's short-lived, black comedy Sweet/Vicious put the spotlight square on survivors and their healing process. The show told the story of Jules Thomas, a sexual assault survivor, who worked to heal herself by becoming a vigilante that targeted sexual predators on her college campus. And through her experiences as a vigilante, Jules — along with her friend Ophelia — is able to finally confront her rapist.
Falling in line with Sweet/Vicious more than Game Of Thrones, the way Good Girls portrays Annie's assault is refreshingly focused on her. On both shows viewers don't see the victims graphically attacked. In Good Girls, Boomer and Annie struggle for only a few seconds before Beth comes charging in to save her sister. And the subsequent revenge scene allows Annie to take back the upper hand sans the prolonged crying scenes, substance abuse, and self-destruction.
Now Annie's quick recovery on Good Girls could be due to the fact that her main concerns at the moment are repaying the money she and her friends took back to the local dealers and battling her ex for custody. Nonetheless, it's clear that she isn't the type to sit around and wait for power to be given to her. She takes it — and that's an incredibly inspiring image for survivors to see.
If you or someone you know has been sexually assaulted, call the National Sexual Assault Telephone Hotline at 800-656-HOPE (4673) or visit online.rainn.org.
Editor's note: After publication, we discovered this article did not meet our editorial standards: There were portions that did not correctly attribute another source. It has been updated to meet our standards.