If You're Mad As Hell At The Patriarchy, This New Show Is The Release You Need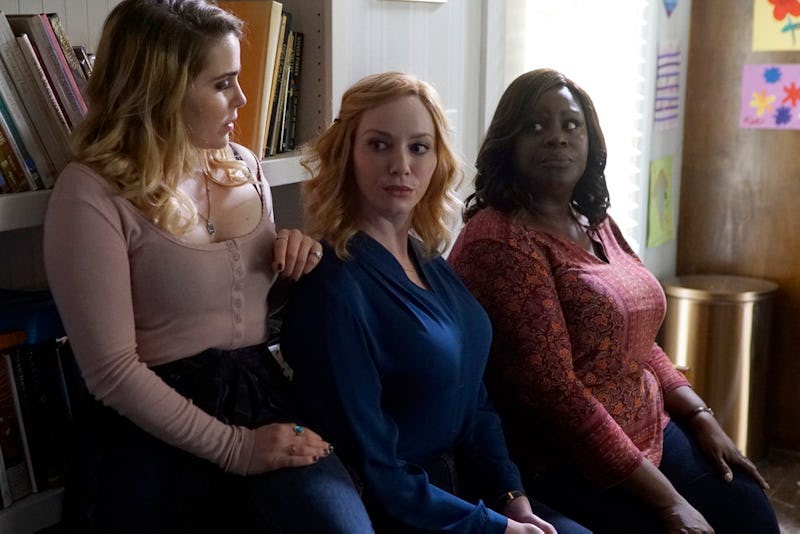 Josh Stringer/NBC
Ask Jenna Bans and she'll tell you a "salty 70-year-old broad from Minnesota" was the inspiration behind her new feminist show Good Girls. Just days after hearing Donald Trump proclaim he could grab women by the pussy, Bans had a "pivotal conversation" with that broad — who also happens to be her mom — about the sexist tone the election coverage had taken. "I sort of naively now, I realize, said to my mom, 'Wow, I can't believe the sexism in the media and everywhere in the election coverage, it's so overt,'" Bans tells Bustle over the phone. "And there was this long pause, and I was like 'Hello?' and my mom goes, 'Where have you been?'"
In that moment, Bans realized her mom had been dealing with this all her life, but she'd never actually talked about it. "There was obviously pain in her voice and a sense of wryness and sense of humor," Bans says, but her mom "wasn't fazed or surprised by it at all." After 70 years, she had become numb to it, shrugging it off because that was all she could do.
Bans realized she could write a show in which women could take matters into their own hands; an escape for those who, like her mom, were too good to go bad, but wouldn't mind watching someone else break the rules. A Thelma and Louise for the women of #TimesUp. "I wanted to write something that was empowering," Bans says. "And you know, fun and funny and a little 'Calgon, take me away.'"
In those old '70s and '80s commercials for Calgon beauty products, overworked and overwhelmed women are whisked off to bathroom oases filled with bubble baths. In 2018, women are still interested in self-care, but only after they've spent some time smashing the patriarchy and the glass ceiling. Good Girls is about those women — the ones who are mad as hell and aren't going to take it anymore.
It's anger and frustration that ultimately convinces three law-abiding suburban moms, played by Mad Men's Christina Hendricks, Parenthood's Mae Whitman, and Parks and Recreation's Retta, to rob a supermarket with Sharpie-coated toy guns. Like self-motivated Robin Hoods, they steal from the rich and give to the poor, which, for the time being, is them. Sure, stealing is bad, but Bans created a scenario that pulls at the heartstrings, sending your moral compass so out of whack that you can't help but root for these women who are done playing nice. Bans knows that's a hard line to walk, but she learned from the best: Shonda Rhimes.
While working on Grey's Anatomy and then Scandal, Bans learned that approaching characters with a sense of fearlessness is the key to good storytelling. Rhimes isn't afraid to shock people or push her characters to the extreme in outrageous ways. Like, you know, how President Fitz smothers a Supreme Court Justice to death and somehow you still kind of want Olivia Pope to be with him. "[Shonda] always knew if it came from a place of truth and of reality and groundedness," Bans says, "that would really get people talking."
People might initially tune in to Good Girls for the crime caper premise, but Bans is hoping they stick around because they care about these women. Beth Boland (Hendricks) is a stay-at-home mom whose world gets turned upside down when she realizes her cheating husband (Matthew Lillard) is millions in debt. Ruby Hill (Retta) and her husband (Reno Wilson) work full-time jobs, but still can't afford an experimental drug that could save their sick daughter. Annie Marks (Whitman), Beth's little sister, is facing a custody battle and doesn't have the means to hire a lawyer on her grocery store salary. (Yes, that grocery store.)
"They've done everything right, sacrificed for their families," Bans says, only to realize it's not enough, it's never enough. "It's this sort of act of desperation," she says of their grocery store hold-up. "It's them getting in touch with their feminist rage that breaks the world right open for them."
Bans doesn't suggest you take up a life of crime, but she believes there's power in female anger. The term, as Broadly's Stassa Edwards pointed out in 2015, was once code for "dangerous and destabilizing" women, a term used to accentuate stereotypes such as "the shrill wife, the crazy ex-girlfriend, feminazis, and the angry black woman." Now, in the age of #MeToo, female anger has become a powerful motivator. "I think it goes hand in hand with empowerment, and changing the system that we live in and changing the world," Bans says. "You have to get angry to change the world."
"It's them getting in touch with their feminist rage that breaks the world right open for them."
But to change the world with female anger, first, the world needs to understand the importance of it. In the final days of 2017, Bitch's Andi Zeisler wrote about embracing female rage in the new year. Knowing white male anger was one explanation given for Trump's win, Zeisler wondered why women's anger wasn't being given the thinkpiece treatment and came up with an answer: fear. "In short," Zeisler wrote, female anger "is terrifying, particularly to men and so the history of women's anger goes hand-in-hand with a history of oppression."
Good Girls is looking to rewrite this history by mainstreaming female anger in a way that's not aimed at targeting men, but at empowering women. "It's sort of a proactive anger," Bans explains. "It's a righteous, justified anger that goes along with action and empowerment." Bans even coined a term for it: "feel-good anger," because "it makes me feel good watching them take their power back."
In the months since Harvey Weinstein's alleged history of sexual misconduct became public, (Weinstein's rep has previously denied "any allegations of non-consensual sex") women everywhere have been doing just that. And Bans hopes women will see themselves in these characters who are tired of being exploited, so they're doing something about it. "I hope they feel good and they feel empowered and they feel ready to take risks," Bans says. "Maybe not robbing-grocery-store-type risks, but ready to be badass and take risks in their own life."
Good Girls started out as a love letter to Bans' mom, whose anger had been silenced. But now it's an ode to every woman who's brave enough to be angry.