Anthony Bourdain's Six Posthumous Emmy Wins Were A Heartbreaking Tribute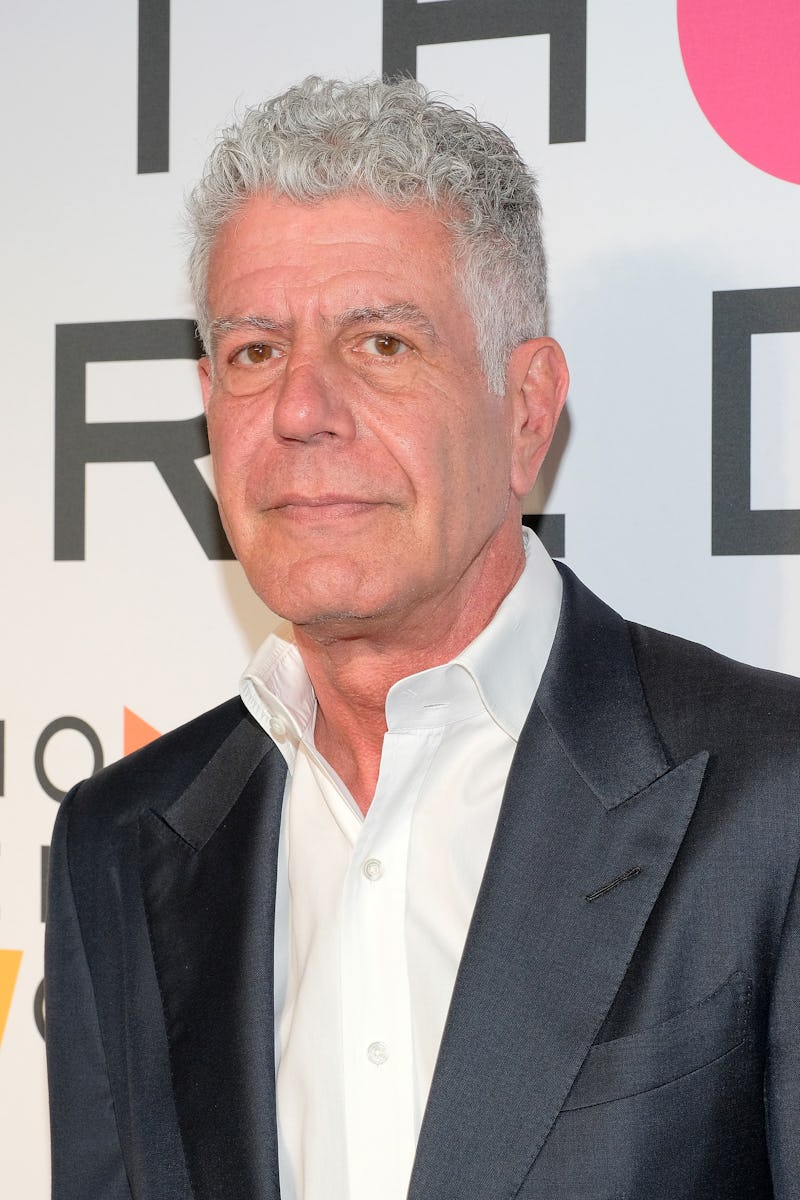 Matthew Eisman/Getty Images Entertainment/Getty Images
In news so bittersweet that your heart might burst just hearing it, Anthony Bourdain received six posthumous Emmys at the 2018 Creative Arts Emmys. The late chef received the slew of honors for his show Anthony Bourdain: Parts Unknown, and the words of tribute that the cast and crew of Bourdain's show shared in his absence will leave a lasting mark on fans and the entertainment industry alike.
The beloved CNN show was nominated for six awards going into the Sunday, Sep. 9 broadcast, which per tradition, aired little over a week before the Primetime Emmys broadcast, which will take place on Sep. 17. Yup, you heard that correctly: six nominatinos and six wins. Even if it wasn't your subject in high school, a little fast math will tell you that the Parts Unknown team won in every category in which they were nominated.
That meant four trophies for the show overall — for Outstanding Picture Editing for a Nonfiction Program, Outstanding Short-Form Nonfiction Or Reality Series, Outstanding Sound Editing for a Nonfiction Program, and Outstanding Sound Mixing in the same category. On top of that impressive list of honors for the show, there were two awards that went to Bourdain as an individual as well: Outstanding Writing for a Nonfiction Program and Outstanding Informational Series or Special.
It would be an overwhelming amount of love for the show in any event, but this moment was made all the more heart-breaking by the recent loss of the television personality. Bourdain died by suicide just three months ago, while shooting Season 12 of the CNN show in France in June. And the freshness of his death and the raw devastation it's caused were topics at the forefront of the speeches shared by Bourdain's coworkers. When the late 61-year-old was announced as the winner of the non-fiction writing Emmy, which he'd never won in life despite eight nominations, Parts Unknown Producer Lydia Tenaglia accepted the non-fiction writing Emmy on Bourdain's behalf, as reported by Deadline, saying:
"Tony was nominated for this Emmy many times, but it had always eluded him. So it is with tremendous bittersweetness that I accept it on his behalf. His writing was always fiercely intelligent — very real no bullsh*t…. If he were here, he would thank his longtime literary agent and friend Kim Witherspoon for giving his words life through the medium of books…actually he wouldn't have done that at all. He wouldn't have thanked anybody he would have been …..but he's really off on a journey to parts unknown. We wish we were there to shoot it with him and he really would have written the hell out of that episode."
Another senior show producer, Geraldine Porras noted, "This award is dedicated to the memory of Anthony Bourdain, who continues to inspire us every day," and backstage at the ceremony, executive producer Nathan Thornburgh shared how important the outpouring of support has been to the show's team in the wake of this incredible tragedy. He told reporters:
"The one thing about this loss is it's not ours alone, like everybody knew that guy. Everybody had a selfie with him, but more importantly I think everyone felt like he had spoken to them over the years and that's helped a lot, to feel like we're not alone."
The heart-wrenching truth is that Bourdain's death has formed a community of those who knew him and loved him, or loved him without ever knowing him. He touched lives in life, and he's continuing to touch them even after his passing, so the fact that he's receiving this posthumous public recognition for his life's work is as apt as it is bittersweet.
No one could be more deserving than the beloved chef, so it's both impossible and fitting to bid him farewell in this way. And of course, it's been announced that there's still one more season of Parts Unknown in the works. The final season will pay tribute to Bourdain's life and address his death, so fans still grappling with this loss will have another opportunity to say their final goodbyes.
If you or someone you know is experiencing suicidal thoughts, call the National Suicide Prevention Hotline at 1-800-273-8255 or text HOME to the Crisis Text Line at 741741. You can also reach out to the Trans Lifeline at 877-565-8860 or the Trevor Lifeline at 1-866-488-7386, or to your local suicide crisis center.