Here's When The Final Season Of Anthony Bourdain's 'Parts Unknown' Will Air On CNN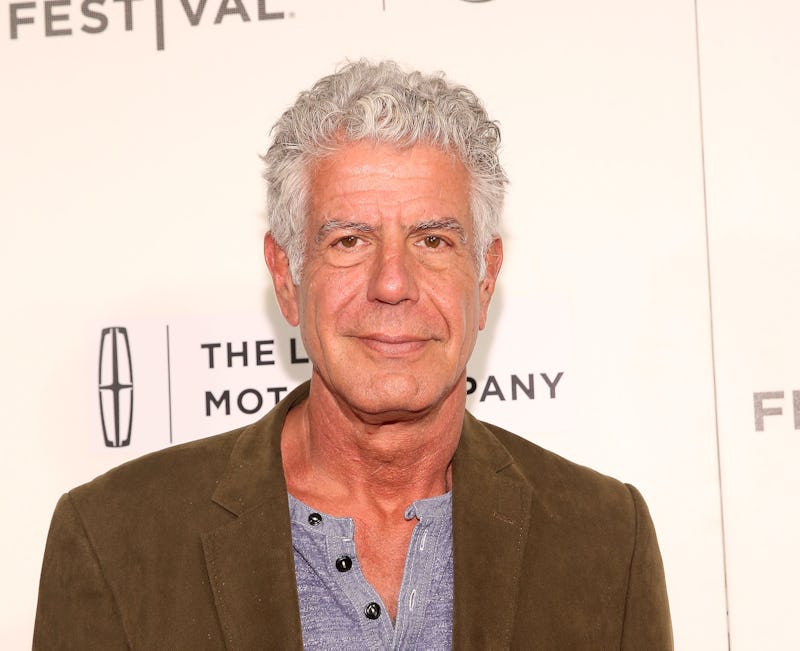 Robin Marchant/Getty Images Entertainment/Getty Images
Fans still grappling with the death of a culinary icon will get one final chance to say goodbye — Anthony Bourdain's Parts Unknown will air its final season on CNN this fall, following the beloved chef's death. Although they did not offer a more specific premiere date, the network announced their plans for Season 12 of Parts Unknown on Wednesday, Aug. 1, promising seven final episodes of the critically-acclaimed series.
According to The Hollywood Reporter, one episode had already been completed when Bourdain died by suicide on June 8 while filming in France. That episode, a journey to Kenya with fellow CNN personality W. Kamau Bell, will reportedly be released as-is, with the beloved chef's trademark narration. According to the L.A. Times, the other six will be cobbled together with both audio and video of the late chef that had already been collected in the field, with follow-up interviews and voiceovers supplied as necessary by others featured in the episodes.
As explained by CNN executive Amy Entelis, who gave Parts Unknown its start in 2013:
"Each [episode] will feel slightly different depending on what's gathered in the field. They will have the full presence of Tony because you'll see him, you'll hear him, you'll watch him. That layer of his narration will be missing, but it will be replaced by other voices of people who are in the episodes."
By the sound of it, the episodes will be difficult, but healing to watch, especially as the network has set aside two episodes to openly discuss Bourdain's loss. After the completed first episode, the next four will at least loosely adhere to the format that fans have become familiar with, visiting "Manhattan's Lower East Side, the Big Ben area of Texas, the U.S.-Mexico border, and the Asturias region of Spain and Indonesia," according to THR.
But for the final two episodes, the format will change; they will reportedly feature Cajun Mardi Gras and Bhutan, but also Bourdain himself. The L.A. Times reported that the penultimate episode will be a behind-the-scenes look at the show itself, with cast and crew discussing the making of the series, with outtakes and never-before-seen footage sprinkled in. But it's the final episode that you really need to emotionally prepare for, as Entelis promises that the show's final hour will center around "how Tony affected the world."
Is there a bunch of dust in here, or is this death just still incredibly raw, with millions of fans still aching for help to process it? It's probably that second one, as evidenced by the response that Entelis told The LA Times she has seen from the public. She stated that the network has received a monumental response from fans in the wake of Bourdain's passing, with emotions ranging from grateful to bitter to devastated, and everywhere in between.
"People said, 'I was afraid to travel before I watched the show,' 'I followed his route,' 'I was an addict and I connected with Tony and now I'm fine.' Others were angry that he's not in the world any more. It's an incredible outpouring. A lot of people are experiencing what we are."
In essence, Season 12 will serve as a therapeutic farewell, both to those who knew Bourdain, and to those who just felt like they knew him. The globe-trotting personality's death changed many lives, but his life changed more, so there is no more fitting tribute to his time on this planet than what Parts Unknown has planned.
If you or someone you know is experiencing suicidal thoughts, call the National Suicide Prevention Hotline at 1-800-273-8255 or text HOME to the Crisis Text Line at 741741. You can also reach out to the Trans Lifeline at 877-565-8860 or the Trevor Lifeline at 1-866-488-7386, or to your local suicide crisis center.