A District Court Judge Holds David Daleiden In Contempt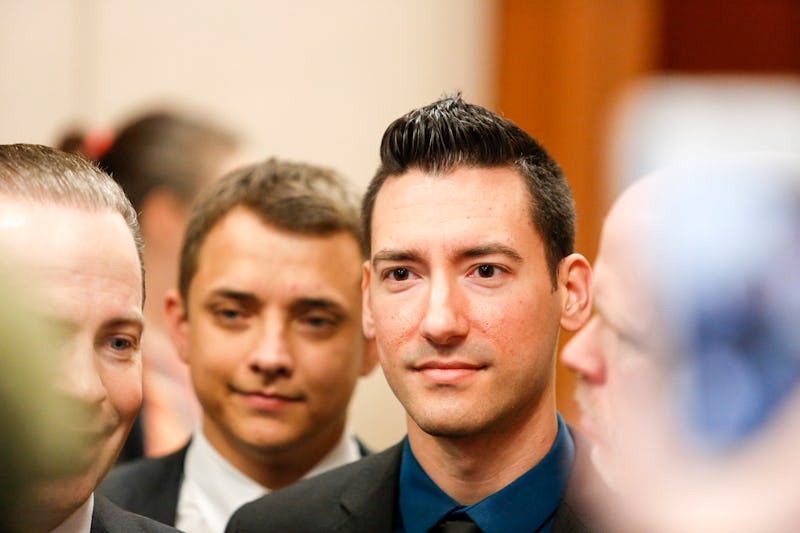 Eric Kayne/Getty Images News/Getty Images
The anti-abortion activist best known for the 2015 debunked Planned Parenthood videos, David Daleiden, was found in contempt on Monday when a federal judge ruled the release of additional videos violated a previous preliminary injunction, according to a statement from the National Abortion Federation (NAF).
This announcement comes a week after the judge found Daleiden's legal team (former LA prosecutor Steve Cooley and Brenford Ferreira) in contempt for posting more secretly-recorded videos online to their website and violating that same injunction granted in February 2016 by United States District Judge William Orrick.
In his opinion at that time, Orrick wrote that Daleiden and his team "engaged in repeated instances of fraud" through their videos and, following a lawsuit from NAF, ruled to block them from releasing or disclosing "video, audio, photographic, or other recordings taken, or any confidential information learned at any NAF annual meetings."
According to NAF, Orrick ordered Daleiden (and his anti-choice group Center for Medical Progress) on Monday to turn over "all video footage and other materials covered by our Preliminary Injunction to their civil attorneys." Additionally, he ordered that Daleiden, Cooley, Ferreira, and the Center for Medical Progress would be liable for damages to NAF to cover additional security costs, attorney's fees, and expenses the organization incurred in responding to the violation of [the preliminary injunction.]
The Associated Press reported that, on Monday, Ferreira called the order "an unprecedented infringement on a state criminal case." Later, it added, Matthew Geragos, Cooley and Ferreira's attorney, defended his clients' move to publish the videos because they were working to clear Daleiden in his criminal case.
In the group's statement, NAF President and CEO Vicki Saporta spoke up in favor of Monday's decision:
Daleiden used his criminal attorneys to circumvent our court order. This egregious and disturbing violation of our Preliminary Injunction cannot stand, and we are pleased that Daleiden and his co-conspirators will be held accountable for their actions.
Further, Saporta emphasized the necessity of protecting the privacy of NAF members and the safety concerns over information from those meetings going public:
Daleiden has no regard for the law and has proven that he cannot be trusted with the videos and other materials he stole from our meeting. It's critical to the safety and security of our members that the judge take these protected materials away from Daleiden and hold him and his attorneys accountable for their blatant violations of our Preliminary Injunction.
While the long-term effects of Daleiden's "Human Capital Project" — the debunked videos alleging that Planned Parenthood illegally trafficked fetal remains — remain to be seen, activists continue to be committed to ensuring that abortion providers and advocates stay safe during the legal proceedings.