The PP Sting Video Culprits Are Finally Being Charged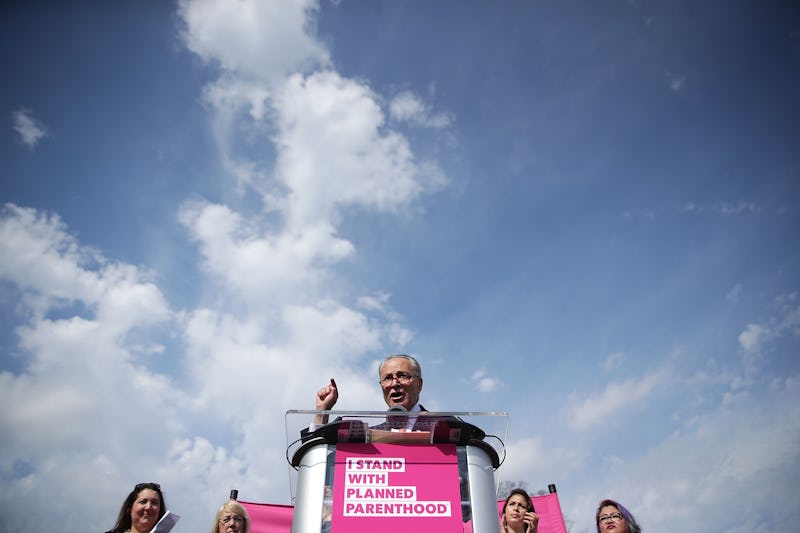 Alex Wong/Getty Images News/Getty Images
Despite all the important work that it does, Planned Parenthood has no shortage of opponents in the U.S. And while some Americans only express that opposition within the voting booth, others take their anti-abortion views to extremes. One of the most publicized anti-abortion actions of the past few years was the release of heavily edited videos appearing to show representatives of the organization attempting to profit from the sale of fetal tissue. Those videos have since been discredited, and Planned Parenthood was cleared of wrongdoing. But what happened to the people who created the Planned Parenthood sting videos?
Two of the people responsible, David Daleiden and Sandra Merritt, have yet to face jail time for creating and disseminating their harmfully misleading videos. But the fate of their freedom is uncertain. Just hours before Planned Parenthood's Pink Out Day was set to begin, Daleiden and Merritt were charged with 15 counts of invasion of privacy in a California court, all of which are felonies. The charges are based on the grounds that Daleiden and Merritt fabricated identities and an entire research company to help them meet with and secretly record abortion providers. Folks who unknowingly appeared in the videos that were posted online report having received death threats as a result.
Daleiden told LifeSiteNews, a self-described Christian, pro-life media outlet, "These bogus charges from Planned Parenthood's political cronies are fake news." He later added, "I look forward to showing the entire world what is on our yet-unreleased video tapes of Planned Parenthood's criminal baby body parts enterprise." The court sees it differently. In a statement about the charges, California Attorney General Xavier Becerra said, "The right to privacy is a cornerstone of California's Constitution, and a right that is foundational in a free democratic society. We will not tolerate the criminal recording of confidential conversations."
This isn't the first time charges have been brought against the creators of the now-infamous Planned Parenthood sting videos. In 2016, Daleiden and Merritt were indicted on felony counts of tampering with a governmental record to create their false identities. Those charges were later dropped. But Planned Parenthood hopes this latest indictment will hold more weight. The organization's Interim Vice President of Communications Mary Alice Carter wrote in a statement, "The California Attorney General filing criminal charges sends a clear message that you cannot target women and you cannot target health care providers without consequences. We look forward to justice being served."
The videos created by Daleiden and Merritt were posted to the website for anti-abortion nonprofit Center for Medical Progress in 2015 after having been screened for select anti-abortion members of Congress. They led to a reignited nationwide debate about abortion and push to defund Planned Parenthood. And though Planned Parenthood has never been found of criminal wrongdoing and media outlets have proven the videos were heavily edited, Planned Parenthood advocates still struggle against the misinformation spread in connection to them.