Alexandria Ocasio-Cortez's SXSW Talk Asks People To "Start Building Your Own Power"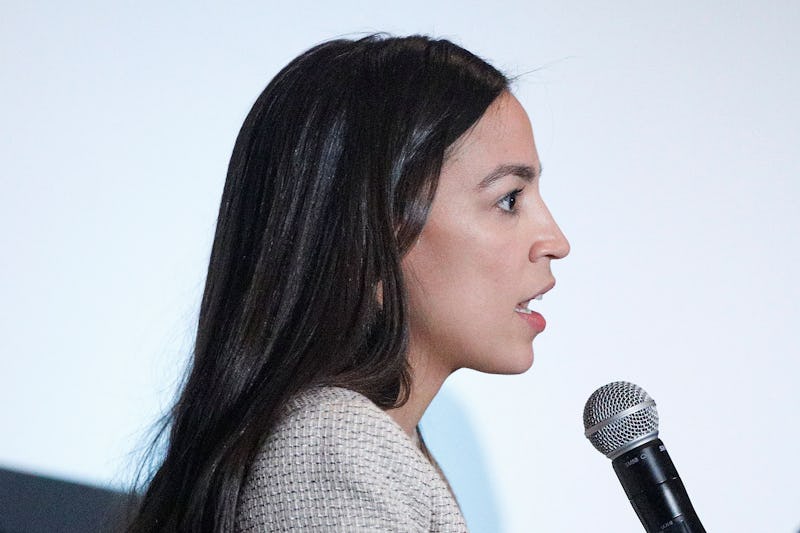 Lars Niki/Getty Images Entertainment/Getty Images
Taking a break from D.C., Rep. Alexandria Ocasio-Cortez spent the weekend in Austin, Texas, looking for burritos and speaking at South by Southwest (SXSW). Both parts of her weekend went viral, but only one of the two can you watch online now. Ocasio-Cortez's SXSW talk has gone viral — both for its content and for a surprise cameo by Bill Nye the Science Guy, who asked her about the role fear has in preventing adoption of measures to help stop climate change.
Ocasio-Cortez touched on many things during her hour-long talk, but her defense of her all-out approach to reforming politics and renewing arguments for progressive policy may be the most on-brand. She was asked about "incrementalism," the idea of taking smaller steps toward progress — and, surprise, it's not her thing. She's more about "bold stances," not checking the box to be a moderate.
"Moderate is not a stance. It's just an attitude towards life of, like, 'meh,'" she said, pronouncing it exactly like most young people do show indifference. "We've become so cynical, that we view 'meh,' or 'eh' — we view cynicism as an intellectually superior attitude, and we view ambition as youthful naiveté when ... the greatest things we have ever accomplished as a society have been ambitious acts of vision. And the 'meh' is worshipped now — for what?"
Ocasio-Cortez went on to give her thoughts on all sorts of issues. For example, she's pro-automation because it could allow for higher standards of living if it doesn't just benefit corporations but is spread equally. She said to be "excited" by it.
"What it could potentially mean is more time educating ourselves, more time creating art, more time investing and investigating in the sciences, more time focused on invention, more time going to space, more time enjoying the world that we live in. Because not all creativity needs to be bonded by wage," Ocasio-Cortez told the audience.
The other memorable moment came when Nye asked a question from the audience about fear and its role in preventing action on climate change and other issues. "Courage begets courage," she responded. "The first person who stands up has to encounter the most amount of fear and discomfort, but once that one person stands up, it becomes immensely easier for the second person and the third."
Nye and Ocasio-Cortez seemed to be on the same page with regards to policy. "It should be our mission right now to make sure that all people have health care," she said. "Our mission should be that all jobs are paid a dignified living wage. Our mission should be to save our freakin' planet." Nye referenced both wages and the climate in his question.
As for the tacos, Ocasio-Cortez tweeted a request for advice on the best places in Austion (for a friend, her barriga). About 7,000 people replied, including RAICES, a Texas-based NGO that works to help immigrants and refugees with legal services. Their tip came with refugee advocacy — something that Ocasio-Cortez would surely be down with.