Apolo Anton Ohno's Girlfriend Bianca Stam Is A Model & Actor Making Waves Of Her Own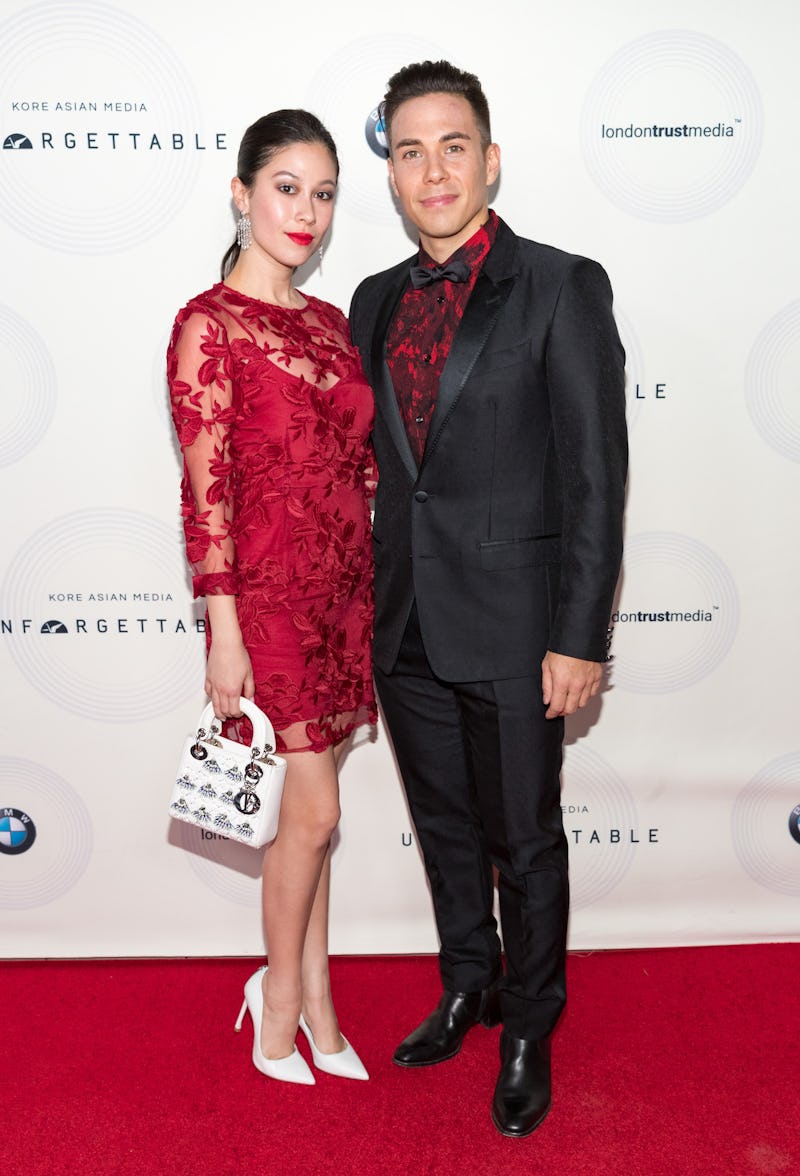 Christopher Polk/Getty Images Entertainment/Getty Images
One of the more fast-paced sports in the Winter Olympics, speed skating, has a star in Apolo Anton Ohno. Even though he's retired from the sport, the athlete still supports Team USA and has been a commentator for NBC the past two Olympics, and will do so for the 2018 games, as well. Ohno has a pretty busy schedule, and so it's a good thing that Apolo Anton Ohno's girlfriend Bianca Stam seems to be as supportive as it gets.
Ohno and Stam have been through a lot when it comes to the athlete's career. The 35-year-old has earned a total of eight Olympic medals, two of them gold, for his performance as a short track speed skater. On top of that, he is an eight-time World Short Track Speed Skating Championship gold medalist and was the youngest U.S. national champion in 1997 at the age of 14. Even further, Ohno is a Mirror-Ball champ as well. In the fourth season of Dancing With The Stars, he competed with Julianne Hough and went all the way through to win the grand prize. While he appeared on the show again in 2012 for the All-Star 15th season, he was eliminated during the show's ninth week.
A quick look at Ohno's Instagram shows that he's still repping U.S. pride, loves to travel, and frequently reminisces on past wins. He also posts a lot about Stam. Constantly using hashtags like #happy, #proud, or #betterhalf, Ohno makes it clear that these two are so adorable together.
Stam is a model and actor, who seems to do most of her jobs in Asia. Her Instagram bio says, "I act in five languages, own an Italian restaurant and mostly play dress-up for a living." The two movies listed on her IMDB consist of Chasing The Dragon, which she acted in, and The Beauty Machine, which she produced.
Stam and Ohno have a puppy together named Sesame Mochi Ohno, who, let's be real, is basically the cutest ball of sunshine. In an Instagram post, Stam wrote that Sesame is one of the best tempered dogs she's ever met,, and "walks up to every single person with a heart full of love and respect." The pup also apparently suffers from the very adorable Small Dog Syndrome, where she thinks she's bigger than her 3.3 pound self.
In addition to parenting their pup, Ohno and Stam seem to love to travel together, to places ranging from New York to Las Vegas. Stam travels for work as well, stating in an Instagram post about her restaurant that she's sometimes working in LA. She's also done some ads in China, and her movies were filmed there as well. Her restaurant, Bar Roma in Andersonville, Chicago, opened up in 2016.
Ohno has a business of his own, which he co-founded with global entrepreneur, Rod Jao, called Allysian Sciences. It's a producer of brain supplements, methods, and products meant "to empower others in being better at whatever they choose to do." In a video for the company, Ohno said that everyone can be as good as he is with sports — they just have to unlock their potential, which is what the product Mastermind aims to help achieve.
Currently, Ohno is in South Korea, getting pumped for the Winter Olympics. He was at the Osan Air Base during the Super Bowl and he shared in a post that he felt "blessed and grateful to be here yet again." The athlete will be assisting the main correspondents during the Winter Olympics as a color commentator for NBC again this year for short track speed skating, which is what he did last year as well. Perhaps Stam will be by his side, cheering him on.