Apple Will Donate $2 Million To Combat Hatred In The Wake Of Charlottesville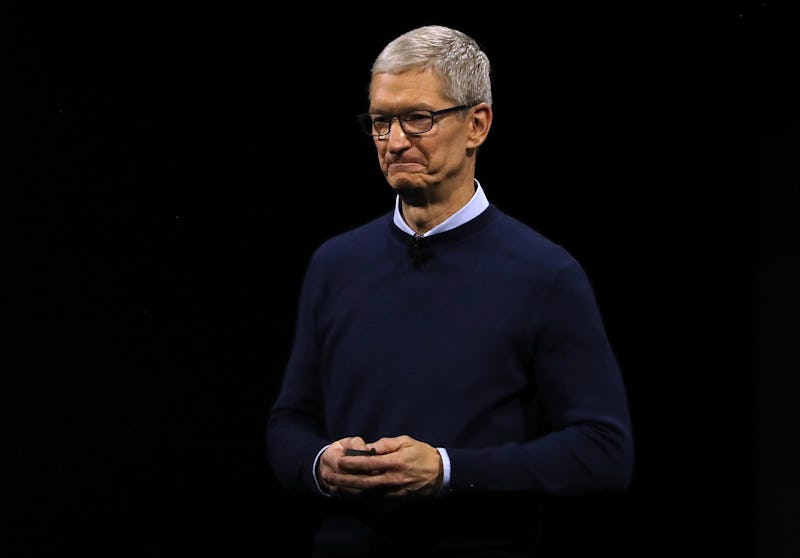 Justin Sullivan/Getty Images News/Getty Images
It's one thing to jump onto Twitter and speak out against the hate that showed itself in Charlottesville over the weekend. It's another to pledge a substantial chunk of money to fight that hate — and that's exactly what one of the world's most iconic tech companies will be doing. Apple CEO Tim Cook has pledged to donate $2 million to groups fighting for human rights, specifically $1 million each to the Southern Poverty Law Center and the Anti-Defamation League.
Cook wrote a very meaningful email to his employees on the matter, laying out his and the company's philosophy of openness and saying that Apple must continue to "[lead] by example." In order to accomplish that, Cook has promised that not only will Apple donate the $2 million to the SPLC and the ADL; the company will also match employee donations to human rights groups two-to-one until the end of September and make it possible for customers to donate to the SPLC directly through iTunes. Apple has a diversity program within the company and a history of public advocacy and corporate outreach, and Cook has now demonstrated that he's willing to put even more of the company's resources towards the fight for racial equality.
Cook has met with Trump twice since the election, including at the inaugural meeting of Trump's American Technology Council. He didn't hesitate to come out against the president's ambivalent stance on the Charlottesville violence, however, saying in a tweet on Monday that "We've seen the terror of white supremacy & racist violence before. It's a moral issue - an affront to America. We must all stand against it." He was not alone amongst tech leaders in condemning the violence and implicitly criticizing the president, who has now twice maintained that "many sides" are to blame for what happened.
Apple's CEO made his criticism of the president clear in his email to employees, saying:
We must not witness or permit such hate and bigotry in our country, and we must be unequivocal about it. This is not about the left or the right, conservative or liberal. It is about human decency and morality. I disagree with the president and others who believe that there is a moral equivalence between white supremacists and Nazis, and those who oppose them by standing up for human rights. Equating the two runs counter to our ideals as Americans.
Assuming that Apple employees and customers will rise to the challenge that Cook poses, the company could end up donating much more that $2 to causes that fight against the forces behind the extraordinary display of hate in Charlottesville. Trump often leans on his supposed skill in business — but Apple will most likely continue to prove that injecting morality into business benefits more than just the groups receiving donations.