Apple Just Released Photos Of The New Red iPhones & Everybody Is Going To Want One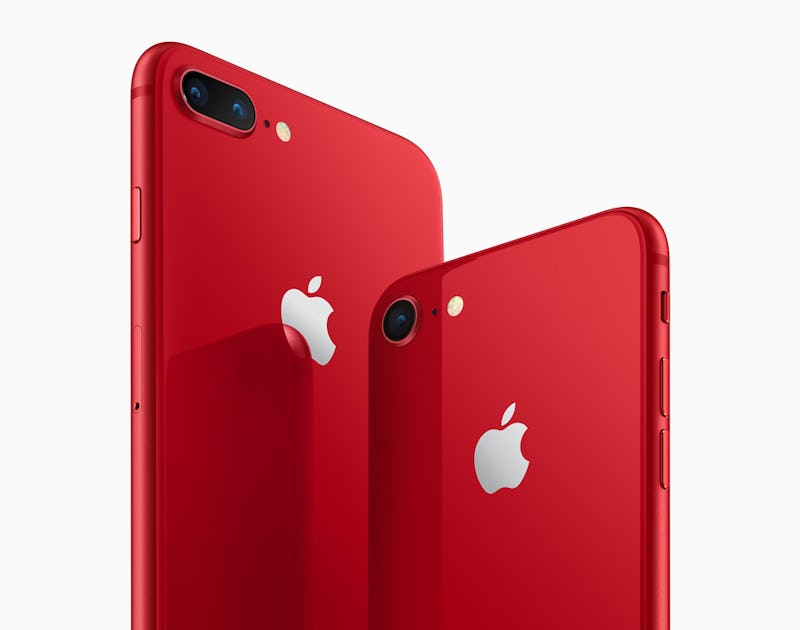 Apple
Despite bearing a likeness to its opposite color, the newest edition of the iPhone will have you seeing green with envy.
Apple confirmed Monday the upcoming release of the red iPhone 8 and iPhone 8 Plus (PRODUCT)RED Special Edition. The limited edition is just the latest release honoring Apple's longstanding partnership with (RED), an HIV and AIDS awareness nonprofit. It is identical to other iPhone models in every way, except in exterior finish. Originally released during the fall of 2017, all models of the iPhone 8 and iPhone 8 Plus feature a durable glass and aluminum base, Retina HD display, dual 12-megapixel cameras, and come programmed with Apple's signature A11 Bionic chip. In a press release from the company, Apple's Vice President of Product Marketing Greg Joswiak exalted the new edition, saying, "This special edition (PRODUCT)RED iPhone features a stunning red and black color combination and also offers customers the opportunity to make an impact in fighting the spread of HIV and AIDS."
One year ago, Apple released a similar (PRODUCT)RED Special Edition iPhone 7. Though, do not expect the newest (PRODUCT)RED iPhone look the same as 2017's edition — this time designers opted for a sleeker red and black pallet as opposed to the whimsical red and white.
Apple has been releasing ruby-colored gadgets every so often since it first partnered with (RED) back in 2006 to release its iPod nano (PRODUCT)RED Special Edition. In the time since, the world's largest tech company has released a special (PRODUCT)RED edition of the iPod Touch, as well as PRODUCT(RED) versions of the Beats Solo3 Wireless Headphones and complementary Beats Pill+. Various special (PRODUCT)RED tech accessories have also been released over the past few years; these include cases for iPhones and iPads, as well as wristbands for the Apple Watch.
(RED) was created by Bono (known best as the lead singer of U2) and Bobby Shriver (an activist, and former mayor of to Santa Monica, California) in an effort to increase awareness and involve businesses in the fight against HIV/AIDS in a number of African countries. According to its website, to date (RED) has "...generated more than $500 million for the Global Fund to fight AIDS, Tuberculosis and Malaria, to support HIV/AIDS grants in Ghana, Kenya, Lesotho, Rwanda, South Africa, Swaziland, Tanzania and Zambia." Its impact is palpable, as "Global Fund grants that (RED) supports have impacted nearly 110 million people with prevention, treatment, counseling, HIV testing and care services," and the initiative has successfully raised $500 million, and helped 90 million people through company partnerships. In addition to Apple, (RED) has partnered with notable names like Nike, Gap, American Express, and even Giorgio Armani.
Deborah Dugan, CEO of (RED) expressed admiration for Apple's continued support of the cause. In the aforementioned press release, she said, "Today's announcement is further evidence of Apple's leadership in and commitment to the AIDS fight since the beginning of (RED) in 2006 ... The more than $160 million Apple has donated in the last 11 years today equates to more than 800 million days of lifesaving ARV medication that prevents the transmission of HIV from mothers to their babies. We're honored that Apple has dedicated its resources to our purpose, and can't wait to see customers bring our mission to life through the purchase of iPhone 8 and iPhone 8 Plus (PRODUCT) RED Special Edition."
If a new iPhone is not in your budget right now, but you still want to snag something new that supports the cause, the iPhone X Leather Case (PRODUCT) RED is now available for $49 on Apple's website and in stores.
The iPhone 8 and iPhone 8 Plus (PRODUCT) RED will be available to order online beginning tomorrow, April 10. The phone will be available in stores starting this Friday, April 13.