Apple Is Launching New AirPods, According To Reports, And The Rumored Features Are Wild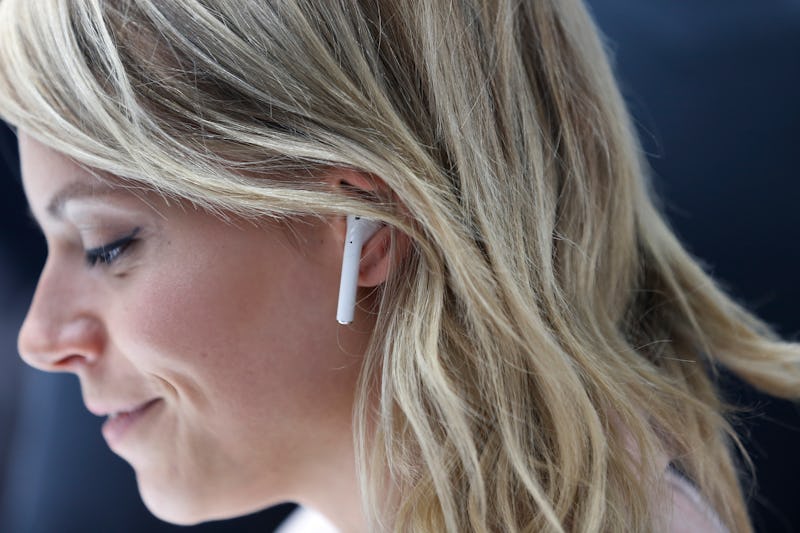 Stephen Lam/Getty Images News/Getty Images
There may be a fancier way to listen to music, podcasts, and adorable baby goat viral videos coming your way. According to Bloomberg, Apple will release new AirPods and over-ear headphones as early as next year, according to sources. Bustle reached out to Apple for a statement about development of these new products, and will update upon response.
Bloomberg reports that the headphones will be "studio quality" and a "higher-end alternative" to Beats, which is owned by Apple. Seeing as Beats over-ear headphones range from $129.95 to $399.95 on the Beats by Dre and Apple websites, it sounds like the new headphones could be even more expensive, especially since Bloomberg says the new product will be meant to compete with Sennheiser and Bose. Over-ear headphones on the Sennheiser site range from $69.95 to $1,699.95; on the Bose site, they range from $179.95 to $449.95.
According to Bloomberg, the headphones were originally said to be planned for release later this year, but due to reported "development challenges" they may now be released as soon as next year. When Bloomberg reported news of the over-ear headphones in March, it noted that the release date could very well be pushed back, and now it seems that is the case.
In addition to the new headphones, Apple is reportedly also working on some snazzy new AirPods. Bloomberg reports that the new AirPods could be water-resistant (not waterproof) and also feature noise-cancellation. These updated AirPods will reportedly be unveiled in 2019 and cost more than the current model, which go for $159. Additionally, sources said that future AirPods could also included "biometric sensors" like heart-rate monitors. There is also supposedly an updated HomePod — a speaker that allows users to play Apple Music via Siri — in the works.
Seeing as new Apple iPhones do not have traditional headphones jacks, it will be interesting to see what the headphone jack on the reported new headphones is like. While it would be no surprise if they come with wireless capabilities, many Bluetooth headphones also have the option of using a cord, including Beats, which include a cable that doubles as a microphone for taking calls. On Beats, the cable uses a traditional jack, rather than the iPhone 8 and iPhone X compatible Lightning jack. (Of course, headphone jack adaptors are available, too.)
Apple's new over-ear headphones being more high-end than and different from Beats makes sense, as the company purchased Beats Electronics and Beats Music in a $3 billion deal in 2014. In a press release in May 2014, Apple CEO Tim Cook said, "Music is such an important part of all of our lives and holds a special place within our hearts at Apple. That's why we have kept investing in music and are bringing together these extraordinary teams so we can continue to create the most innovative music products and services in the world." With the acquisition, Beats founders Dr. Dre and Jimmy Iovine also joined Apple.
As The Guardian wrote in May 2015, the purchase of Beats was perhaps surprising if you were focused on the headphones because "if [Apple] wanted to do headphones it would certainly do better than the Beats products." But, it turned out that Apple was very interested in the streaming service, Beats Music, it purchased, as well. In June 2015, Beats Music was discontinued and Apple Music was launched. Ta-da!
So, it looks like anyone who suspected Apple would one day come out with their own over-ear headphones was probably right. Now we just have to wait for another major question to be answered: Will they come in rose gold?