Applebee's Is Bringing Back $1 Cocktails For All Of February & Here's How To Get 'Em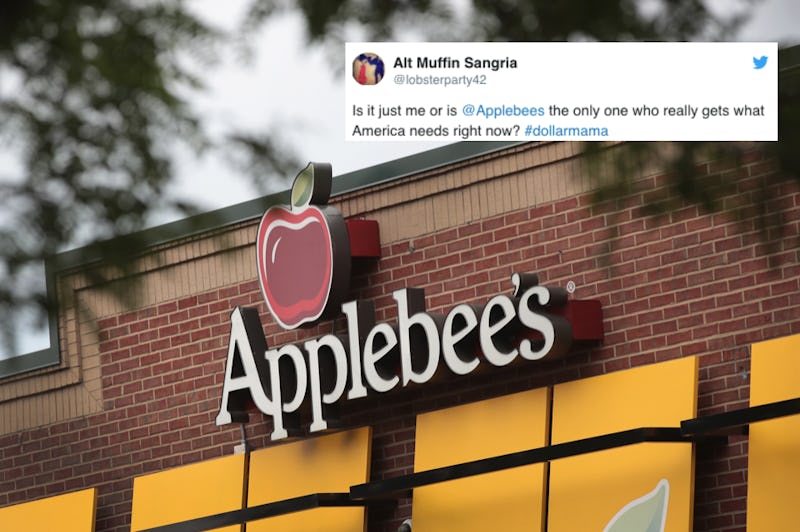 Scott Olson/Getty Images News/Getty Images
Prepare yourself, because this news is honestly the best Valentine's Day gift we could receive: Applebee's is treating us to a February full of $1 Bahama Mamas thanks to its Dollarmama promotion, and we can't wait to get our drink on — with copious amounts of water alongside, of course.
Bahama Mamas are the newest addition to Applebee's "Neighborhood Drinks" menu, and they combine coconut, cherry, orange, pineapple, lime, and white rum, served over ice in a 10-ounce glass. So not only are they an excellent Valentine's Day gift for you and all your loved ones (and you again), but they're a taste of the summertime poolside drinks we all know and miss. If you're not lucky enough to be jetting off on a spring break adventure, you can at least enjoy the spirit of it — without having to shell out for overpriced resort drinks.
It's becoming clear Applebee's is worth keeping an eye on when it comes to cheap and delicious drinks, because the chain just wrapped a month of $1 Long Island Iced Teas — Dollar L.I.I.T.s — in December 2017, and kick-started their affordable cocktail months by offering Dollaritas, aka $1 margaritas, in October 2017. (Yes, as the name suggests, the L.I.I.T.s were, ahem, lit.)
Be sure to check with your local Applebee's to see if it's participating; for Dollar L.I.I.T.s, the restaurant's site said, "Restaurants will determine how long they plan to offer the beverage," and that the $1 drink would be offered at "many locations." The site also recommends checking your location to see if the Dollarmama is available near you.
All these super-cheap drink deals really are a blessing, but according to Brenna Houck writing for Eater, that could be because "the casual dining chain as a concept may be limping along." Elizabeth G. Dunn, also writing for Eater, offered more specific details, noting that chains like Fridays, Applebee's, Chili's, and Buffalo Wild Wings "have subsisted in a dismal and persistent state of decline for about a decade," and that the number of people eating at casual chain restaurants has fallen every month since June 2015. Millennials are killing them, obvs.
Houck writes that Dollaritas won over "thrifty imbibers" and that "[a]necdotally, the cheap margs seemed to drive more diners into Applebee's locations," which is no surprise, considering margaritas out normally cost an average of $8, according to Spoon University. (Spoon University also estimates you could make your own at home for about $1.20 a serving, so Dollaritas really were a steal.) Houck found that Applebee's cocktails cost $6 per glass on average.
Offering uber-cheap drinks is plain ol' economics, David Henkes, a senior principal at the food and beverage industry consulting group Technomic, told Houck. "The general idea is, once you bring [customers] in, then you start to use suggestive selling, and building that check average through getting them to order other things," he explained. Admittedly, once you're in the door and you've got a Dollarmama in hand, it's pretty easy to while away the rest of your Sunday afternoon ordering plate after plate of Chicken Wonton Tacos.
He added, "There's no secret that casual dining — especially the big chains like Applebee's — have been challenged. Growth has been at a premium, and they're looking for ways to bring traffic back into the restaurant."
And even though Applebee's has apparently "ditched millennials," I, a card-carrying millennial, was easily lured back to the chain not by cheap cocktails, but by its Perfect Lemonades, which come in a shaker so you get twice as much drink, and are served in a sugar-rimmed glass. My two greatest cocktail weaknesses. Though, now, it's entirely possible I may need to add $1 drinks to that list of weaknesses. Happy Valentine's Day, y'all.