Here's What You Need To Know About Apple's New HomePod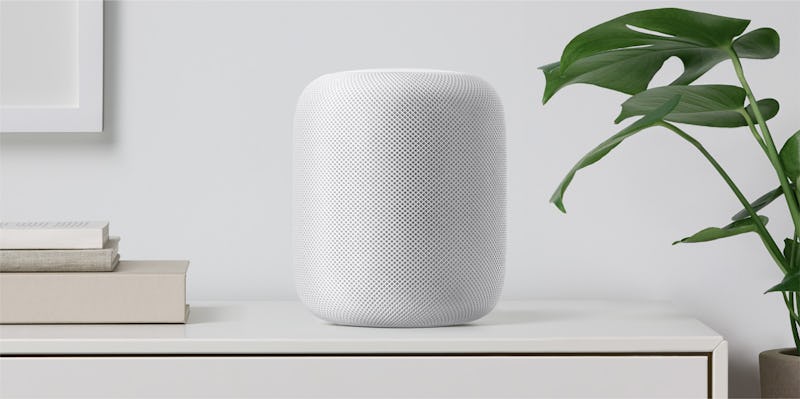 Apple
First there was Amazon's Echo, introduced to the public in 2014. Then in October 2016, Google unveiled its smart speaker, the Home. Now, Echo and Home have another sibling to compete with: Apple's HomePod. On Monday, Apple showed off the HomePod, a seven-inch-tall Siri-enabled speaker, at its Worldwide Developers Conference, making the fight for smart-speaker domination that much more interesting.
Apple's HomePod, which will be available for purchase in December, is priced at $349. The Amazon Echo and Google Home are under $200, but Apple folks argue that the higher price tag is worth it. Referring to the speakers' mechanical details like its virtual surround sound, Phil Schiller, Apple's marketing chief, said, "You don't have to know what any of that is; just know that it sounds incredible."
In another point of differentiation from its competition, the Apple HomePod seems to be only set up for Apple Music, according to The Verge. The other smart speakers support their own company's music streaming services, as well as independent ones like Spotify and Pandora. However, Apple believes that difference serves an important purpose. It says the HomePod uses an Apple Music subscription for "deep knowledge of personal music preferences."
The website's description of the HomePod reads, "We completely reimagined how a speaker should make music in the home. HomePod combines Apple-engineered audio technology and advanced software to deliver the highest-fidelity sound throughout the room, no matter where it's placed. This elegantly designed, compact speaker totally rocks the house."
At WWDC, Apple also showed off a new iPad and a new computer called iMac Pro. As The New York Times noted, this year's conference was particularly heavy on Apple hardware announcements, but nonetheless there were some exciting updates for Apple's software products. For example, the tech giant unveiled iOS 11, which has some pretty neat features — users will now be able to "drag and drop" text and other items between apps. Siri also got some new features: It will now use deep learning processes to present more natural male and female voices, meaning that Siri can vary word intonation.
Using this newly augmented Siri technology, the HomePod speaker will also be able to be used as a digital assistant. According to Apple, you can ask Siri to send messages, control smart home devices, and get updates on the news, sports, and weather.