The Real Reason Sarah Drew And Jessica Capshaw's 'Grey's' Exits Hurt So Much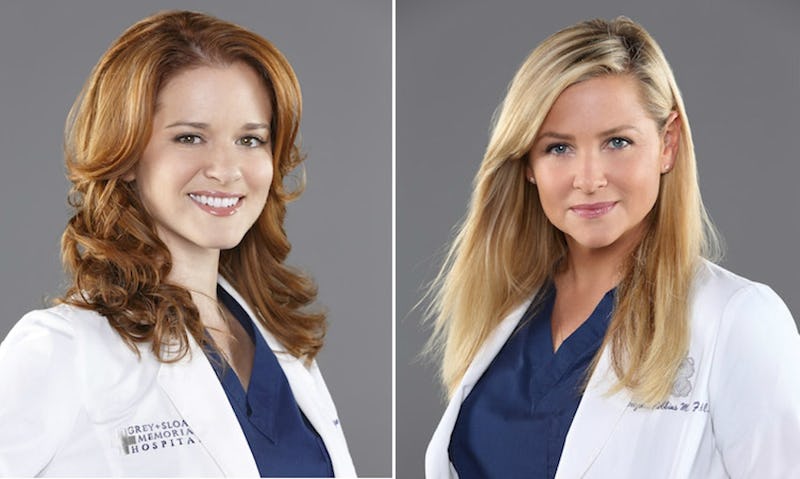 Bob D'Amico/ABC
Whenever I need strength, be it before an interview or after a fall, I close my eyes, take a deep breath, and repeat, "I'm a soldier, I'm a swan." It's a mantra that's inspired by April Kepner (Sarah Drew), the trauma surgeon on Grey's Anatomy whose quiet resilience in the face of countless heartbreaks — including the death of her newborn son and a messy divorce — has given me courage for the past nine years. "I'm a soldier" is the saying she repeats to get through the anxiety of taking the medical boards, which she ends up failing, though she ultimately finds the courage to break her own rules. "I'm a swan" is what she tells her sisters after a day of relentless familial bullying when she refuses continue playing the role of the ugly duckling for them.
April's potential fate on Grey's Anatomy has put me in the kind of situation where I need to employ the very mantra she inspired. When news broke on International Women's Day that Drew, along with Jessica Capshaw, who plays Arizona Robbins, are leaving Grey's Anatomy at the end of Season 14 as the show takes a new "creative direction," I was devastated. Who would I turn to for strength?
April's stories are the ones I relate to most, because she's never won in the way most women in Shondaland do. She doesn't simply slide a piece of paper across the table and get her raise like Meredith Grey (Ellen Pompeo); more often, she's suspended for accidents that aren't her fault. Her son's death ultimately leads to her divorce, but on the day it's finalized she learns she's pregnant. Her daughter has to be cut out of her on a kitchen table, but they both live through the experience. It's intense, and Drew makes every moment feel human. Like April, my victories are sweet, but they don't come easily. The aforementioned falls don't happen often, but I used the word literally. I'm a wheelchair user; life happens.
Arizona Robbins' stories are the ones I know need to be told. She's a perky peds-turned-neonatal surgeon, a single mom, a lesbian, and an amputee. She gives a voice to so many underrepresented women, it's difficult to understand the benefit of ending her journey early. I wish I could relate to her more, but her identity as a woman with a disability is barely explored. After the plane crash arc that resulted in a leg amputation, references to disability in her everyday life nearly disappear. But in the LGTBQIA community, her relationship with her ex-wife, Callie Torres (Sara Ramirez), is iconic. Like April Kepner gives me hope when I feel anxious or alone, Arizona inspires people to accept their sexuality. She didn't want to be a mother until her daughter, Sofia, was born. Later, when Callie decides to move to New York, Arizona fights for her parental rights. She launches small but important offenses, and doesn't always succeed. But her joyful spirit is contagious; it's magic only Capshaw can create.
Losing these women simultaneously is a blow not only to viewers, but to the heart of the show. Lately, Grey's Anatomy favors a loud feminist narrative: Meredith breaks medical ground and wins awards without a man beside her. Chief of Surgery Miranda Bailey (Chandra Wilson) refuses to wear heels at work or be underestimated after a heart attack. Strength like that can be empowering, but it isn't relatable to everyone.
The fans who raised over $1,000 to fly a banner of support over Prospect Studios for Drew and Capshaw clearly relate to a quieter form of feminism, and in April and Arizona, Grey's has shown that a woman in quiet pain can still be strong and a feminist. Both April and Arizona understand that struggles are part of life, and we aren't always rewarded for enduring them. It's so rare that a TV show tells that story, but Grey's told two versions of it, almost by accident, and then discarded them both on the same day. Firing Drew and Capshaw is a loud message to many women that we don't matter. Suddenly, a show that claims to be a champion for all female voices erased two narratives that transcend representation for the sake of it and reach what most showrunners only dream of — authentic connection.
It's a myth that TV is only about escapism. I've seen it connect people, teach them about other lifestyles, and help them through adversity. But that potential to inspire only exists if viewers connect to characters. By eliminating Arizona and April from Grey's Anatomy, showrunner Krista Vernoff is further isolating people of the LGBTQIA, disability, and progressive Christian communities. There is a reason why minority groups fight for representation on TV: It matters. Parents watch Arizona's speech to Callie's father in Season 6 and suddenly understand that their child's sexuality doesn't change the person they were raised to be; women who have lost a child watch April's struggle after the death of her son and feel less lonely.
These examples aren't "wins." They are so much more: They are impact. Feminism at its best is impact; it's not power or money or even a loud voice. It's determination and vulnerability and support. Shondaland has blazed trails in minority casting, but that's only the first step toward impactful storytelling. Inspiration doesn't appear because writers pick an "issue of the week" to highlight.
People don't connect to issues; people connect to people. Some viewers watch the show because they relate to Meredith's quest for professional success or her struggles as a widow. Some relate to Amelia Shepherd's (Caterina Scorsone) sobriety journey. I don't know why Drew and Capshaw were let go; neither of their characters' stories seemed to be even close to being over. Both women have so many layers to explore; so many people to find their way back to. It's a shame to realize how many people these women will never have the chance to inspire.
But the biggest loss for the show is the impact it's already beginning to lose by declaring April and Arizona's journeys complete. April and Arizona taught me that quiet strength is still a force. Characters can be erased, but impact endures. Since Drew and Capshaw's departures were announced, the show has been hitting or tying series lows within their key demographic. I think the trend will continue next season.