Trump Is Using His 6-Year-Old Granddaughter's Mandarin Skills To Win Over China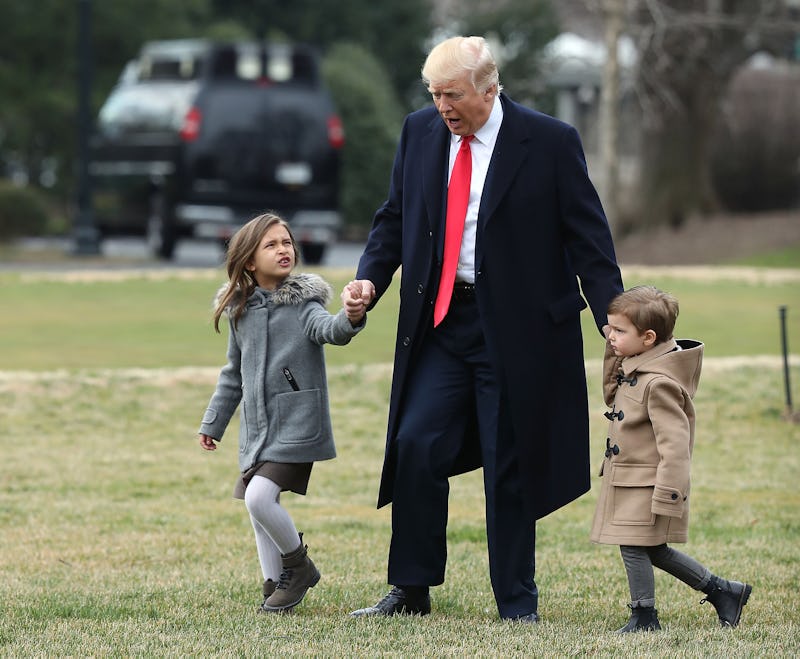 Mark Wilson/Getty Images News/Getty Images
During tea with Chinese President Xi Jinping on Wednesday, President Donald Trump reportedly took a moment to do what people with grandchildren often do: share videos of their younger family members. In this particular instance, the video in question was of Trump's granddaughter, Arabella Kushner, speaking Mandarin.
According to Hong Kong newspaper The Standard, the videos Trump shared with the Chinese president featured Arabella, the six-year-old daughter of Ivanka Trump and Jared Kushner, singing and reciting Chinese literature. Xi reportedly said that Arabella did very well, telling Trump she deserved an "A+" for her language skills.
This isn't the first time that Xi has seen Arabella recite something in Mandarin, nor even the first time that she has caught the attention of Chinese media for doing so. Last April, when Xi and his wife Peng Liyuan visited the United States, Arabella was caught on video, singing in Mandarin before Xi, Peng, and other members of the Trump family. Ivanka posted a video of the interaction to Twitter:
Very proud of Arabella and Joseph for their performance in honor of President Xi Jinping and Madame Peng Liyuan's official visit to the US!
According to reports, as videos of her foreign language capabilities spread, Arabella developed into somewhat of a viral sensation in China. A video of her singing in Mandarin was even reportedly a popular feature in an exhibit lauding Xi's achievements as president.
According to The New York Times, Arabella has been a bit of a beloved figure in Chinese pop culture since at least as far back as February 2017, when a state-run broadcaster aired video of the then-five-year-old and her mother attending a New Year's event at the Chinese embassy in Washington, D.C. That same week, Ivanka posted a video of Arabella singing "Happy New Year," which reportedly received approval from tens of thousands of users on Weibo, the Chinese version of Twitter.
Reports indicate that, beyond simply being a cute child impressing older folks with her ability to speak a foreign language, Arabella has been lauded as a potential key to Chinese diplomacy. According to a piece published by Chinese news outlet The Global Times, the so-called "granddaughter diplomacy" reflects the Trump family's openness to Chinese culture. The newspaper, summarizing an interview with U.S. studies expert An Gang, described Arabella's education in Mandarin as demonstrative of "the Trump family's acknowledgment of China's current achievement and its potential."
In the past, Trump has historically made inconsistent and occasionally volatile remarks about China and U.S.-China relations, frequently flipping his stance depending on the issues at hand. In July, he lamented China's economic relationship with North Korea:
Trade between China and North Korea grew almost 40% in the first quarter. So much for China working with us - but we had to give it a try!
Two months later, Trump praised China's business tax rate, however, saying that it was a good model for the United States to strive for:
China has a business tax rate of 15%. We should do everything possible to match them in order to win with our economy. Jobs and wages!
Repeatedly during his campaign, Trump also said that if he won, he would declare China to be a "currency manipulator." However, as his relationship with both the president and the country seems to warm, he has changed his stance on that, too. His granddaughter's relationship with the China, on the other hand, has remained consistent.
All three of Ivanka and Kushner's children are reportedly being taught Mandarin, and according to reports, the service is far from cheap. Estimates indicate that they could be spending as much as $75,000 a year teaching their children how to speak the language, especially if they do indeed have a nanny teaching the language, which Ivanka mentioned in a 2012 interview with South China Morning Post.