Everything Bach Nation Needs To Know About Becca & Garrett's Happily Ever After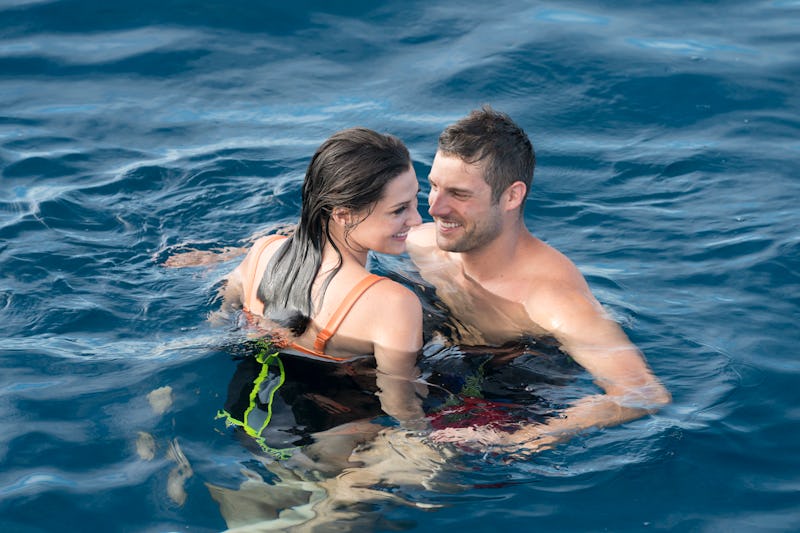 Paul Hebert/ABC
Spoilers ahead for The Bachelorette season finale! Becca's season of The Bachelorette is finally over. Becca accepted Garrett's proposal, and now, these two are due to be wed. Well, they're due to live through the non-stop promotion cycle that The Bachelor extends to all of its participants — whether or not they get married is something else. In fact, are Becca and Garrett still engaged after The Bachelorette?
Firstly, let's just say that it's nice to see Becca happy again. For those of you just coming into the franchise (in which case, really?), Becca suffered some major heartbreak at the hands of Bachelor Arie Luyendyk, who proposed to her on his season, had a few months of love with her, and then broke up with her on national television because he still had feelings for Lauren, his runner-up. It was a 40-minute, uncut breakup, and it was not pretty. So it's only right that Becca should get a shot at happiness, and right now, let's hope she does.
So far, it's going well. On After The Final Rose, Becca and Garrett gushed about each other, and Becca talked about their plans for their future. "We are moving in together. We don't exactly know where yet," she said. "He's gonna spend some time in Minnesota... I'll go to Reno for a while. I think we'll come to California for a couple years." And in terms of when they're getting married, Becca said they don't have any plans just yet. "We just want to be able to be normal and in public. We're just so excited," she said. Fair enough!
Becca and Garrett's proposal was super sweet, too, with both of them professing their feelings for each other. "From honking up the driveway in a minivan filled with orange slices and diapers to fly fishing in the backyard, I knew that you and I shared something very special with one another," Garrett said. "And we were building our dream home out of sand, talking about our kids, talking about our future, and I knew that I loved you so much and I wanted to spend the rest of my life with you and wake up next to you and have you in my arms every single day of my life." Swoon, right?
Becca stopped Garrett, though, not because she was telling him to shut it but because she wanted to tell him how much she loved him. "I wrote [in my journal] that you reminded me of home, and you reminded of one of the most important men in my entire life, and that was my dad," she said. "This journey has been a rollercoaster of every emotion, but the strongest emotion was love, and I've been waiting to say it for the right person, I've been holding back because I wanted to be 1000 percent certain. Garrett Vincent Yrigoyen, I love you. I love you so much."
While Becca may be happy with Garrett (he was her first impression rose pick, after all), he wasn't without controversy during his time on the show. Right after The Bachelorette started airing, it came to light that Garrett had liked a series of racist, homophobic, and otherwise despicable posts on Instagram. Yes, Garrett, we can see what you like on Instagram. It's not a secret.
But it was dealt with rather quickly on Garrett's side, and he issued a special apology and pledged to do better. Becca, from the looks of her Instagram, is very liberal, so if these two kids have worked past these issues, then so be it. Hopefully, it was just ignorance on Garrett's part and Becca can show him the way toward kindness and enlightenment. They're engaged, so they may have the rest of their lives to work things out together.