Arie Says Breaking Up With Becca On 'The Bachelor' Was Actually Good For Her, And Sure, OK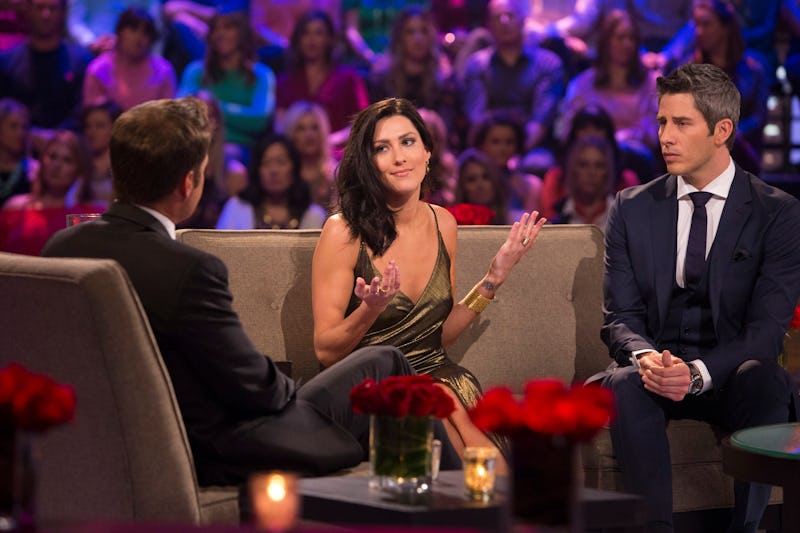 Paul Hebert/ABC
On one fateful Monday night, heartbreak rocked Bachelor Nation. Millions of frustrated fans watched as Arie Luyendyk, Jr., dumped then-fiancée Becca Kufrin in the hopes of rekindling his relationship with Lauren Burnham, this season's runner-up. And, for all the fans still wondering why on Earth the Bachelor star would solicit ABC's cameras to chronicle the calamitous ordeal, here's your answer: Arie's reason for filming his breakup with Becca was that it would give her a better shot at becoming the franchise's next Bachelorette. And, judging by the Bachelor franchise's post-finale announcement Tuesday night (which officially named Becca Kufrin the upcoming Bachelorette), it looks like he might have been onto something.
In the aftermath of this season's shock-laden finale (which ABC rolled out in two parts, the latter half of which finished up Tuesday night), Arie sat down with Good Morning America Wednesday, March 7, for an interview in which the Bachelor star explained his reasons for asking ABC's cameras to film his breakup with Becca — and subsequent engagement to Lauren. First, as Arie told GMA's Michael Strahan, he really wanted the world to know that he was entirely to blame for his and Becca's breakup. "I really wanted everyone to know that this was on me," he told GMA. "This was my fault, and I felt like filming that would let people know that, that if there were any questions on the breakup, that those would be squashed if they saw the breakup."
Second — and perhaps, more significant — Arie told GMA that he wanted Becca to have a shot at snagging the next Bachelorette spot. "I wanted her that opportunity, honestly," Arie said during his GMA appearance, "I wanted her that opportunity to be the potential Bachelorette." Because, as is customary when it comes to the unspoken laws governing Bachelor Nation, becoming the franchise's next Bachelor or Bachelorette is often contingent upon the ferocity of a favorite contestant's fan following. And, in this case, the scorned contestant's ability to conjure up widespread bouts of sympathy from the Bachelor Nation at large is also definitely a plus. (Remember JoJo Fletcher?)
As Bachelor enthusiasts now know, Becca Kufrin was named the franchise's next Bachelorette Tuesday night during ABC's post-finale episode of After the Final Rose. Cinching two back-to-back evenings of onscreen bombshells with an appropriately grandiose final surprise, five of Becca's future suitors showed up to woo her during the after-show. They played instruments, told jokes, and held hands on the stage, drumming up serious bouts of excitement from fans who are already obsessed with the upcoming Bachelorette contestants.
In case anyone missed this week's two-part Bachelor finale, here's what happened: From the season's get-go, fans were privy to the fact that Arie had fallen in love with two women over the course of the competition. As the season unfolded, viewers came to learn that those two women were this year's finalists, Becca Kufrin and Lauren Burnham. During the first portion of the Bachelor finale Monday night, Arie made a conceivably last-minute decision to send Lauren home during the final rose ceremony and propose to Becca instead. But, one month later, he changed his mind. So, over the course of Monday and Tuesday nights' finale episodes, Arie broke up with Becca and professed his love to Lauren. And, during Tuesday night's episode of After the Final Rose, Arie proposed to Lauren onstage, and she said "yes." The new couple appeared pretty smitten throughout the show.
Arie gushed about his newfound relationship with Lauren during his Good Morning America appearance. And, while he's aware that a great deal of damage has been done, Arie told GMA that he and his new wife-to-be are very happy. "This ending obviously wasn't perfect, and I know it's difficult for a lot of people to swallow, but I'm happy," said the former Bachelor. "It took a long, hard road to get here and I'm really solid in my relationship. We've been together since January and it's going really well." During a joint appearance on Jimmy Kimmel Live following the events of Tuesday's finale, Arie and Lauren said they're already planning their wedding.
As for Becca? The next Bachelorette's journey for romance has only just begun. Here's to hoping Becca's new batch of suitors give her the fairytale ending she truly deserves.