Are 'Below Deck' Stars Ben & Emily Still Dating?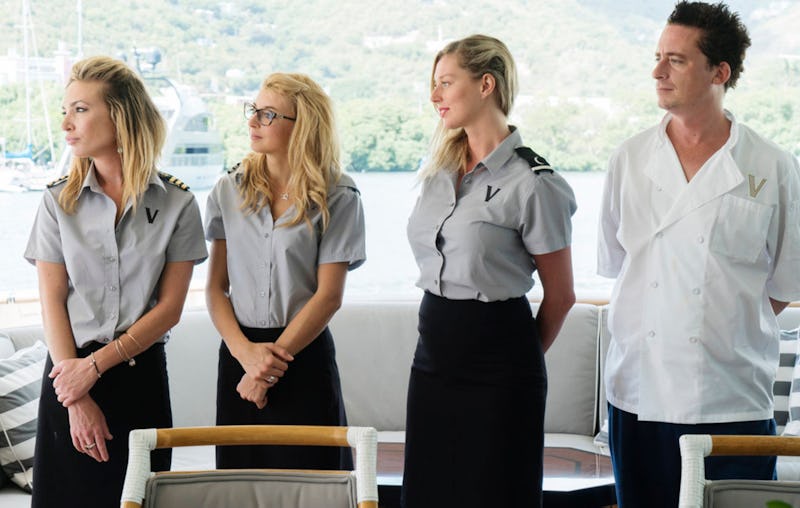 Virginia Sherwood/Bravo
On the fourth season of Bravo's seafaring reality series Below Deck, two crew members found love in a beef cheek-less place. And that beef cheek-less place was a luxury yacht named Valor. With the help of Chief Stew/Chief Matchmaker Kate Chastain, Chef Ben and Second Stew Em got together in the middle of the charter season. It's been several months since Below Deck Season 4 finished filming, so it's probably a fine time to check in with the yachty couple, eh? Let us get right to the question: Are Ben Robinson and Emily Warburton-Adams still dating, or has their romance deflated like a soufflé? To the social media accounts we go.
Judging from the pair's Twitter, Facebook, and Instagram accounts, it looks like Bemily is still very much an item. On Valentine's Day, Robinson did the thing he did not once, but twice on Season 4: He sent Warburton-Adams flowers. (But did he store the bouquet of roses in a fridge? We may never know.) The couple celebrated the holiday by taking questions together on Facebook Live. How 2k17 of them.
Want something a little more recent? Here you go: Last Friday, Warburton-Adams tweeted, "Missing my darling @BenRobinsonChef." Oh, and she also posted a picture. Pop quiz time: What is happening in the picture?
a. Warburton-Adams and Robinson are tending to a bouquet of flowers that live a walk-in refrigerator.
b. Warburton-Adams and Robinson are wearing rabbit costumes.
c. Warburton-Adams and Robinson are preparing beef cheeks.
d. Warburton-Adams and Robinson are smooching.
If you guessed "d. Warburton-Adams and Robinson are smooching," you win a virtual high-five. Congrats to you.
Ready for more Bemily content? Here's one of their YouTube videos.
Seems like this Below Deck relaysh is in it to win it. And it's all thanks to Chastain's matchmakin'.