Bill Clinton & Alec Baldwin Are Connected In Some Random Ways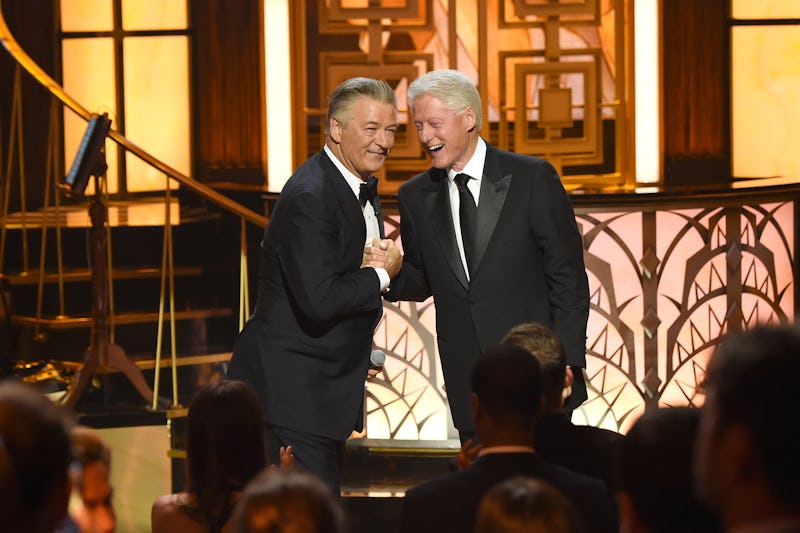 Nicholas Hunt/Getty Images Entertainment/Getty Images
Alec Baldwin is a vocal Democrat, and during the 2016 presidential election, he often faced off with Kate McKinnon's version of Hillary Clinton when he did his impersonation of Donald Trump on Saturday Night Live. But is all of that enough to explain why Bill Clinton roasts Baldwin on Spike's One Night Only special? If you've seen previews for the special show honoring the actor, you'll have noticed that some pretty high-profile guests will be there, including the 42nd president of the United States. During the June 30 episode of The Tonight Show Starring Jimmy Fallon, Baldwin admitted that he was completely surprised by Clinton's appearance at his roast. So are Bill Clinton and Alec Baldwin friends? Let the investigation begin!
Despite his party leanings, Baldwin has not demurred from criticizing the Clintons in the past. He appeared to not was initially be the biggest fan of Hillary Clinton running for president. People reported that Baldwin said, "The biggest tragedy right now in this country is none of these people talk about peace," about the presidential candidates at the Clio Awards in September of 2015. He continued:
"Peace is a quaint idea. They are all bullsh*t, war-mongering — Hillary, Trump, every one of them, every single person, Democrat or Republican — you never hear them talk about peace. [It's] like peace is a naive idea."
Bill Clinton doesn't seem to have any hard feelings toward Baldwin, since he showed up to take the mic at One Night Only: Alec Baldwin. (It probably doesn't hurt that Baldwin is unabashedly anti-Trump.) And so while there is not much evidence that proves that the actor and former president are "friends" who hang out all the time, they clearly have a fondness for one another that led to Bill's appearance on the show.
Although you won't find any selfies of this pair on either Baldwin's or Bill Clinton's Instagrams, these men share an astounding amount of similarities. Here are some of the many ways that the president and actor have been connected over the years:
Baldwin Endorsed Hillary Clinton
Despite those past remarks, his tweets through his Alec Baldwin Foundation account prove he ultimately endorsed Clinton in the 2016 presidential race. Variety reported on Election Day that Baldwin had not contributed to her campaign — and a search on the Federal Election Commission database confirmed this — but he had not contributed to the other Clinton's campaigns either. Still, Baldwin and the Clintons are on the same side of the aisle with the FEC database showing that Baldwin has made multiple donations to the Democratic National Committee over the years, starting in 1991.
Baldwin Has Shown "Admiration" For Bill Clinton
Besides making a controversial comment in defense of Bill Clinton on Late Night with Conan O'Brien in 1998, Baldwin has continued to be supportive of the former president — even during his impeachment trial following the Monica Lewinsky scandal. In 2015, Baldwin spoke to former Clinton advisor on Here's The Thing. The actor not only credited the Clinton impeachment for changing his views on American politics more than Watergate, but he implied that it made him respect Clinton in a new way. "My admiration for him is that he survived," Baldwin said. "He's so goddamn tough, this guy."
They Share A Love Of Softball ...
Although it doesn't look like they ever played together in the same year, both Baldwin and Clinton have participated in the annual Artists & Writers Charity Softball Game, located in East Hampton.
... And A Now-Closed Raw Food Restaurant
Although Sarma Melngailis's Pure Food And Wine closed due to very extenuating circumstances, the New York Post reported that Baldwin and Clinton were customers when the raw food Manhattan restaurant was open.
They've Been NYU Commencement Speakers
Their New York connections don't end there. Take at look at New York University commencement speakers in the years of 2009 to 2011: Hillary Clinton kicked it off in 2009, was followed by Baldwin in 2010, and then Bill Clinton completed the trifecta as the speaker in 2011.
Fred Claus Shoutouts
In the 2007 Vince Vaughn movie Fred Claus, Fred attends a sibling support group for brothers of famous people. Three real brothers of notably more famous people are featured — Sylvester Stallone's brother Frank Stallone, Bill's half-brother Roger Clinton, and Alec's youngest brother Stephen Baldwin.
Jack Donaghy Jokes
In the Season 5 episode of 30 Rock, "Everything Sunny All the Time Always," Jack's wife Avery (played by Elizabeth Banks) is being held hostage in North Korea. When Liz suggests that they get Bill Clinton involved, Baldwin's Republican character calls Clinton "President Inter-Bush" for being the president to separate the terms of the father and son. Clinton may have gotten a chuckle from that.
Hospitalizations On The Same Day In 2010
In a far less fun connection, both Clinton and Baldwin were hospitalized in New York City on February 11, 2010. According to the local NBC affiliate, Baldwin was rushed to the hospital after he was found unresponsive, but he was released shortly after with his spokesperson saying that it had been a "misunderstanding." CBS News reported that Clinton was hospitalized to have a clogged heart artery opened after he had chest pains. (He had previously had quadruple bypass surgery.)
Saturday Night Live
With Baldwin being such a staple of SNL — and the show loving to mock politicians — there's been much overlap between the actor and former president. In 2001, Baldwin interacted with Darrell Hammond's Bill Clinton during his monologue — with Clinton serving as a mentor for the newly single actor. And for the past several months, Baldwin has impersonated Trump opposite McKinnon's Hillary. The real-life Hillary Clinton praised Baldwin's impersonation to Extra, saying, "His look, his scowling, his staring down then muttering his response, he was perfect."
So while these men are more than strangers on the street, it's still not conclusive if Bill Clinton and Alec Baldwin are actual friends. But they seem to have a great deal of respect for each other, with Clinton's toast at Baldwin's roast being the latest example of that.