The Terrifying Story Of The Sunday School Killers Is Told In This True Crime Episode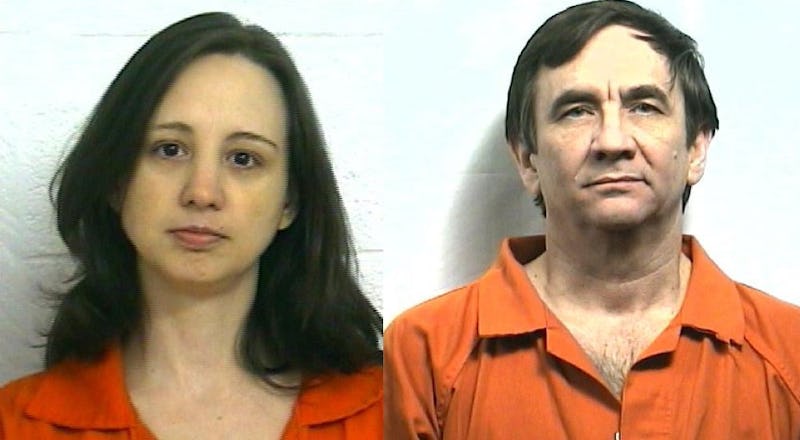 Oklahoma Department Of Corrections
The next case to be featured on Investigation Discovery's Someone You Thought You Knew follows the murder convictions of Brenda Andrew and James Pavatt — also known as the Sunday School Killers, according to Oxygen. The sordid case starts after the 2001 murder of Brenda Andrew's estranged husband Rob Andrew, for which both Brenda and Pavatt were convicted. But are Brenda Andrew and James Pavatt still in prison in 2018? Pavatt's sentence has been up for debate in recent years, and it could affect Brenda's too.
As reported by The Oklahoman, Rob was shot to death in November 2001 when picking up his kids from Brenda's house. The couple had married in 1984 but separated in October 2001 at Brenda's request, per Oxygen. After Rob's death, Brenda initially claimed that masked gunmen attacked the two of them in a shootout that fatally wounded Rob and left Brenda with a shot to her arm, The Oklahoman continues.
According to another Oklahoman report, investigators' suspicions were raised when Brenda and fellow Sunday school teacher James Pavatt fled with Brenda's children to Mexico on the day of Rob's funeral. Brenda and Pavatt were arrested crossing back from Mexico three months later.
Below are their mugshots from 2004 and 2003, respectively.
Oklahoma Department Of Corrections
Oklahoma Department Of Corrections
The pair stood trial separately, but the prosecution alleged the same motive for both: Rob's insurance payout. According to The Oklahoman, Pavatt was a friend of Rob's and also an insurance salesman. He had previously sold him a life insurance policy with an $800,000 payout. But Pavatt's defense lawyer claimed Brenda had a double motive. Per Oxygen, Brenda had reportedly taken out a life insurance policy on Pavatt. "So Brenda would've received both the insurance proceeds from Rob's life insurance policy, as well as the insurance proceeds from Jim Pavatt's life insurance policy once he was executed for the murder of her husband," Pavatt's defense attorney said, per Oxygen.
According to another Oklahoman article, Pavatt was convicted in 2003 and sentenced to death. Brenda received the same conviction and sentencing in 2004. Per Tulsa's News on 6, the official conviction charge was first-degree murder and conspiracy to commit murder.
But that could potentially change. According to Oklahoma News 4, in 2017, the federal appeals court decided that the death penalty sentence isn't applicable for Pavatt. To get that sentence, the state needed to prove, essentially, that Rob suffered when he was dying, making it a "heinous, atrocious, or cruel" crime. The decision to reverse his sentence focused on Brenda's 911 call after her husband was shot, where she apparently didn't indicate that Rob was in pain or suffering. According to that first Oklahoman article, Pavatt's lawyers used that to claim that Rob apparently died too quickly to meet the "heinous, atrocious, or cruel" requirements.
Below are Brenda and Pavatt in 2017 and 2018, respectively.
Oklahoma Department Of Corrections
Oklahoma Department Of Corrections
News 4 reported that the Oklahoma Attorney General is appealing the reversal, so Pavatt's sentence stands for now. But The Oklahoman noted that Brenda has used the same argument in her own appeals, so if Pavatt's is granted, it could potentially help Brenda reverse her own death sentence as well.
For now, though, both inmates remain on death row. According to Oklahoma inmate records, Brenda's at the Mabel Bassett Correctional Center and is currently 54 years old. Pavatt is being housed at the Oklahoma State Penitentiary. He's now 64. Follow their case when Someone You Thought You Knew airs Aug. 23 at 10 p.m. ET on Investigation Discovery.
This article was updated on September 4, 2019.