People Still Won't Leave Caroline Flack & Andrew Brady Alone & It's So Exhausting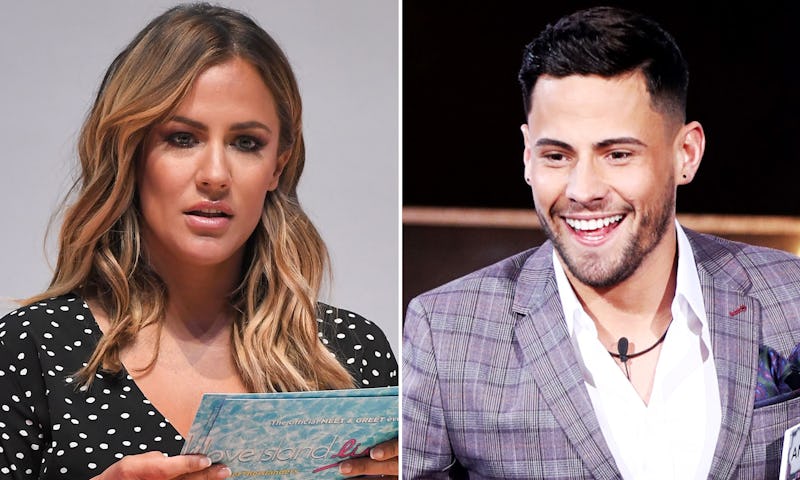 James Gourley/Shutterstock/James Shaw/Shutterstock
However blissful and drama-free you wish a relationship to be, there will always be a road block for you and your significant other to battle through. Recently, that has been the case for Caroline Flack and Andrew Brady who, after calling off their engagement in April, have been seemingly on-again, off-again throughout the summer. So, what's the deal? Are Caroline Flack and Andrew Brady back together?
It seems like a rekindling could be on the cards as The Sun published photos of the pair on holiday in Ibiza at the beginning of August, leading to speculation as to whether or not the couple were actually back on for good. Flack did not comment on the reports, however, she did upload a pic of herself in a stunningly blue swimming pool on Instagram during said holiday, but of course, that gives no merit to the claims of her and Brady being back together. Still, more rumours and speculation began to surface on Wednesday after an alleged argument between the pair took place outside a restaurant, according to The Sun.
So are they together? Or did they get back together and just break up again?
Well, until either Flack or Brady say otherwise, their relationship status is no one's business but their own — which is exactly what Brady emphasised in an interview on The Wright Stuff on August 9. "My private life is private and that's what I'd like to keep it as really. Relationships can be hard and when they're scrutinised in the public eye, they're somewhat even more troubling," Brady told guest host Anne Diamond. "But yeah, I'm keeping my private life private."
Despite what he had just told her, Diamond then went on to press Brady further, asking whether he and Flack could expect their "private life to be utterly private" given that they're both famous, to which Brady replied, "I'd like to think so, yeah," and rightfully so if you ask me.
I reached out to both Flack and Brady's representatives for further information regarding the constant speculation, but have yet to receive comment. Basically, it's not certain, and it should stay that way until one of them says otherwise.
Break-ups and make-ups are hard enough behind closed doors, let alone in the public eye. Sure, both Flack and Brady are comfortable sharing (parts) of their lives on social media, but who isn't? It's part and parcel with the current digital age, but that doesn't mean that we're therefore entitled to have access to the couple's inner-most thoughts and activities.
The two have been vocal about the situation for sure, but in a restrained way that doesn't pry to closely into their lives. Flack recently spoke about the interest surrounding her love life, telling Ponystep Magazine: "I have this real conflict if my love life being constantly talked about, but at the same time, that's my job, to talk about other people's love lives — I can't really moan about it. I see the fascination."
It's a catch-22 situation really for Flack. On the one hand, she's entitled to keep whatever part of her private life she wants private. But on the other, her job is to actively talk about other people's relationships. Can she expect Love Island contestants to tell her about their love lives if she's not prepared to do the same? If truth be told, that's still her business.
Will we ever find out if Flack and Brady are back together. Only time will tell, with Flack and Brady being the ones to tell it.