Andrew Brady Is Done Answering Questions About Caroline Flack & TBH, Fair Enough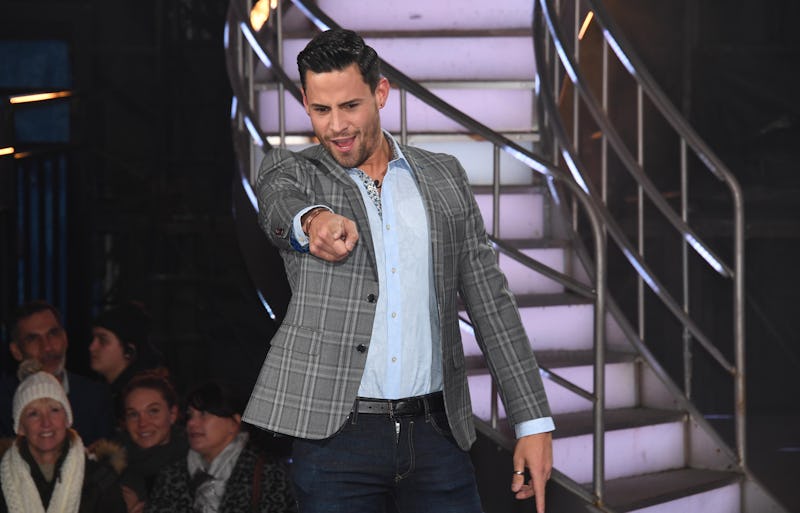 Stuart C. Wilson/Getty Images Entertainment/Getty Images
Caroline Flack and Andrew Brady are having a tough few months. They called off their engagement when Flack was mid-filming for Love Island and the host did an impressive job of maintaining her professional composure while presenting a show that's literally about finding love. Not ideal when your own relationship is on the rocks. But after the show wrapped they were reportedly spotted together in in Ibiza, leading to questions about whether they were back on. Now in supremely awkward scenes, Andrew Brady has dodged a question about Caroline Flack on live TV.
During an interview on The Wright Stuff, ex Celebrity Big Brother star Brady did his best to avoid talking about his relationship status. When pressed for answers about whether the pair are back together by guest host Anne Diamond, he said: "My private life is private and that's what I'd like to keep it as really. Relationships can be hard and when they're scrutinised in the public eye, they're somewhat even more troubling. But yeah, I'm keeping my private life private."
Diamond replied: "That means you're not answering my question" but Brady wasn't phased, telling her: "Exactly. I'm dodging your question and I'm going to keep dodging it until 11.15." But that wasn't the end of the matter, as Diamond enquired whether Brady felt that as celebrities he and Flack had the right to a fully private life. But Brady stood firm and said: "I'd like to think so yeah".
It was an extremely uncomfortable exchange, but his less-than accommodating approach is hardly surprising given the intensity of the scrutiny towards their relationship. Plenty of the coverage of their on-off romance has been undeniably sexist, focused on Flack and Brady's age gap, or her supposedly regrettable choice in boyfriends. Then when they broke up, the newspapers and social media were obsessing over whether she was wearing her engagement ring, as if that's somehow definitive proof of the state of someone's relationship.
Flack has also posted on Instagram suggesting how all the negativity surrounding her private life has taken its toll. She shared a picture of a sunset skyline with the words "hate is heavy, let it go" and captioned the snap "Just be nice. You never know how someone is feeling even if they are smiling on the outside." So it's no wonder that Brady was reluctant to discuss their relationship with Diamond. He has also previously commented on the impact the press and public attention affected the couple and their family.
He wrote in a in a statement posted on Twitter: "Since our relationship began we have been under constant scrutiny. Our friends and family have had to endure the lies printed in the media that have affected us deeply and ultimately played a role in the breakdown of our relationship."
So if the millions of people who tuned into to Love Island this year, and those who have followed Brady and Flack's relationship from the start really believe in love, maybe it's time to give this pair the chance to work out their issues away from prying eyes.