Chris Hemsworth & Chris Evans Might Have The Best Friendship Of All The Famous Chrises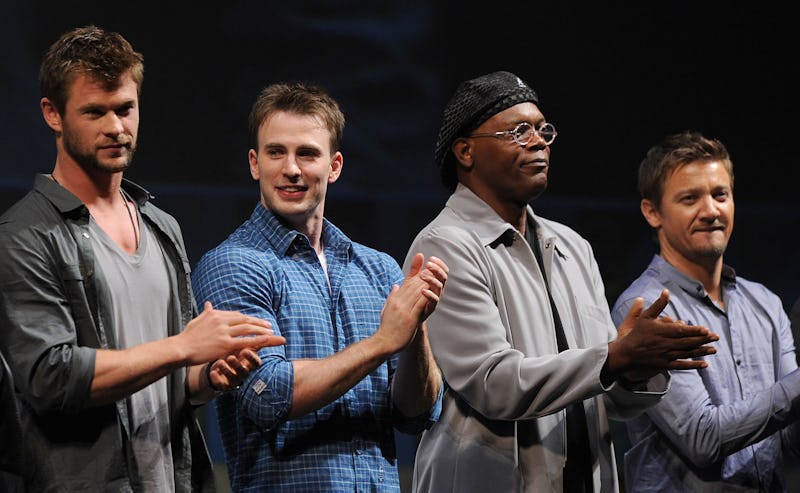 Kevin Winter/Getty Images Entertainment/Getty Images
Chris Hemsworth and Chris Evans are two of the legendary Hollywood Chrises, so it's only natural if fans assume there's some competition between them. Thankfully, it sounds like that's not really the case — Chris Hemsworth and Chris Evans are definitely friends IRL, as their interactions over the years have shown.
In fact, the two of them are apparently so close that in 2015, Evans told Esquire that Hemsworth is "like a brother" to him, after their time spent together filming Marvel movies. He told the magazine of their friendship,
"Oh yeah, [Chris Hemsworth] is like a brother at this point. We've had a very similar trajectory in, at least, being welcomed into this world. We both took these [Marvel hero] roles. We were both timid and nervous and didn't know how it was gonna play out. It's been nice to kind of share this with him. We each have the standalone films as well, which can be a whole separate element of pressure and anxiety, and he's just been so helpful to me. Just to have someone else who's going through the same struggles I am."
It sounds like Evans and Hemsworth were able to bond over their experience playing superheroes, with Evans portraying Captain America and Hemsworth playing Thor. (They'll both appear in Avengers: Infinity War, as will another Hollywood Chris, Chris Pratt, who plays Star-Lord in the Guardians of the Galaxy movies.) And while it's impossible to imagine the "pressure and anxiety" that Evans says the two of them went through, it's comforting to know that they had each other's support.
If the pair's interviews surrounding the Avengers: Age of Ultron release in 2015 are any indication, though, the Marvel films haven't been all stress for the actors. In one video interview about the movie, Hemsworth and Evans appeared to be having a blast while goofing around and talking about their characters.
During the interview, hosted by AMC Theatres, Hemsworth and Evans weren't afraid to tease each other a bit. For instance, when the interviewer praised Captain America: The Winter Soldier, Evans joked that the question meant the Captain America movie was better than Thor. And when the interviewer praised Hemsworth for bringing "nuance" to Thor's character, the actor was quick to joke that Evans "doesn't bring nuance" to his role as Captain America.
In a separate interview with Rotten Tomatoes during the same press junket, Hemsworth had a hilarious answer when asked what other Marvel character he'd love to be for a day. "I'd probably want to play Captain America, and just make him good," Hemsworth joked. (And yes, Evans was seated next to him at the time.) Evans responded by saying he'd play Thor with more "layers" and not just muscle. They continued riffing on each other's characters, with Hemsworth saying, "What's Cap gonna do? The right thing, again. That's so boring, isn't it?"
Evans also praised Hemsworth in a 2016 interview with the U.K.'s Daily Telegraph, as the Daily Mail notes. "He is really well versed in comedy and drama and I think he is a good man, he has a good heart, his head is in the right place, he is one of these guys that is kind of destined to greatness," Evans said of Hemsworth, according to the Daily Mail. So it's clear that their joking around is all just that — in reality, it sounds like the two of them have a ton of respect for each other.
Evans and Hemsworth are obviously super close, and their bond probably only grew stronger while they worked together on Avengers: Infinity War. The two of them aren't afraid to poke fun at each other's characters, but it's all in good fun.