Christina Aguilera & Demi Lovato's Mutual Appreciation Goes WAY Back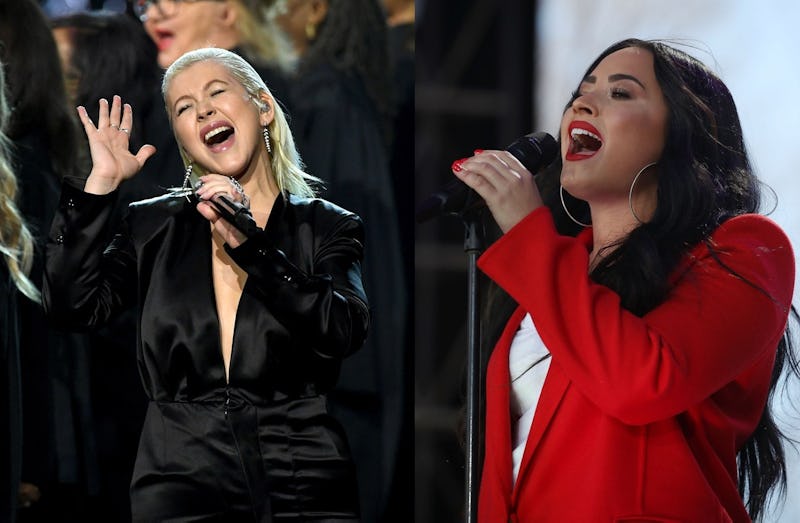 Left: Kevin Winter/Getty Images Entertainment/Getty Images; Right: Mark Wilson/Getty Images News/Getty Images
For months, Christina Aguilera and Demi Lovato have been dropping hints about their upcoming collaboration. Now it's official: these two pop divas will pair up for the first time ever to perform a duet at the Billboard Music Awards on May 20. The new song, "Fall In Line," is the third single on Christina's new album, Liberation, which drops June 15. But are Christina Aguilera and Demi Lovato actually friends IRL? As with any celebrity speculation, it's difficult to say for sure without official confirmation from either person, but I've compiled all the relevant evidence, which indicates that the two are in fact friends, or at least, friendly acquaintances.
One week ago, both Demi and Christina took to Instagram to post gorgeous black and white photos of one another, with the simple caption: "May 20th. @bbmas," and then tagged the other person and added the hashtag for their new song, "Fall In Line."
On May 15, both singers again posted matching pictures, this time on Twitter. Christina and Demi each tweeted identical photos of themselves as young, child performers, stuck side by side. The caption is made up of lyrics from their new song: "Little girls / Listen closely /'cause no one told me / But you deserve to know / That in this world / You are not beholden / You do not owe them / Your body and your soul."
All of these posts were clearly pre-planned and carefully coordinated in order to hype up "Fall in Line." They're not exactly the blurry drunken selfies of bosom buds, or even a casual selfie, but it's still a nice token of mutual respect and a shared connection over their upcoming project.
Christina and Demi might be friendly now, but it's not like they grew up together. After all, Christina has been in the spotlight since her days on the Mickey Mouse Club with Justin and Britney while Demi was still in diapers. And Demi was only 7 when 18-year-old Christina first released "Genie In a Bottle." There might have been a slight age difference, but Demi told People that Christina was one of her most beloved childhood idols.
"I grew up listening to Christina Aguilera," Lovato told People. "She was one of my idols growing up. She still is." Lovato also added that Aguilera majorly inspired her latest album, Tell Me You Love Me. "I think [Stripped] was her breakout album that really transformed her into the icon that she is today. So that inspired me… she really inspired this album. I was even inspired by the black and white artwork!" Clearly, the black and white album art is something that has stuck with both artists right up until today.
Just because Demi might have been part of — or the president of — Xtina's fan club once upon a time, that doesn't mean that Christina doesn't totally respect the artist that little girl has grown up to become. ETOnline wrote that back in October 2017, Aguilera took to Facebook to share her support for Lovato's new album, writing, "Congratulations @ddlovato on your new album #tellmeyouloveme! You are killing it girl, Xo Xtina." ETOnline also quoted a later tweet from TMZ (which has since been deleted) in which Christina reportedly gushed, "I love Demi! She's my girl. Great things to come!"
And just in case you had any doubts about just how great those coming things might be, Demi more than proved her ability to hold her own against Christina's vocal prowess when she did a bangin' impression of the "Dirrty" singer on The Tonight Show.
In summary, I don't think that the Jonas Brothers are too worried that Xtina is about to steal their best girl, but it does look like these two talented ladies love and support one another. Yes, some of the marketing for their new campaign was clearly very carefully curated, but that's to be expected with two people this famous. Hopefully "Fall In Line" isn't the last time these formidable females combine forces.