These 'Bach' Contestants Have No Drama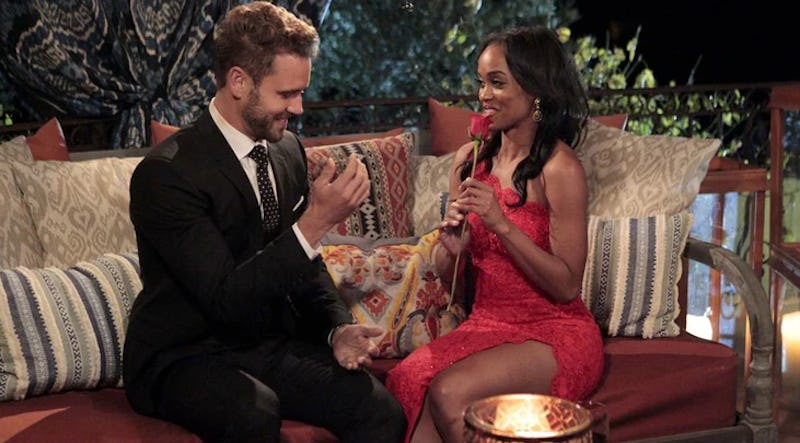 SOURCE: Rick Rowell/ABC
While Rachel has had a meteoric rise from America's sweetheart contestant to being crowned the next Bachelorette, Corinne's stint on The Bachelor has been equally memorable but less endearing. Many have deemed Corinne to be the Season 21 villain, and she continues to entertain with her crazy antics each episode. Yet while audiences may have their opinions, thanks to editing and TV magic, there is no way of knowing what actually happens between cast members behind-the-scenes. For instance, we've seen Corinne and Rachel together — but are Corinne & Rachel from The Bachelor friends IRL?
Corinne's antics, like taking off her top during a bizarre photo shoot, refusing to shovel manure (I honestly can't fault her for that), picking fights with other contestants, and bragging about having a nanny — no, not for a kid, for herself — have caused a stir this season. Other contestants have cried and had heart to hearts with Nick about Corinne's behavior. But, so far, Rachel hasn't had issues with Corinne. The two have been seen together in the house without trouble (at least so far), so it's natural to wonder if they actually get along.
So far, it seems like it. The Bachelor recently spoiled itself by revealing that Rachel will be the next Bachelorette, even though Rachel has not been eliminated yet. Therefore, there could still be drama between the contestants before Rachel and possibly Corinne's exits, but I doubt it. When Rachel was on Jimmy Kimmel Live!, she only had good things to say about Corinne; she even went as far as to call herself "Team Corn." Rachel told Kimmel, "I like Corinne ... I'm a Corinne fan. I'm Team Corn."
So, it seems that Rachel and Corinne will get through the series without too much beef. Corinne still has a shot at winning The Bachelor and Rachel has already been picked to reign as the next Bachelorette, so these ladies could end up ruling Bachelor Nation together.