Are Dating Apps Making Us Too Picky?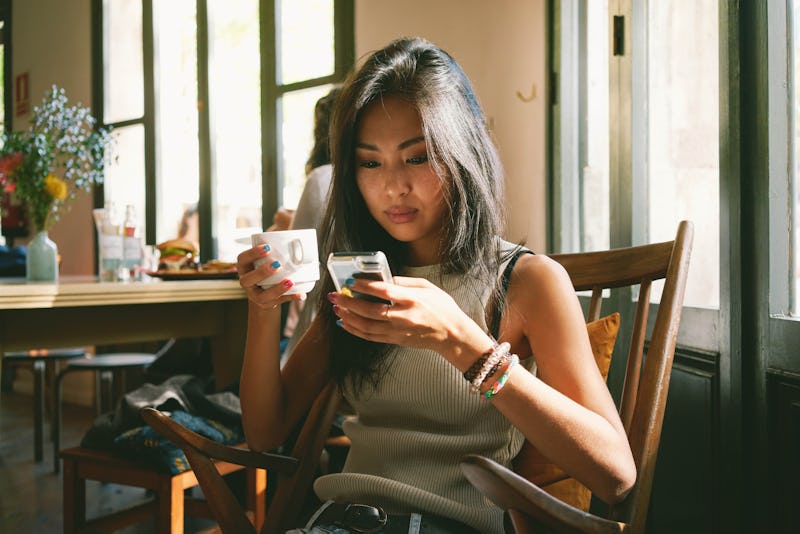 : loftflow/Fotolia
Whether dating apps are causing a "dating apocalypse" or are merely the easiest way to get a date, there's no denying these tools have been total gamechangers in the dating scene within the last few years. And even though dating apps are most popular among Millennials, according to a recent Bustle survey with dating app Happn of over 1,000 dating app users, 78 percent of women and 85 percent of men still want to meet people IRL. That's why for the second year in a row, Bustle is deeming April, "App-less April" and encouraging our staff and readers to delete their dating apps for 30 days and meet people the old-fashioned way: offline. With participants tracking their progress and tricks and tips from dating experts, we'll be helping you feel empowered to meet people IRL all month long. Today's topic: dating coach and relationship expert James Preece reveals the reason many of us are so picky.
Modern technology has come a very long way, especially when it comes to dating. While dating apps are designed to make finding a date easier, they often have completely the opposite effect. With so many different apps to choose from with hundreds of possible matches, there is always someone new to catch your eye. With thousands of options available, many think "I'll wait for the best" or "Perhaps there'll be someone better with my next swipe".
As a dating coach, I see this almost every day. There is so much choice that people become disposable. Singles go on dates but don't put in as much effort as they probably should. If they don't feel absolute chemistry on a first date they won't give them another chance. They know there is always someone else if this doesn't go to plan. It's a shame, as everyone is always nervous the first time they meet and it takes time to get to know each other. Yes, many are successful but ultimately it all comes down to how picky you are.
We like to consider ourselves open, willing to give chances to those who might deserve them. We choose to say we are free of judgment, allowing people to show their true colors. We also like to think ourselves worthy of someone amazing. Sadly, most of the time we're wrong on all the above. Too often we scroll past someone with a great heart because there are aspects we don't like. We don't mean to cast judgment, but we tend to do it without realizing. We may scroll right past our soul mates, because we're always looking for something better. While humans are often looking for the best, there are times we must question why. When it comes to finding love, the best might not be the best for you.
Yes, you are worthy of an amazing love. But ask yourself; what does that really mean? My relationship expert advice is to stop for a minute to consider this: What, to you, is a truly wonderful partner? What are the absolute must-haves for you? What are the things you won't stand for? What are the things you can live with, even if you don't like? You must really dissect what you're looking for to find it. That's the reason many of us are so picky. We believe we are entitled to the best of the best, but never stop to ask what that is. "Perfect" is not always the best for everyone. My ideal someone is likely different from yours.
Unfortunately, society has this hold on each of us that taints our view. We see the "best" in terms of what we're told, not what we believe. The "best" we find often ends up being mediocre for us, because it wasn't ours. So, it's important to know what you want before you go looking for it. After all, if you don't know then how can you every really know when you might have found it?
Are dating apps really to blame? Is the modern age of dating the reason we're all so picky? Or, are human beings just picky in general? I think it's probably a little of both. We can blame modern society. Yes, we can blame other people and technology and whatever else suits our needs. Or, we can look in the mirror.
There is nothing wrong with having standards — but don't make them impossible. You should learn to compromise what you want, at least a little bit. Nobody is ever really themselves on dating apps as we only select the very best photos. There are many things that make or break a relationship. But, we all need to let go of the smaller things that don't really matter in the long run. Give people a chance and you might just be pleasantly surprised when you really get to know them!
James Preece is the UK's leading Dating Coach and Relationship Expert and has helped thousands of single professionals find love all over the world. You can find out more about him and book coaching here.
Join the campaign and share your stories with #ApplessApril and ​by ​tagging @Bustle.