All The Hints That Dean & Lesley's Romance Survives 'The Bachelor Winter Games'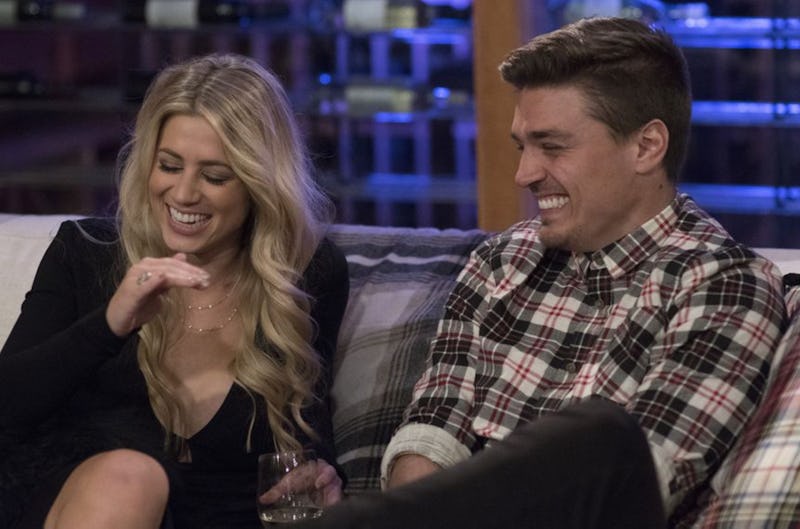 Lorenzo Bevilaqua/ABC
The most dramatic Olympics-themed Bachelor spinoff in Bachelor history is finally here. On Tuesday, the first of four The Bachelor Winter Games episodes will air, which means fans are one step closer to getting the scoop on whether or not Dean Unglert and Lesley Murphy are still together. While they haven't officially confirmed anything, they have left out a lot of interesting bread crumbs. Hope you've got your Swiffer handy, because there are some major morsels to sweep up. Warning: There are light The Bachelor Winter Games spoilers ahead.
As previously reported, The Bachelor Winter Games co-stars Dean and Lesley apparently struck up a relationship while filming the show in Vermont the end of last year, but are they still together? It sure seems like it, but again, they haven't publicly stated that they're a thing, so we're working with gossip and speculation here. So uh, keep that in mind as we proceed.
As longtime Bachelor fans know, Lesley made her Bachelor Nation debut on Sean Lowe's season. And as anyone who's been following the franchise since last year knows, Dean first appeared on Rachel Lindsay's season of The Bachelorette, and then went on to be part of a messy Bachelor in Paradise Season 4 love triangle. And then, both went on to maybe fall for each other on the four-part Bachelor special that is The Bachelor Winter Games.
Last month, Us Weekly and E! News reported that two The Bachelor Winter Games contestants found love in a snowy place. According to the two outlets, Dean and Lesley apparently attended the Sundance Film Festival together. Us Weekly's insider claimed the two Bachelor Nation members "were holding hands walking through the party and looked very much like a couple." E! News' source pointed out that Dean and Lesley "weren't supposed to be in public together yet" and were "worried about being busted at Sundance." Not too worried to hold hands at a party, apparently. The site's insider also claimed that the "pretty serious" and "exclusive" pairing has "been spending a lot of time together since the show ended filming."
When Us Weekly asked Dean about Lesley just two weeks ago, he didn't come right out and say they're an item, but his reaction spoke volumes: He turned bright red, started laughing, refused to give a straight answer, and clumsily changed the subject to Ben Higgins. He also said that he's incredibly happy with his current situation — whatever that might be — adding that he hopes he's in it for the long haul. Huh, you don't say?
Earlier this month, People also mentioned the relationship rumor to Dean, and once again, he did not confirm or deny the story. However, he did say that his The Bachelor Winter Games crush competed on Sean's season. And yes, Lesley is the only person on Winter Games from that season. Well, well, well. Would you look at that? Thank you for this not-so-subtle clue, Deanie Babies.
And what does Lesley have to say about this situation? Well, when People asked Lesley about Dean in an interview that went up Feb. 13, she said she and her co-star are "very different people, but that's attractive in a way." She added that her rumored beau "drew [her] in" and that he is "hard to look away from."
And finally, Reality Steve noted that Dean and Lesley were not only inseparable during filming, but after shooting wrapped, the two showed up in each other's Instagram Stories. The Instagram Stories, the supposed Sundance canoodling, and the duo's non-denials? This situation is less cryptic than a message in a date card.