Ed Sheeran Reveals Whether Or Not He's Engaged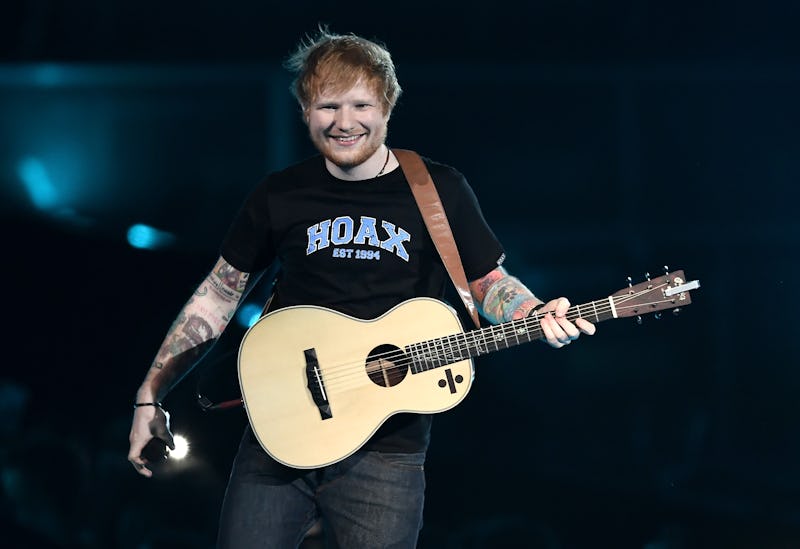 Gareth Cattermole/Getty Images Entertainment/Getty Images
Everyone, do not listen to Russell Crowe when it comes to Ed Sheeran's love life. For those wondering, Ed Sheeran and Cherry Seaborn are not engaged, the singer clarified on Australia's Fitzy & Wippa radio show Tuesday. He wouldn't have had to clear up any reports if it weren't for Crowe, who referred to Seaborn as the "Shape of You" artist's "fiancée" during his Fitzy & Wippa appearance last Friday.
"[Sheeran] was on tour here and he was getting a bit burned out, so he came up and stayed at the farm for a couple of days to get some sleep and then we became conversational mates," Crowe revealed about the two becoming friends. "He has subsequently gone back to the farm with his fiancée for more time and stuff."
As you can see, the Gladiator star called Seaborn Sheeran's "fiancée." Of course, that gained attention and people started to wonder if the two had secretly gotten engaged. Again, the answer is no, they did not. In regards to Crowe's comment, Sheeran said, "You know, he's only met Cherry once and I didn't introduce her. I didn't say anything. I think he just assumed. But no, we're not engaged."
It's understandable how Crowe could assume the two have taken the next step in their relationship. The "Castle on the Hill" singer hasn't been shy about his feelings for Seaborn, who he first met in high school. Plus, he's been dating her for about two years and they live together. Oh, and the song "Perfect" from his Divide album was inspired by her. Part of the song's lyrics go: "I found a love for me/Darling, just dive right in and follow my lead/Well, I found a girl, beautiful and sweet/Oh, I never knew you were the someone waiting for me/'Cause we were just kids when we fell in love/Not knowing what it was/I will not give you up this time."
Furthermore, in February while chatting with KIIS FM's Kyle and Jackie O, the 26-year-old said about marriage with Seaborn, "I'm pretty... yeah I feel pretty good about it." I get how anyone, including Crowe, might think they are engaged. But, they most definitely are not — at this moment in time.
That said, it might be a little confusing to some why Crowe wouldn't know the status of Sheeran and Seaborn's relationship. For those unaware, yes, Crowe and Sheeran are actually friends. Like the Grammy winner revealed in February about chilling with the Australian actor, "I've started hanging out with Russell Crowe because he loves getting drunk and I love getting drunk." He added, "We don't get anything from each other other than just a night out. We get an enjoyment of hanging out rather... There is no boost in either of our careers from our association."
I mean, it doesn't really seem like the two are besties or hang out 24/7 together, so Crowe not knowing all of the details makes sense. And, as the musician revealed, Crowe has only met Seaborn once and Sheeran never even introduced her. Overall, it just looks like an innocent mistake that anyone could have made.
If you think about it, people should be thanking Crowe for his blunder, because now everyone knows for certain that Sheeran and Seaborn are most definitely not engaged.