Here's The Truth About Who Pays For The Meal On 'First Dates' & I'm Kinda Shook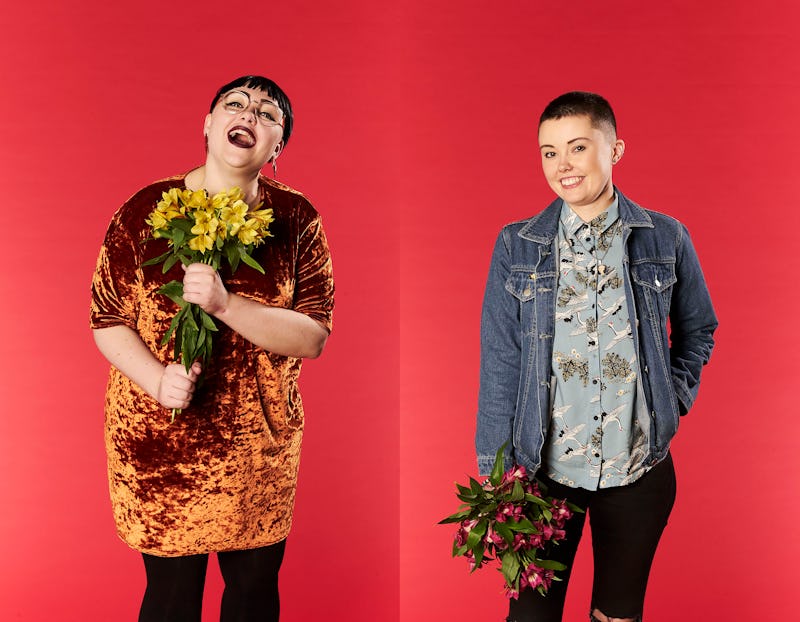 Dave King/Channel 4
When Wednesday night rolls around and the montage of Fred opening up the First Dates restaurant doors begins, I get butterflies. I don't care how cynical you are, First Dates manages to encapsulate the excitement of going on a date and through all of the weird flirting, awkward confessions, and flirty looks over the food I am here for it. But there is no denying it, going on dates is a lot of effort. Particularly a blind date that is going to be televised for the nation, and more importantly, your parents to see. So, are First Dates contestants paid for their trouble, or is it the prospect of love that has them galloping through the door?
As I sit there, scrutinising their every dating blunder on the sofa in my pyjamas, I can't get away from the thought that people put a lot on the line to go on the show. You don't just have to worry about making a good first impression on your date, but by extension, the TV watching public too. Some contestants travel from far and wide to London to meet a complete stranger, so I feel like there would be a monetary incentive?
Bustle reached out to a representative for First Dates at Channel 4 who told us: "Every dater who visits the restaurant is given a £25 allowance towards the cost of their meal. If the meal costs more than the £25 allowance then the dater or couple then decide between them how to settle the outstanding restaurant bill. Daters receive no appearance fee."
It is no surprise that with the most charming man to walk this earth waiting for you at the door (Fred, obviously) and delightful Cece serving you all night, the cost of a three course meal at Paternoster Chop House, the restaurant where First Dates is filmed, can run into the hundreds. After the £50 token they really do have to pay for the rest themselves, so those awkward side eyes and "debates" about who will pay the bill are very real and I imagine just as painful in real life as they are to watch on TV.
Whilst daters may not be paid in money, First Dates' track record for finding perfect matches is pretty great, as Stylist reports. So if you took the plunge and applied, you may gain a partner (or just a hilariously awful date story which you can re-watch when you need cheering up). However, past daters have warned that the application process is a bit of a long one so you have to be serious about going on the show.
Amelia Murray, a journalist who appeared on the show in 2015 told the Telegraph about the lengthy process before rocking up at the restaurant doors to hand Fred her coat. She explained:
"It's quite an investment. You have your initial phone interview, during which they ask for a bit of background and suss out if you're interesting or not. And then they invite you for what they call an audition. It's kind of like a mock-up of the interviews (that they show in the programme). And then you go in again, for the actual interview, the one they use, and then you go on the date. So if you're working full time, that is a lot of time."
I have had shorter job interviews. This love business is evidently very serious.
Whilst the process may be long and unpaid my dating apps are really not producing the goods and a trip to the First Dates restaurant would be a very appealing option. To get the ball rolling with your application is surprisingly easy and if you look at it, appearing on the show is an investment. You may or may not find love but you will certainly meet Fred, and if you ask me, that's priceless.