Why 'RHONJ' Fans & Cast Members Should Stop Worrying About Frank & Dolores' Relationship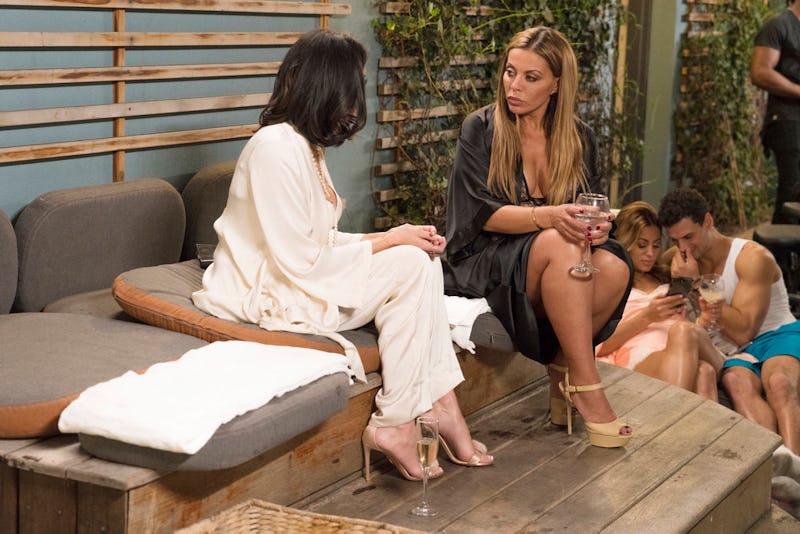 Greg Endries/Bravo
The source of drama on any of the Real Housewives franchises can come from anything — cheating, lying, cancer scams, flirting with someone else's husband, not coming to a party for the fourth launch of your castmate's skincare line — but what two consenting adults do with their own relationship should not be among them. It's been viewed as strange by some Real Housewives Of New Jersey cast members and viewers that Dolores and her ex-husband, Frank, who have been divorced for ages, still live under the same roof. They work together, too. So does this mean that Dolores and Frank are back together on RHONJ or what? Let's not jump too fast to conclusions.
When Dolores first debuted on the show, she explained her situation, saying that she and Frank divorced because he cheated on her and she could never trust him again. (That's very fair.) But they have kids, and she wanted those kids to have a stable, loving home life, even if their parents don't want to be married to each other anymore. She decided that for her family, that would entail keeping a close relationship with her ex, talking all the time, sharing info about their other relationships, and sometimes living and working together. It is marriage without sex, and they seem pretty OK with it.
Dolores and Frank have had other relationships — she's currently with Dr. David Principe, and Frank, until recently, dated a woman named Ellie. What's nice is, as Dolores told Us Weekly, David and Frank like hanging out with each other. Neither man is threatened by the other's presence, which is cool — it would certainly be easy for David to be wary of an ex-husband that hung around constantly.
"It's going good … It's different. I mean, how many people live together after being broken up for 20 years? I didn't think it was going to be this long, but it's working," Dolores told Us Weekly. "I'm still dating David. David is the one who is building [Frank and I's new] house actually, helping build the house. We'll see what happens."
In early 2018, Dolores posted a lovely picture and caption of herself and Frank as they wandered through a local grocery store after a huge storm:
"We have weathered many storms together, and are in a better place than ever. We made sacrifices when we had a full house of kids and pups to feed, but it was all worth it. So grateful for my best friend!"
Frank and Dolores are definitely not romantically involved, but they have a special bond that is more important than that. They have two children together, after all. Today, since his recent disbarment, Frank and Dolores have a new business together buying, renovating, and flipping homes for profit. Other people may not understand their relationship, but that's not important — the only ones who have to "get it" are Frank and Dolores. They are happy where they are, and with their children out of the house and mostly grown, Frank and Dolores are writing their next chapter on Real Housewives Of New Jersey side-by-side.