Danielle Is Already Stirring The Rumor Pot About Dolores' Ex Frank On 'RHONJ' Season 9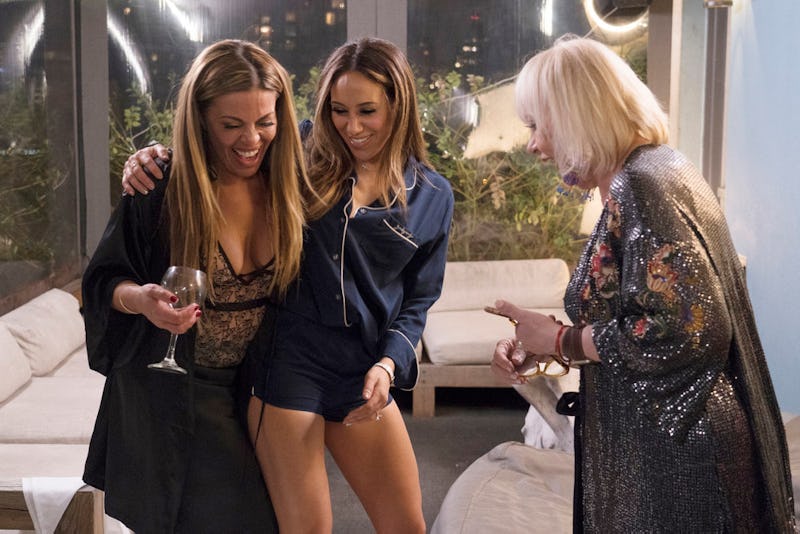 Greg Endries/Bravo
While all of the Real Housewives franchises are supposed to be about the women on the show, focus sometimes shifts to the men in their respective lives — especially when they mess up. After eight seasons of debauchery and drama on Real Housewives Of New Jersey, Season 9 is already starting off with a bang. Already, the rumor mill is churning and hurting some feelings. According to Law360.com, Dolores' ex-husband, Frank Catania, was disbarred from the New Jersey State Bar Association and the women can't stop talking about it behind her back. This is not a good way to set up season.
Dolores and Frank have a complicated relationship — they're exes, but they're still living with each other. They're close, and they raise their children together, so however these two adults are choosing to go about their personal lives is just fine by them. It works. One thing that didn't work for Dolores, though, was when she was cornered at the RHONJ Season 8 reunion by Andy Cohen, who asked if Frank had been disbarred from the New Jersey State Bar Association. Dolores said no, when in fact Frank had already been disbarred and just not told her yet. Dolores doesn't like looking like a liar or completely clueless — makes total sense if you ask me.
On the Season 9 premiere, Dolores explained Frank's predicament. "Frank is no longer an attorney. He was disbarred… Frank didn't follow protocol," she said. "He borrowed money from his client's trust account… something called 'co-mingling funds,' and as a lawyer, you are not allowed to do that. Nobody lost money. Nothing was stolen. But it was enough to get him disbarred," Dolores added.
If you want to read the whole complaint against Frank from the Supreme Court of New Jersey, it basically says that he reportedly borrowed money from various trusts and escrow accounts of the real estate deals he was working on, which is a big ethical no-no. On August 21, 2017, Frank was unanimously disbarred, and he was also required to reimburse the disciplinary panel for "administrative costs and actual expenses incurred in the prosecution of this matter." Frank is no longer allowed to practice law.
As viewers saw on the Season 9 premiere, Frank has a new job — he and Dolores have teamed up to flip houses. He acts as a general contractor, and then she sells the places when they're all fixed up nice and shiny. It's a job that involves the organization and negotiation of law without the actual, you know, law, so it seems like a good fit for Frank. From the looks of Frank's Instagram, he's also spending a lot of time in Florida fishing and living the good life, so maybe he's semi-retired at this point. It's hard to say, but as long as he and Dolores and their kids are happy, everyone should be happy for them.
There is one problem that's sure to come up on this season of Real Housewives Of New Jersey — Danielle Staub. For some reason, Danielle wants to keep talking about the fact that Frank got disbarred, and she's spreading that information all around town. Dolores and Frank don't appreciate Danielle talking about their business, and it looks like there might be a rumble if Dolores and Danielle have anything to say about it. Frank is happy to sit in the corner and eat — a man after my own heart. If Frank's business is sorted, I say let it be sorted. But you know it's never that easy on Real Housewives Of New Jersey.