How We Know Garrett & Blake Were On 'The Bachelorette' For The Right Reasons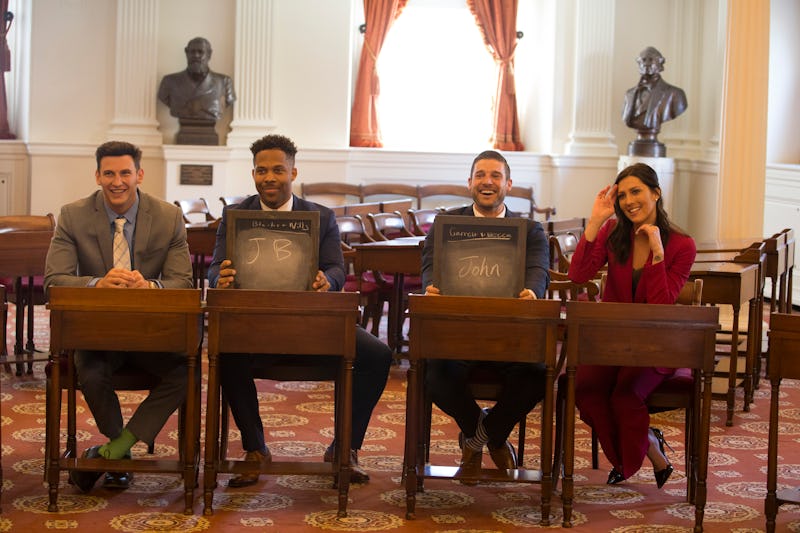 Paul Hebert/ABC
The contestants of The Bachelorette are there to find love, not make friends, but that doesn't mean a few suitors won't form a bond over the course of a season. While the season has resulted in some friendships that are still playing out on Instagram, anyone wondering if Garrett and Blake are friends after The Bachelorette finale won't be able to find much kinship between the two finalists. While there's a chance that the two are friendly with each other, the likelihood of these two being close friends following their season on The Bachelorette is slim to none. That's what dating the same woman can do two guys. Obviously, they were on the show solely for Becca and not much else.
It's normal for Bachelor and Bachelorette alum to take to social media following their involvement with the show to share memories of the good times they had and the connections they made. However, a close examination of Blake and Garrett's social media accounts as the season has aired shows that one of the season's finalists doesn't seem to share an affinity for his fellow suitors. Blake's Instagram is filled with images of him posing with other football uniform-clad Bachelor contestants, reminiscing about playing a game with Wills in Richmond, VA, and a clip of him dancing next to third-runner up Jason. In contrast, Garrett's Instagram shows pictures of him with Becca... and that's it.
Garrett isn't just not friends with Blake — he doesn't seem to have much public love for any of his fellow competitors. While Blake appears to still friendly with other contestants from the season — including retweeting fellow contestant Jason and having public conversations with Connor and Colton — Garrett seems to have separated his Bachelor "journey" from those he shared it with. This could be a hint that Garrett ends up winning the season, seeing as it is probably tough to be friends with the guys that Becca decided to not get engaged to so that she could get engaged to Garrett.
While most of the suitors' attention on The Bachelorette was spent on Becca, it's hard to imagine that Garrett didn't form some kind of bond with the rest of the guys. Those long days when he wasn't going on dates with Becca were spent cooped up in a mansion or a rented suite with the other men that were all dating Becca. The again, it's a testament to how seriously they took their relationship with Becca that they aren't really buds afterwards.
While Blake was there for Becca, it seemed that he also left the season with a fair share of new friendships in his life that are unaffected by whether or not he ended up with Becca in the end. However, there's no indication from Blake that one of those friendships is with Garrett. There may not be any bad blood between the two, but it looks like these two aren't very close despite the shared experience of falling for the same girl over the past few months.