Here's Where G-Eazy & Halsey's Relationship Stands After A VERY Turbulent Year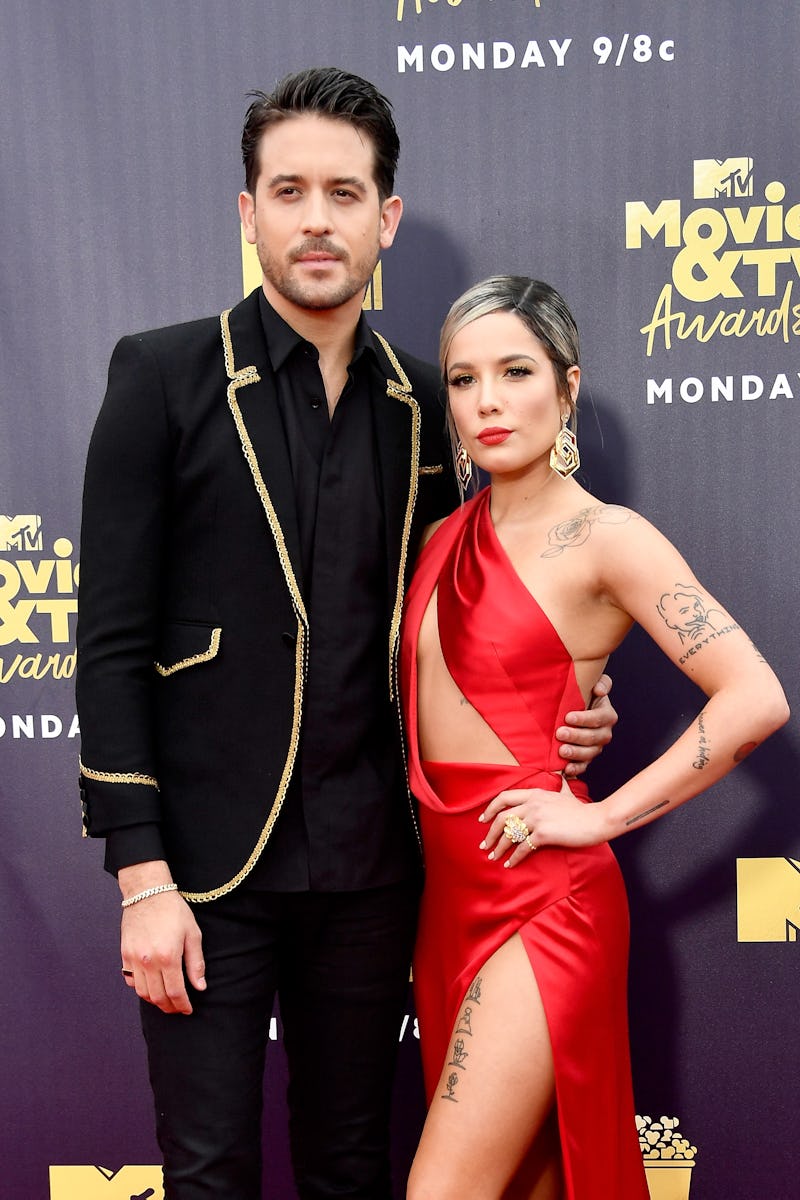 Frazer Harrison/Getty Images Entertainment/Getty Images
Young love burns hot and fast — especially in Hollywood. One minute you're making a hit record together, posting makeout pics on Instagram, and getting matching tattoos, and the next, he's fueling your next record because you hate him so much. Singer Halsey and rapper G-Eazy seem to be one such duo — these two were hot and heavy, only to call it off… only to get back together again. Honestly, Halsey and G-Eazy's dating timeline is a little bit of a blur.
It's awards season, so that means that couples and, ahem, ex-couples will have to walk the red carpets together — or have their handlers expertly arrange entrances and exits so that no paths cross. Unfortunately, Halsey and G-Eazy may be one of these couples, because, according to Us Weekly, the duo broke up for the second time in October 2018 after a brief reconciliation. According to Cosmopolitan, the two started dating in the summer of 2017. Their first public appearance was when Halsey joined G-Eazy for a surprise concert in New Orleans. Things got hotter and heavier, as relationships tend to do, until — bloop — Halsey and G-Eazy broke up in July 2018, as reported by People. But don't worry, romantics — the two rekindled things soon after, and G-Eazy gushed about his lady.
"She's an incredible artist… I've been blessed and fortunate enough to get in the studio with a lot of artists that I admire, but she's one of those that when you hear her voice come through live from the booth, it's one of those, it just hits you right away. It's pure," G-Eazy told E! News in tk. But apparently, it wasn't built to last — according to ELLE, October 2018 brought another breakup, but this time for good. The two even stopped following each other on Instagram, which you know means that these two are O-V-E-R. It happens.
As for new relationships, TMZ reported that Halsey is hanging out with British musician Yungblud, and G-Eazy is with a non-celeb named Christina Roseann Ray. Of course, none of this has been confirmed, so it's hard to say if these are relationships or if they've just been photographed together in the same place. Halsey isn't trying to hear all the speculation about her relationships, though — when E! News tried to say that she and John Mayer were "flirting" on Instagram, Halsey shut it down in one epic tweet.
She's right — she only needs to speak to a man and suddenly, she's dating him. It's not fair, and it's not right — they're both musicians, so why wouldn't Halsey and John Mayer be friends? And share something in common?
As for Halsey and G-Eazy's relationship right now, well, Halsey's new song "Without Me" sounds like it's about a difficult breakup, and the guy she cast in the video for the song sure looks a lot like G-Eazy. Can't you see the resemblance?
Relationships can be hard, but here's hoping that both Halsey and G-Eazy find happy, satisfying relationships whenever the time is right.