Halsey Defended Ariana Grande From Grief Shamers With A Heartfelt Message About Her Friend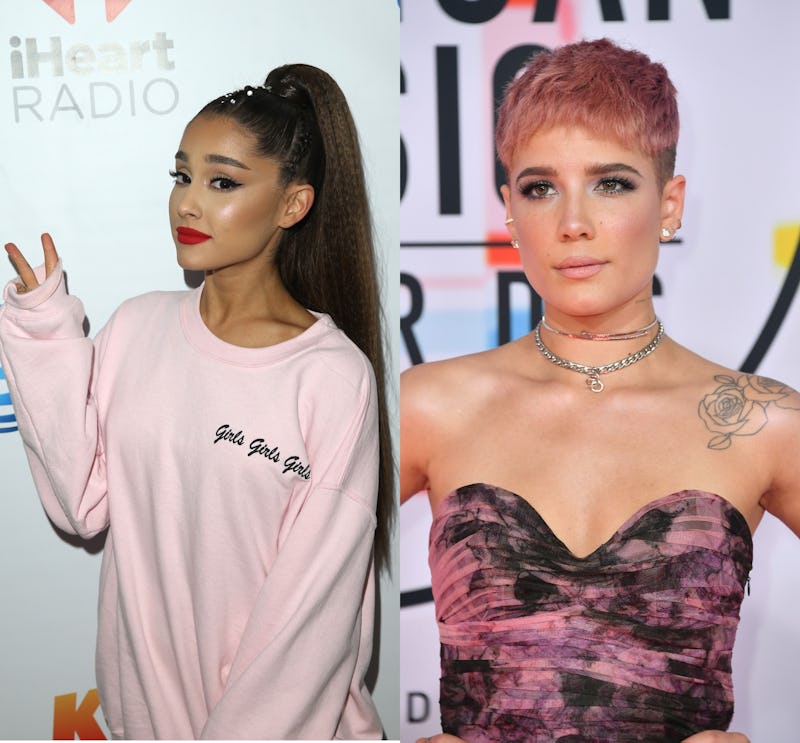 Jesse Grant/Getty Images Entertainment/Getty Images /Frazer Harrison/Getty Images Entertainment/Getty Images
Hanging on to any not-so-nice opinions about Ariana Grande's grieving process and what that looks like? Feel free to leave those feelings at the door. Ariana Grande and Halsey's latest Twitter exchange, as reported by Billboard on Sunday morning, Nov. 25, shut down Grande's haters with a series of messages directed at those social media users who posted rude comments about her on the internet. Grande wrote: "some of the sh*t i read on here makes me sick to my stomach," conceivably referring to the weekend's latest bout of trolling, which saw some seriously unfair messages sent her way — opening the first of several tweets Saturday night.
Fans who kept up with the "Thank U, Next" singer's holiday-related social media activity last week might remember that Grande shared an old photo with Mac Miller to her Instagram Story on Thursday, in honor of Thanksgiving. "You're v missed," she captioned the repost, referencing Miller's unexpected death this past September, at the age of 26. Grande and Miller dated for roughly two years before their amicable breakup back in May, so the fact that she was thinking about him during the holidays — and wanted to share those thoughts with her notoriously close-knit fan following —should've been more than understandable.
Unfortunately, it seems Thursday's heartfelt tribute post was met with considerably more disrespect than understanding from some social media users. So, in the latter half of Grande's initial call-out tweet Saturday night, she voiced her feelings loud and clear (albeit, in perhaps the most courteous way possible, especially given the circumstances):
"it scares me the way some people think and i don't like this world a lot of the time. if only we could be more compassionate and gentle with one another. that'd be sick."
Now, when it comes to internet trolls and how to deal with them, it's certainly no secret that Grande can, and does, fend for herself. (Head over to pretty much any one of the singer's social media accounts, especially in recent months, for corroborating evidence.) But even so, having a friend around to back you up — and maybe even stand up to some of those virtual haters on your behalf — is almost always helpful. Luckily, in this case, it looks like Halsey was just the gal for the job. Retweeting Grande's message, and adding an equally articulate message of her own, Halsey wrote:
"ari the world could only dream of being as compassionate and gentle as you. and since ur being, as always, so classy and nice, allow me the honor of telling them to shut the f*ck up."
Grande replied to Halsey's message not long after. "I love you very much," she wrote back, ostensibly addressing her friend and fellow pop star directly in the retweet. Perhaps it was Halsey's support (coupled with the support of other, less hateful internet users) that encouraged Grande to share a second message with her Twitter following late Saturday night.
Pretty obviously addressing the ridiculous trolling efforts that kicked up these last few days, Grande wrapped up the evening's tweets with some thoughts about grief and emotional processing that everyone ought to read. She wrote,:"everything i feel is valid and safe," and then added,
"everything i do is genuine and honest. there is no right or wrong during this period."
So, take it from Grande, Halsey, or whoever else: If someone is dealing with something as difficult, and deeply personal, as loss, it's probably best to keep your opinions about their emotional process to yourself. Like Grande said, there's no right or wrong way to do it. As for how to support her during this time? Seems safe to say there's not exactly a blueprint for that, either, though Halsey's latest efforts make for a pretty good example.