Halsey Responded To The John Mayer Dating Rumors In The Perfect Way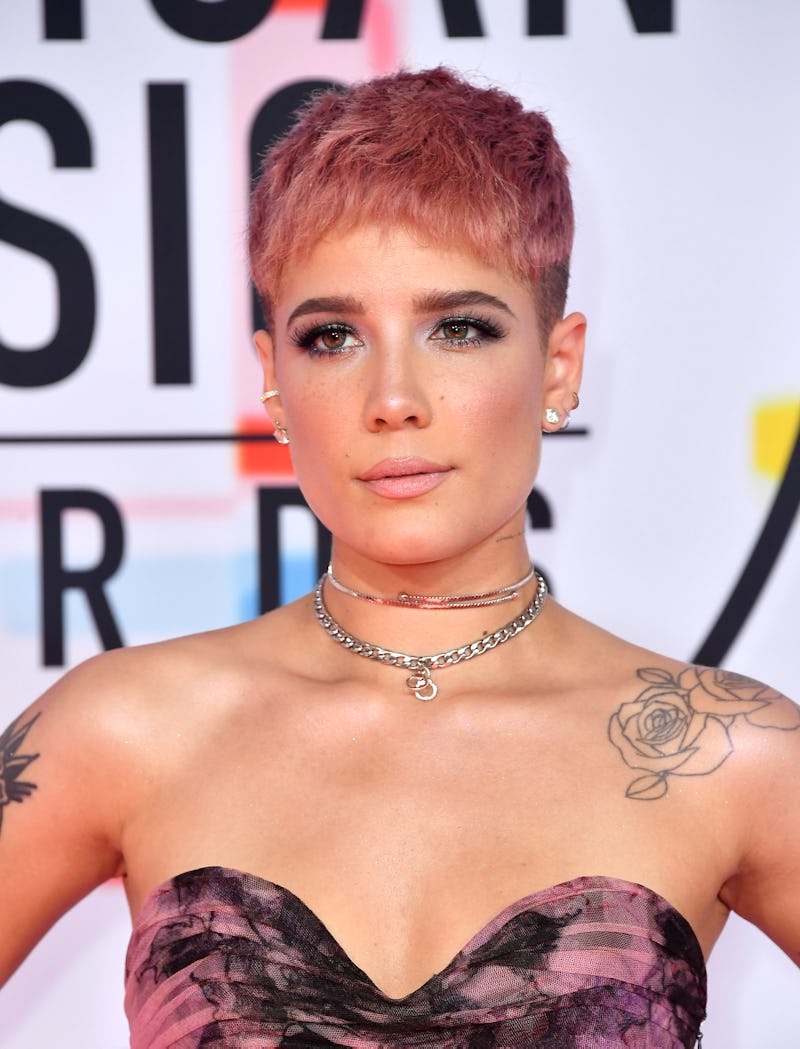 Frazer Harrison/Getty Images Entertainment/Getty Images
It usually doesn't take more than two celebrities being spotted out somewhere together to spark dating rumors, but this time, all it took was a bit of social media activity — and one of the stars in question just isn't having it. Earlier this week, rumors surfaced that John Mayer and Halsey might be seeing each other, but what's the truth? Are Halsey and Mayer dating? On Wednesday night, Halsey responded to the rumors with a tweet that pointed out exactly why the rumors are ridiculous in the first place.
The rumors first began after fans took notice of Halsey and Mayer's comments and posts about each other on Instagram, which seemed to really ramp up this week. Instagram account Comments By Celebs pointed out that Mayer commented on Halsey's recent YSL ad, and that's hardly the only time that these two have interacted on the platform. But now, Halsey is speaking out, and according to her, it seems like she and Mayer are just friends.
She tweeted:
"I just had a ground breaking idea. What if...we let female artists...have friends...without assuming that they are sleeping together? I know I know. It's like, completely ambitious but like, imagine if we like, tried?"
Halsey is right — when it comes to the celebrity world, assumptions are made that two people are dating because they're friends, and those assumptions are often wrong. It's not a revolutionary idea to think that a man and a woman can be friends without any romantic undertones, so isn't it possible that Halsey and Mayer, as two musicians and humans, might just happen to be friends?
The rumors truly started earlier this week, when Hasley shared an ad with a discount code for YSL lipstick. Mayer shared a funny comment on the post, writing, "It's saying my billing address doesn't match with the one on my credit card? I've never had this problem before. Can you text me? Thanks."
"Wrote u a song with the help hotline # in the chorus," Halsey replied. "Sending mp3 now."
But it seems like Halsey and Mayer have been friends for awhile, so seeing them interact may not mean that anything new is developing. After all, in October, she shared the birthday message that she texted him two weeks early (on accident, of course).
That definitely sounds like a message a friend would send another friend for their birthday... with or without romantic involvement.
And honestly, whatever's going on in Halsey's love life right now is anyone's business — no matter who leaves comments on her Instagram posts. It makes a lot of sense that she and Mayer would be pals, being that they both work in the same industry and clearly have similar senses of humor.
Good for Halsey for standing up for herself. Women can be friends with other people without dating them, after all. And if she and Mayer are dating, it's better to wait for them to feel comfortable enough to reveal the news themselves, when and if they're ready.